Settings - Sponsors (Event Sponsors)
Event Title Sponsor
This article will walk through how to add an Event Title Sponsor that will appear on the main page of your Event Site on the desktop.
The Event Title Sponsor will appear on the main page of the event site above the Event Homepage Sponsors. You can customize the title (with Digital Seen), image as well as the text to the right of the image.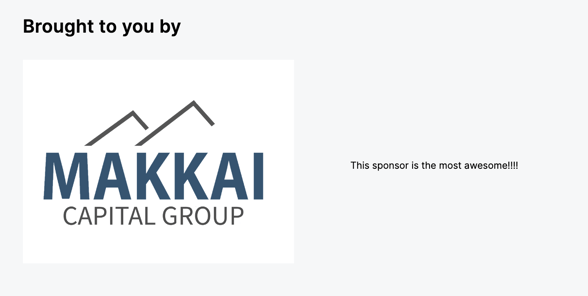 To set up an Event Title Sponsor
From the auction dashboard, select the auction settings gearwheel next to the auction name.
Select the "Sponsors" tab and got to TITLE SPONSOR

Customize the Title Sponsor Text that appears underneath the Title Sponsor Image on the event site.

Add an Event Title Sponsor Image (parameters are 800x600).
The Event Title Sponsor header will default to "Brought to you by". To customize the Event Title Sponsor header Digital Seen

must be enabled. Go to - Menu Labels - Title Sponsor (as seen above we customized the text with "Awesome Sponsor").

Click UPDATE to save the image.