Below are instructions you can use to help your bidders purchase tickets on the Handbid website.
Make sure your tickets are available! Confirm this by going to your Events website, clicking on BUY TICKETS and making sure each of the tickets that should be available are there. If you feel that a ticket should be appearing but is not, view this post for ideas on why your tickets may not be appearing.
Send bidders a link to your tickets page on the Handbid Events Website. (You can find this URL by going to your events homepage, clicking on BUY TICKETS and then copying that URL.
When guests click on the LINK you copied above (in Step 3), they will be taken directly to this page where they can view the tickets available for purchase.
Feel free to CUT and paste the following instructions to send to guests to help them complete their ticket purchase.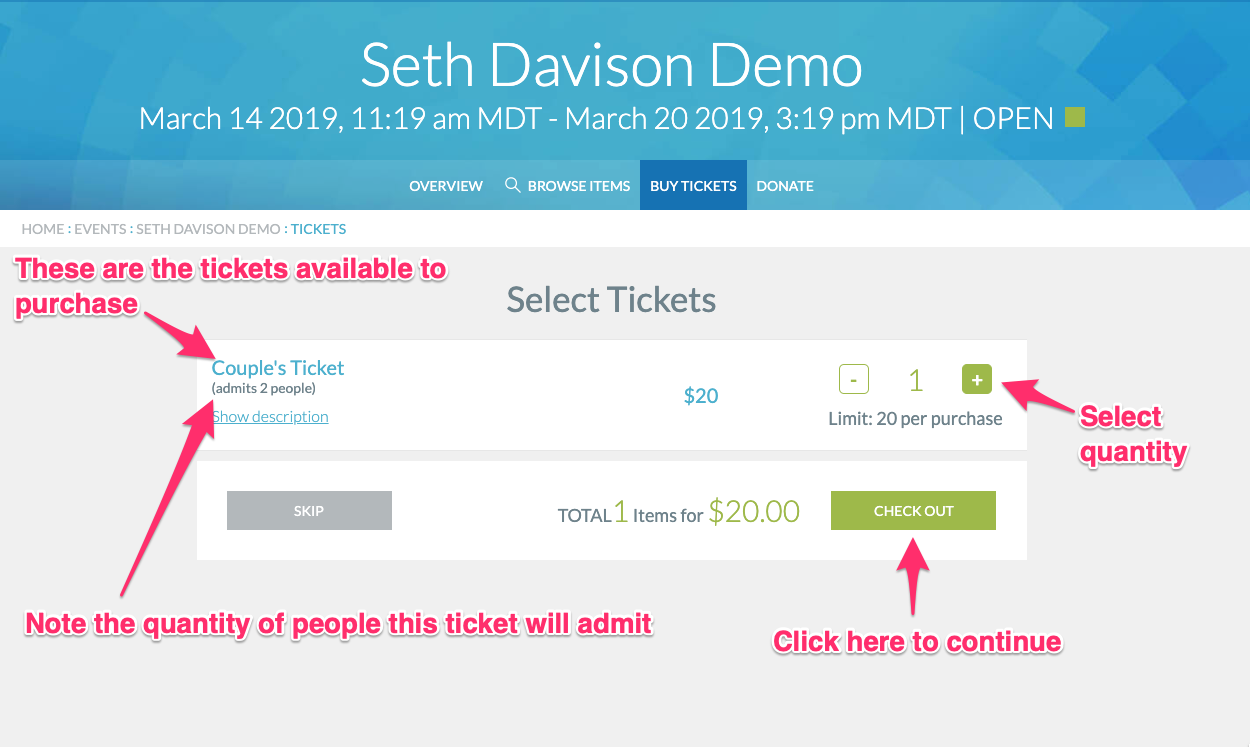 You should be on the Event Page where the menu item BUY TICKETS is selected. Otherwise click on BUY TICKETS to get to the ticket screen
Identify the tickets you wish to purchase and click the "+" button to set the quantity desired
Click CHECK OUT when you are ready to move to the next screen where you will be asked to REGISTER or SIGN IN





If you have used Handbid before and know your passphrase, then feel free to sign-in. Otherwise, you can register here. Handbid will ask for your Name, EMail, Phone, and a passphrase. The passphrase is similar to a password but should be easier to remember. You won't need any special characters, just come up with a phrase such as "I luv rock and roll" and you will be all set!

Agree to terms and then click CONTINUE to move on. You will be asked to CONFIRM your registration, so click CONTINUE again.

Select pink ADD NEW CARD button and enter credit card information. If you already have a card on file it will be displayed in the dropdown next to the PAY NOW button. Once card is on file, select \ PAY NOW to process the credit card charge.
From the confirmation window the users can select TEXT ME A LINK if they want to get Handbid setup on their phone or START BIDDING to browse the auction online.