The Bidder summary report will show you an overall status of your bidders with regard to participation, devices used and bids placed.
You can access the Bidder Summary report by going to "Reporting" on the main Event menu and selecting "Bidders / Bidder Summary". The report will generate in the main window.
There are a number of charts in this report that we will discuss below:
Total bids and bidders
These two numbers are found at the top right. In the graphic below, you see that this auction had 5 bidders who placed 58 total bids.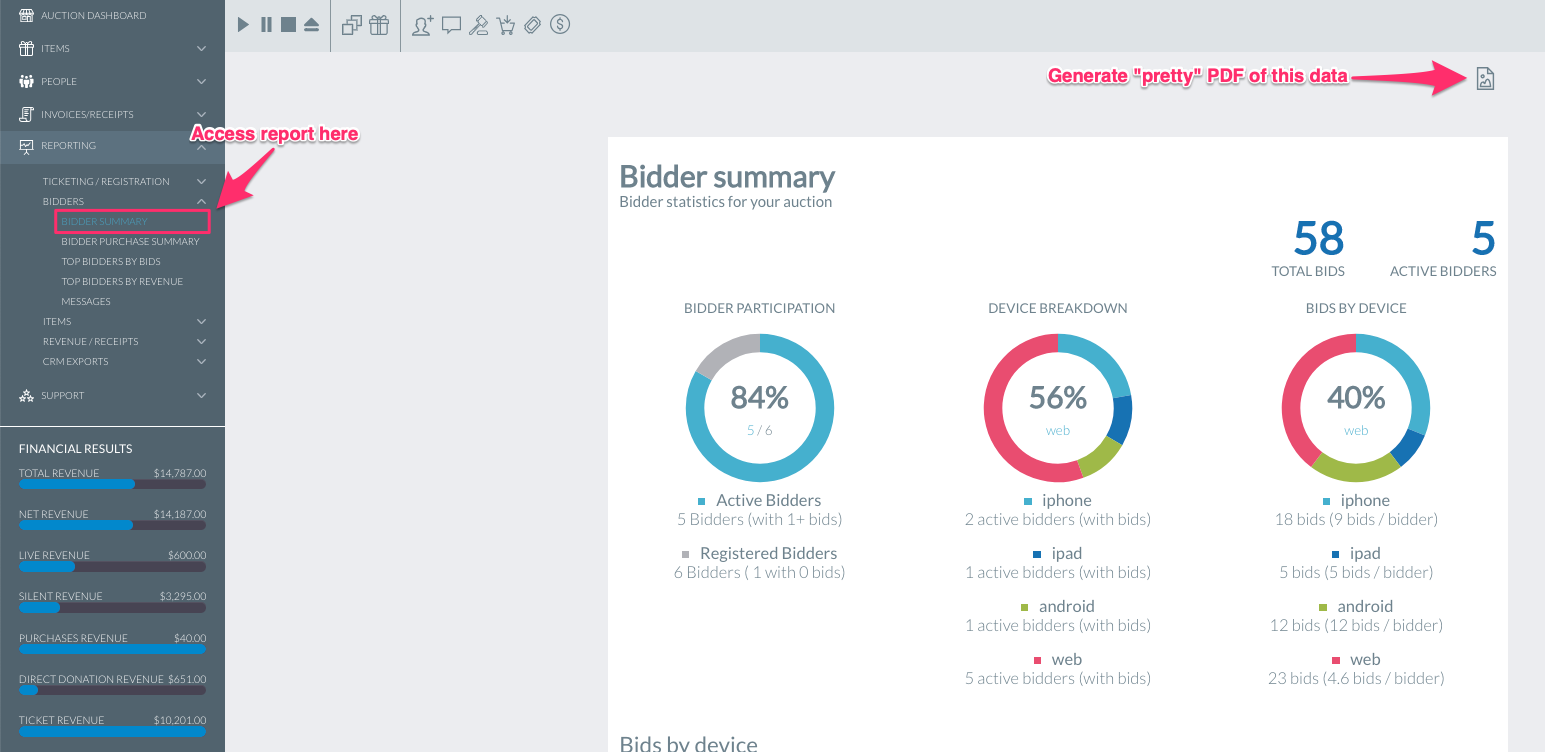 Bidder Participation
This donut chart is found on the far left of the three donut charts at the top of the report. Bidder Participation shows the ratio of active bidders (bidders who have placed at least 1 bid) vs. total bidders (bidders who have registered and received a paddle number).
We look at this ratio a lot (along with bids / active bidder) to determine the level of engagement in an auction. This ratio can vary greatly based upon how registration is done at an auction. If bidders are asked to "register themselves" then this ratio will be higher as those who have no desire to bid will not register. However, if every guest onsite is checked in at the front and registered, you will inevitably register a number of guests who have no intention to bid. This approach will reduce this ratio, but it won't necessarily indicate that bidders are not engaged.
Device Breakdown
Handbid tracks bids and bidders by device and provides the breakdown here for you. The number in the middle shows the percentage of bidders that used the "most used" interface. In this example, most of the bidders bid from the Handbid web interface (mobile and/or desktop).
Bids by Device
In addition to showing bidders by device, Handbid will show you where the bids were coming from. Again in this example (graphic above), 40% of the total bids were placed from a web interface.
Just below the donut charts is a timeline view of bids placed by device. This can be fun to view to see the devices used by each bidder.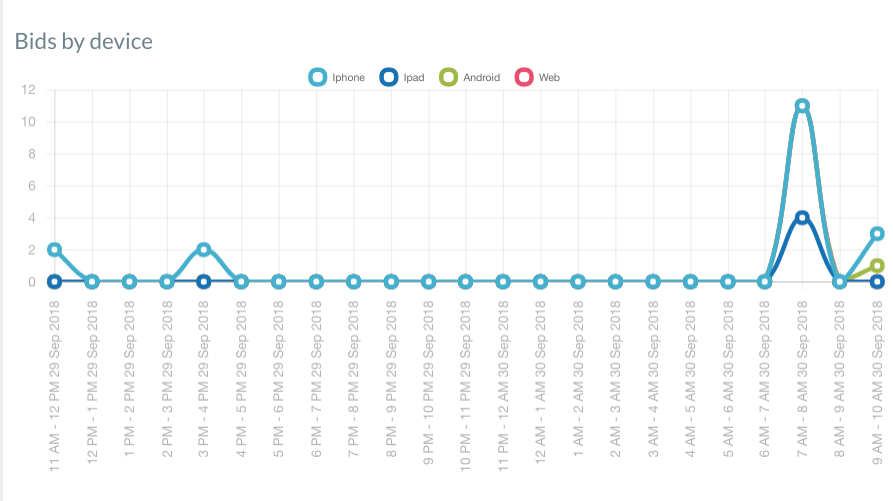 Top Bidders by Revenue & Bids
The next chart shows the top bidders based on the revenue they generated or the number of bids they placed.

Bid History
The final charts in the report show total bids by various timelines: Last Day, Last Hour and Total Event
Please note, the last hour chart can be tricky to get right if your auction has opened and closed and then opened again.