The auction timer is designed to close the entire auction upon the timer's completion. If you just want to close a few items (or even an entire category) early. There is a different process you can take to do that
CLOSE AUCTION BY CATEGORY
We have an article on how to do this and some recommendations on how to notify your bidders.
Click here to read that article on how to close a category:
CLOSE A SINGLE ITEM
TO close a single item, you need to click on the item in the auction manager to bring up the edit window. From there, you can change its status to SOLD. When you do this, the item will be marked as sold and it will be put on the winning bidder's invoice.
NOTE: There will be no warning to bidders that the item is closing - you should do that through a broad cast message, giving them ample notice to get their bids in.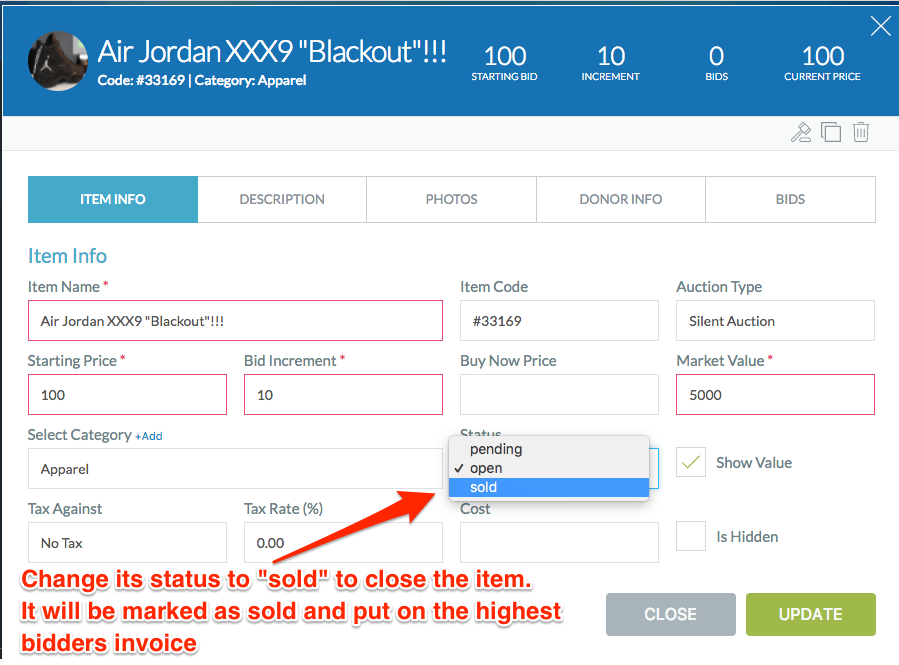 NOTE: Once an item is marked as sold, a purchase will be generated and it will be put on the winner's invoice. This can be undone if you want to open up the item again. You will need to delete the winning bid on that item and the item will re-open with the previous bidder now the winner.
If you needed to bid again for that same winning bidder to put the item back where it was, you could then do that once the item was again open.