Connect Your Handbid Account to Stripe
Stripe is our integrated payment processor and is required in order to accept payments through your Handbid site.
Stripe is Handbid's integrated payment processor. You can connect your own Stripe account your organization Handbid Manager. Setting up your own Stripe account is free and it comes with a 3.5% + $0.30 per transaction Credit Card processing fee. Funds will be transferred directly to you when a payment is processed. Learn more on the Handbid Payment System and Receiving Funds.
Starting January 1, 2024, you must set up and connect your own Stripe account to avoid a $150 per-event processing fee. If you forgo connecting your own Stripe account, payout will take a minimum of 2-3 weeks to receive your check from the time of your settlement request.

How to Connect Your Handbid Account to Stripe:
From your Handbid Dashboard, select the Edit Organization Icon next to your organization name.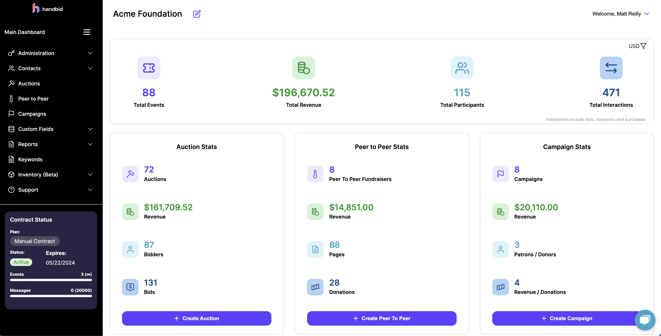 Select the FINANCIAL tab and select the 'Connect with Stripe' button.
Note: In this example, Stripe is already connected. If connected to Stripe already, you will will the image below. If not connected, there will be a button that says "CONNECT WITH STRIPE."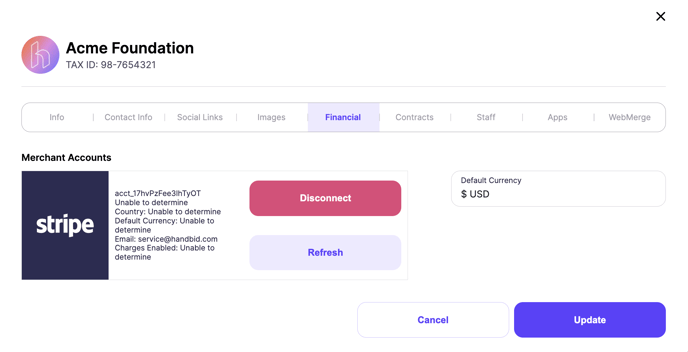 This will redirect you to the Stripe Login page. Here you can log in to your existing Stripe account by selecting the Sign in link or create a new account.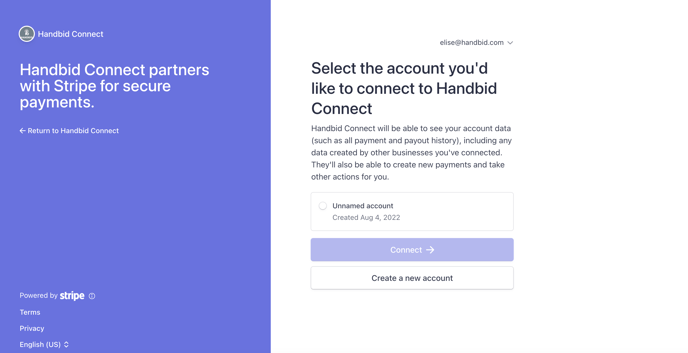 Once you have logged in or signed up for a Stripe account you will be directed back to Handbid. Once you're re-directed you will now see your Stripe account information on the payment tab for your organization. The account owner now has the ability to disconnect the Stripe account from Handbid if they wish.