This article will provide information for how to upload and view your auction logo and banner for your auction/fundraiser/event site.
When you're creating an event in Handbid, there are two different images you can upload in your Auction Settings for your Event Home Page and Auction.
Auction Logo: This is the SQUARE logo that you see in the app, in the auction list, and just below your event banner. This would be similar to your profile photo on Facebook or Twitter.
Auction Banner: This banner is only visible on the web interface for Handbid. The banner is much wider than tall and has a recommended dimension of 1140x280 (more on what that means later). If you have a Facebook profile, the Banner is similar to your "Cover Photo".
How to Upload Auction Logo and Banner
To upload or update these images, go to your auction settings and select the Images tab.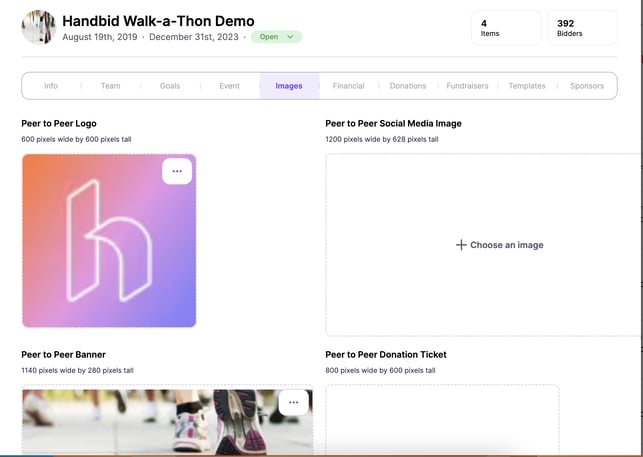 Image Quality
A low quality image won't look good no matter what you do to it. But to make sure you have optimized these images as best as possible, we ask you to follow these guidelines.
Aspect Ratio
This is nothing more than the ratio of height to width. If you are familiar with photos, you know what we mean here (e.g. a 4x6 vs. a 5x7). What is important is that this ratio can't change. If you have dealt with photography at all, you may know that a 4x6 can't easily become a 5x7 (some cropping will occur). Why? Because the aspect ratios are different. The same is for digital photos. If the system calls for a 1:1 aspect ratio (a square photo), uploading a 4x6 which is a 1:1.5 ratio won't work. The system will cut off some portion of your photo so that it is 1:1. That "cutting off" is called cropping. The system will literally take a pair of digital scissors and chop them. Why? Because the template needs a certain aspect ratio.
Pixels
You may have one of those "megapixel" cameras and be familiar with the term but not really know what it means. Well, a pixel is a square and becomes a "unit" of your photo. In other words, your photo is constructed by combining a number of really small squares (pixels). So when you see suggestions like 800x600 (which is 800 pixels wide and 600 pixels tall), that is basically a horizontal photo (with an aspect ratio of 1.33:1). So pixels are equally important to aspect ratio. If you know you want a horizontal digital photo (which often is a 1.33:1 aspect ratio), and you upload a photo that is 133 x 100 (which is the correct aspect ratio of 1.33:1) BUT the size of the template needs 800x600, the system will need to make an adjustment. Somehow, the system (in this case Handbid) needs to figure out how to fit 133 pixels wide in a space designed for 800! The only way to really do this is to make the pixels bigger (zoom in). When it does this, the pixels look really blurry.

Whew - sorry for the technical talk but it is important to understand it if you happen to be struggling to make your images work. So let's combine these two key factors together when looking at your logo and banner. Once you master these, making your images look better will be much easier.
Logo and Banner Information
Auction Logo
Your auction logo needs to be a square image 600x600 (600px wide by 600px high). So we need an aspect ratio of 1:1 (square) and that image must have 600px in wide and 600px in height. If not, Handbid will zoom in on the image and it may look blurry.
So take your logo and format it to be square and make sure you have at least 600px on a side. If you don't know how to get your image on a square background, you may need to recruit someone familiar with image editing and tools like Adobe Photoshop.
For the adventurous (or curious)...We do get into resizing and editing in this article: How to make your auction images look good!
Banner Image
Your banner image has a unique dimension of 1140px wide by 280px tall (a 4:1 aspect ratio approx.). If you don't have any idea how to create this, here is a trick you can try. Find an image (you are authorized to use) on Google Images or in your photo library. Make sure you find an image that is much larger than 1140px wide. Our suggestion is to tap on 'tools' in the Google Images search results page and then find a Size that is larger than 2MP.
This will find you an image that is larger than you need. Then you can upload this image into Handbid. Once uploaded you can crop it to show the portion of the photo you want as your banner.
Otherwise, if you are comfortable formatting your own banner. You can create a new banner in a tool like Adobe Photoshop or GIMP. Just set the dimensions to 1140x280 at 72ppi (pixels per inch). That should do it!
Banner Examples
For some inspiration, here are some banners our customers have recently created