Learning about Custom Questions
Where to add your Custom Question
How to create your Custom Question
How to view Custom Question answers on the Guest List

Custom questions allows you to ask up to 3 questions and attach them to a ticket. Each question can be answered in one of two ways: multiple choice or open-ended. Answers can be seen in the guest list view, filtered, and exported.
Where to add your Custom Questions
To create and edit the custom questions, you must first create a ticket. Select the ticket your question(s) will be/are associated with and navigate to the "TICKET OPTIONS" tab. Click the "+" symbol under "Custom Questions (per guest)".
Keep in mind that these questions will only apply to the ticket you add them to. If you are using the same questions for each ticket created, you will need to repeat this process on each ticket.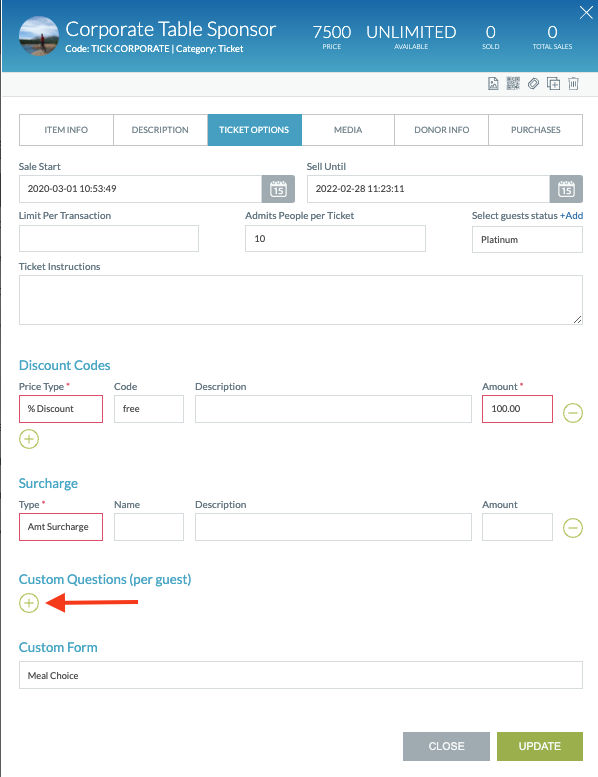 How to create your Custom Questions
If you would like your question to have a dropdown with predefined answers, separate the answers with a semicolon (;). For example, if you want to give your guest four options for their meal, in the answer box you should write: Chicken;Steak;Fish;Veggie
If you wish to have the user write in the answer, create an open-ended response by leaving the "Answer" box blank.

How to view Custom Question Answers
You will be able to see if these questions were answered on the Guest List overview page on the right side where it says Q1, Q2, and Q3. To access the guest list, select People, Guests, Guest List from the menu on the left in the Auction Dashboard.