The Digital Seen them editor allows you to change color, graphics, fonts, and menus so your Event Site looks more like YOU!
Looking to brand your event site to match your organization, or do you prefer to match your event's theme? The Digital Seen editor is the tool you need! This article provides an overview of how the editor works.
Here is what we will cover in this article
Accessing Digital Seen
The Theme editor is available on the Auction Dashboard


From the toolbar in your event dashboard, navigate to THEME to open up the Digital Seen manager. The first time you open this, you will be presented with an intro pop-up.
Click GET STARTED to dive in!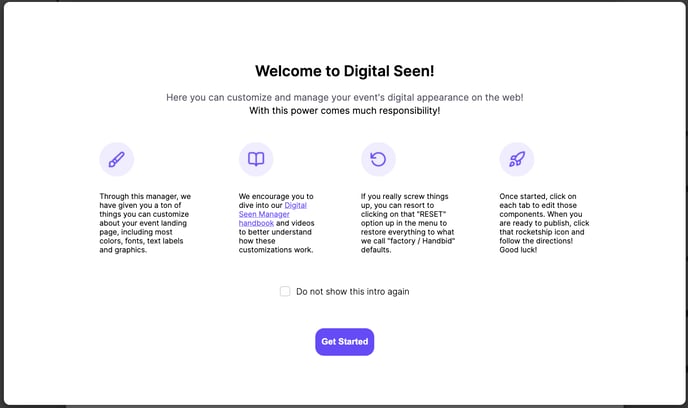 If you do not care to read this page each time you open the manager, be sure to check the box that says "Do not show this intro again."
Digital Seen Manager Controls
Info
The Info Tab will take you back to your Welcome Message when you first opened Theme.
QR Code
There are several ways to share your landing page. The launch manager has the full URL you can use to share with your guests. However, Handbid also generates a unique QR Code to download and share as well. This QR code will direct them to your customized landing page, rather than the Handbid branded landing page.
Launch Control
The Launch Control will show you the current status of your landing page and allows you to publish (or unpublish) your landing page. Your guests will not be able to see it and none of your automated links will work until you have published your landing page. Once you have published and shared your page with your guests, we suggest you keep it published, even if you plan to make substantial changes to it. This will ensure your guests do not go to a page that is "under construction."
View on Web
This will open a new browser tab, allowing you to preview your landing page before you publish it. Keeping this tab open is a great way for you to preview your site as you make changes to it in real time. Since no one without the URL can ever see your page, you don't run the risk of any of your guests seeing your work in progress (unless of course, you shared it with them already ).
Reset to Default
CAUTION: Selecting this will delete all your hard work and return your site back to the Handbid branded site. But, if you really wish to start all over, then this option is for you!
We hope it does not come to this, but if you get really messed up with your site and just want to start over, you can reset everything back to the factory default. Thankfully, we don't make you get out a paper clip and push in a hidden button for 15 seconds, but you will have to confirm your intention to reset things.
Once reset, your landing page will go back to the Handbid brand (which we think is awesome, but we suspect you want to start building again to customize away from it).
If you confirm, you cannot go back, so please double & triple check this is the right thing you want to do.
Import/Export JSON
If this is a common theme you intend to use over and over again, you probably don't want to go through the process of configuring this for each event. Luckily, Handbid gives you a simple way to import a theme from another event and export the one you are working on right now.
Once this tool opens, you will see an editor with a lot of really complicated-looking configuration code. Do not get scared of what is in there, you just need to copy and paste all of it into another event or into a text file/Word Doc, (or a Sticky on your Mac) to save it. Internally we found out that Slack or an instant messaging service might change the code, so if you are sending this, send it in a text file.
You can also paste from another event into this window if you need to bring in settings from somewhere else.
This import/export tool is an easy way to transfer themes, fix themes, and share them with others!
Good luck! We can't wait to see what masterpiece you create!