The Digital Seen editor allows you to customize almost every aspect of your event's color, graphics, fonts, and menus
Looking to brand your event site to match your organization or do you prefer to match your event's theme? The Digital Seen editor is the tool you need!
This article provides an overview of how the editor works. For detailed instructions on how to customize your site, please refer to the Digital Seen Handbook.
Here is what we will cover in this article
Accessing Digital Seen
The Digital Seen theme editor is found on the toolbar just to the left of your event Live Stream manager.

If you do not see this icon, it is likely that your package does not contain the Digital Seen feature or it has not been enabled for you yet. Please reach out to Handbid Service and we can get this setup.

Click on the icon to open up the Digital Seen manager. The first time you open this, you will be presented with an intro pop-up. The page provides you a handy link back to the Digital Seen Manager Handbook as well as some advice on how you want to go about customizing your page.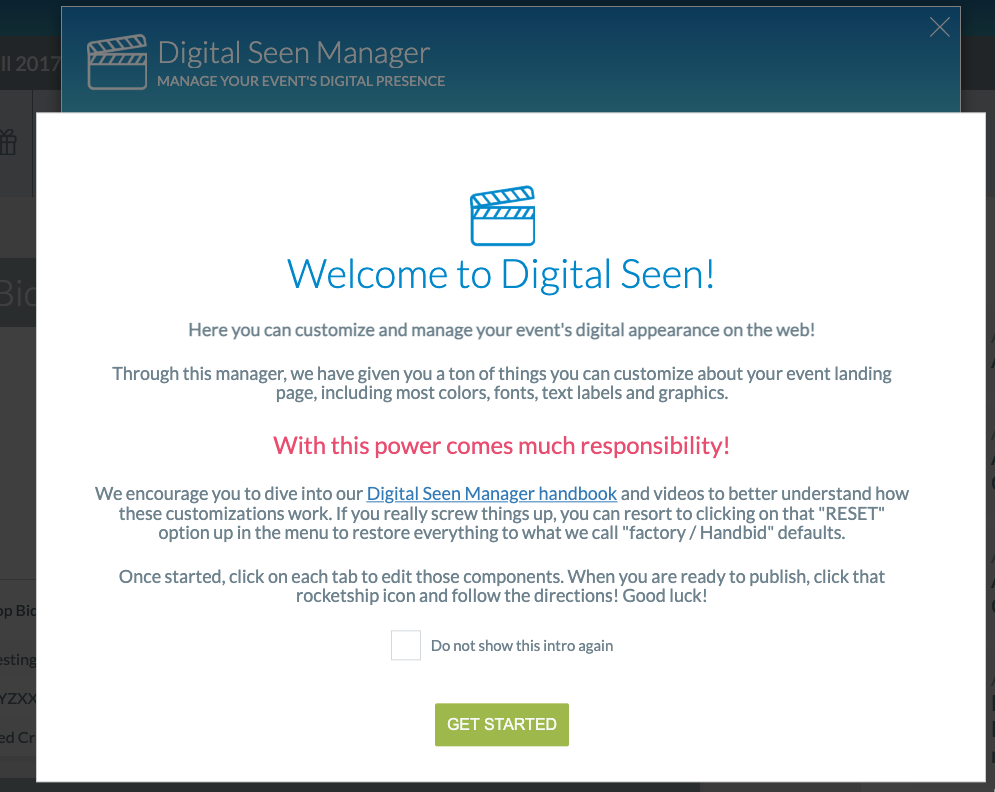 If you do not care to read this page each time you open the manager, be sure to check the box that says "Do not show this intro again."

Click GET STARTED to dive in. Be sure to use the Digital Seen Manager Handbook to guide you through the process of customizing your site.
Enabling and Disabling your Event Landing Page
The Digital Seen launch manager will allow you to enable or disable your landing page. Your guests will not be able to see it, and none of your automated links will work if you have your page disabled. So if you enable it and share it with others, you may want to keep it enabled (even if you plan to make substantial changes to it).
To access the launch manager, click on the "Rocket" icon in the Digital Seen toolbar

When the launch manager appears, you have two options: Publish and Hide. When you first create your site, it will be unpublished. Once you publish the site, you will be able to view and edit it.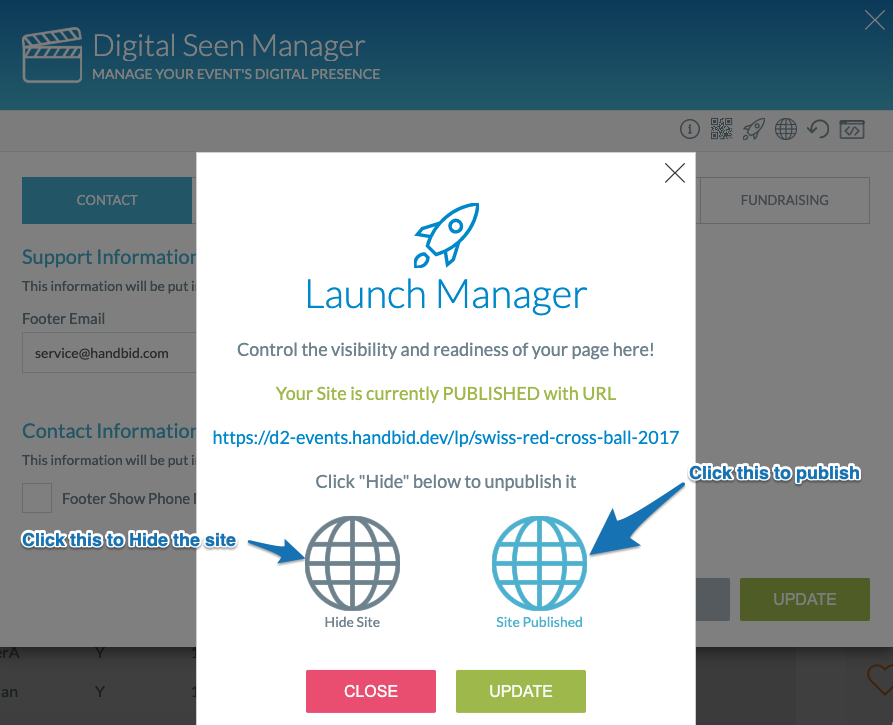 Once you click on Site Published and click update, your page will be enabled and live. However, no one will be able to find it until you share it with them as these custom landing pages are not accessible from the Handbid Events site.
To access your landing page or to share it with others, read over the next two sections of this article.
Viewing your Event Landing Page
To view your event landing page, you will want to click on the Globe icon on the Digital Seen toolbar. This will open up a new tab in your browser and load your newly created landing page.
Keeping this tab open is a good way to preview any changes or updates you make to the landing page settings (colors, fonts, etc.). Since no one without the URL can ever see your page, you don't run the risk of any of your guests seeing your work in progress (unless of course, you shared it with them already ).

Sharing your Landing Page URL
The launch manager has the full URL you can use to share with your guests. However, there is also a QR Code you can generate and download to share as well. To use the QR Code to share, click on the QR Code icon in the Digital Seen Tool Bar

When you click on this icon, the QR code will appear in a pop-up. From this pop-up window, you can click DOWNLOAD to download an image file to use in your marketing materials and online media posts.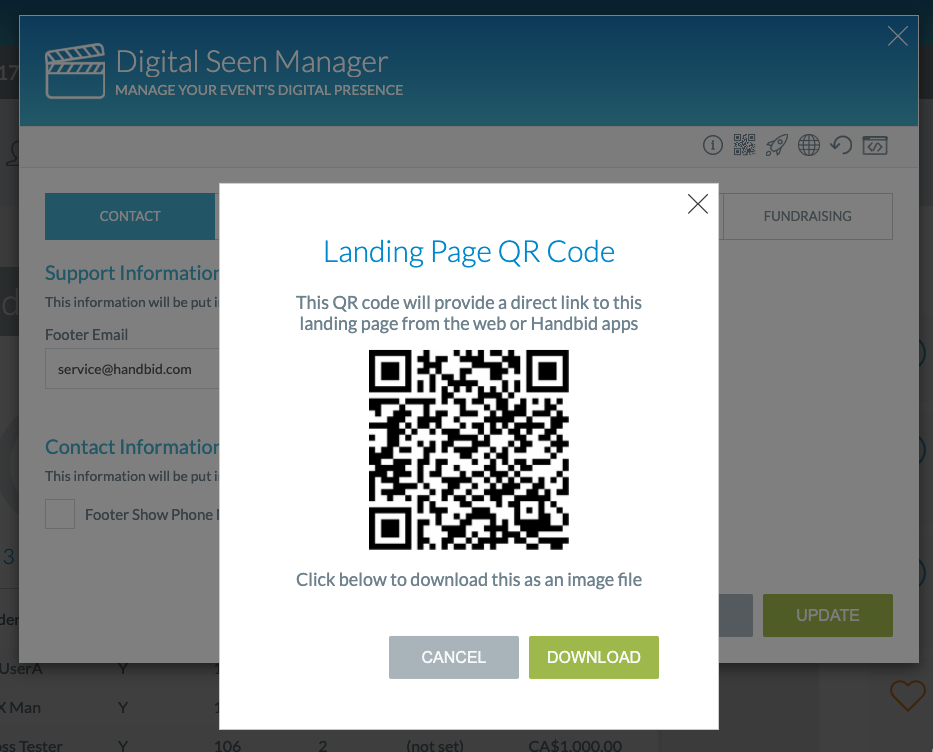 Wow, we are on a roll! With the Handbook at your side, it is likely you have most of your site theme done already. You know how to launch it and you have the tools you need to share it!
Now let's give you a few more tools and areas to get additional support.
Importing or Exporting your Site Settings
If this is a common theme you intend to use over and over again, you probably don't want to go through the process of configuring this for each event. Luckily, Handbid gives you a simple way to import a theme from another event and export the one you are working on right now.
To access this tool, click on the Import / Export utility in the Digital Seen toolbar.

Once this tool opens, you will see an editor with a lot of really complicated-looking configuration code. Do not get scared of what is in there, you just need to copy and paste all of it into another event or into a text file/Word Doc, (or a Sticky on your Mac) to save it. Internally we found out that Slack or an instant messaging service might change the code, so if you are sending this, send it in a text file.
You can also paste from another event into this window if you need to bring in settings from somewhere else.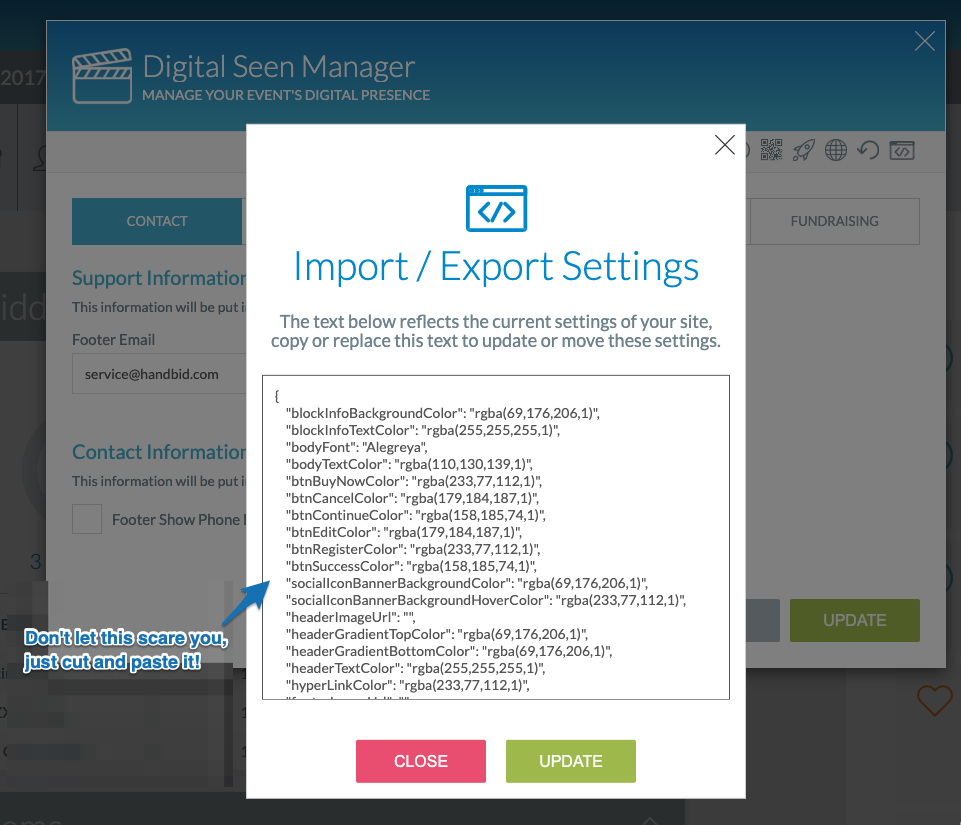 This import/export tool is an easy way to transfer themes, fix themes, and share them with others!
How do I just start over!
We hope it does not come to this, but if you get really messed up with your site and just want to start over, you can reset everything back to the factory default. Thankfully, we don't make you get out a paper clip and push in a hidden button for 15 seconds, but you will have to confirm your intention to reset things.
Once reset, your landing page will go back to the Handbid brand (which we think is awesome, but we suspect you want to start building again to customize away from it).
To reset your settings, click on the reset button on the Digital Seen toolbar

This will bring up the reset button where you have to confirm your intentions to reset things. Once you click this, you cannot go back, so please double-triple check this is the right thing you want to do.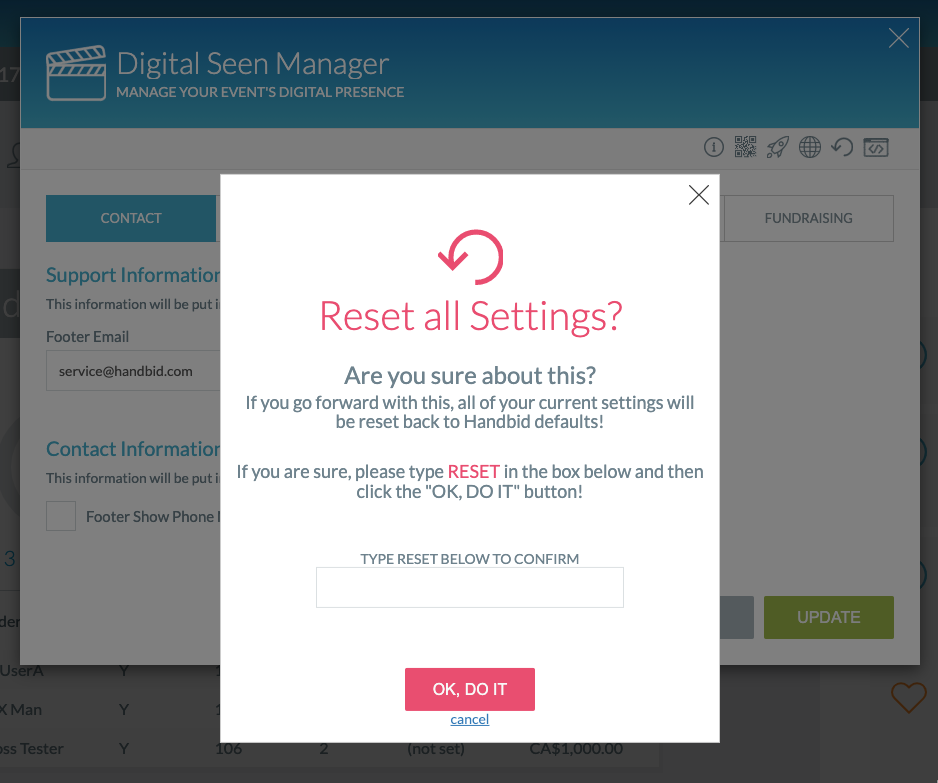 Digital Seen on the Handbid app
We have made an extension of Digital Seen Custom Themes to our Mobile Apps. In addition to a custom landing page, Digital Seen customers can also have a custom event theme within our iPhone, iPad, and Android apps! These customizations include fonts, background images, and color palettes.
You will need to complete some additional settings on the "MOBILE" tab within the Digital Seen settings. The apps will now recognize published landing pages and custom style the event pages based on the Digital Seen settings.
Settings you can customize on the app include the Logo, the Homepage, the background image, font for iOS, color settings, and gradients.
Handbid tip: Gradients will override the image. You can, however, use the gradient as an overlay by making the alpha value lower.
Android devices will use the font selected in the "LOGOS/PHOTOS/FONTS" tab.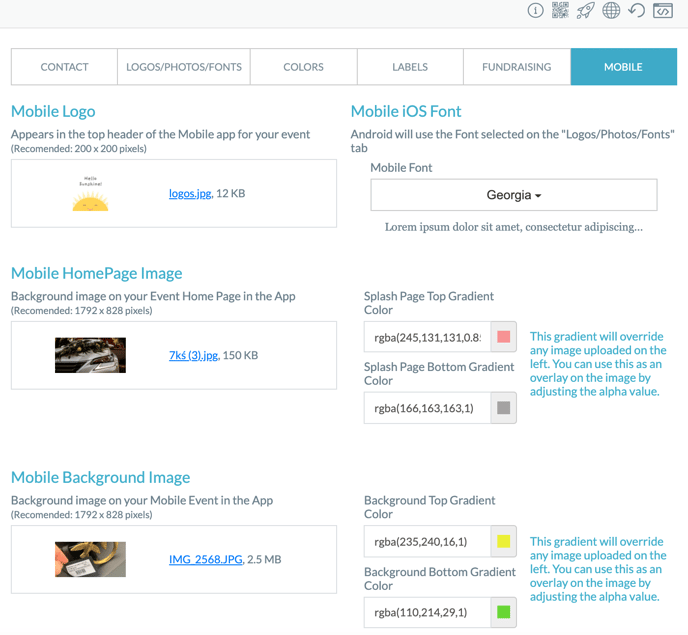 Where can I get more help?
Most of your questions will be answered in the Handbook. If you (or your designer) need more assistance, you can sign up for Handbid to professionally create (or fix) your themed site. We offer support in 1-hr packages. Please reach out to service and we will work with you to identify the support package you need or answer any questions that may arise.
Good luck! We can't wait to see what masterpiece you create!