As the auction manager, you have the ability to email or text an invoice/receipt link to a bidder or if necessary to print an invoice/receipt. Your winning bidders will also be taken to the invoice screen at the end of an auction.
To work with invoices in the left-hand navigation click on 'INVOICES/RECEIPTS'
You can search here for a name or bid number. Filter the receipts by all, paid, or not paid. You also have some information here showing the item count, totals, and if the bidder has a card on file.
Print Multiple Invoice/Receipts
Make sure your auction shows the CLOSED status in the upper right hand corner
Select all receipts, paid receipts, or not paid receipts
Select the Print Receipts icon
Your Invoice/Receipts will be displayed in the browser and can be send to a print or pdf file using your computers print function.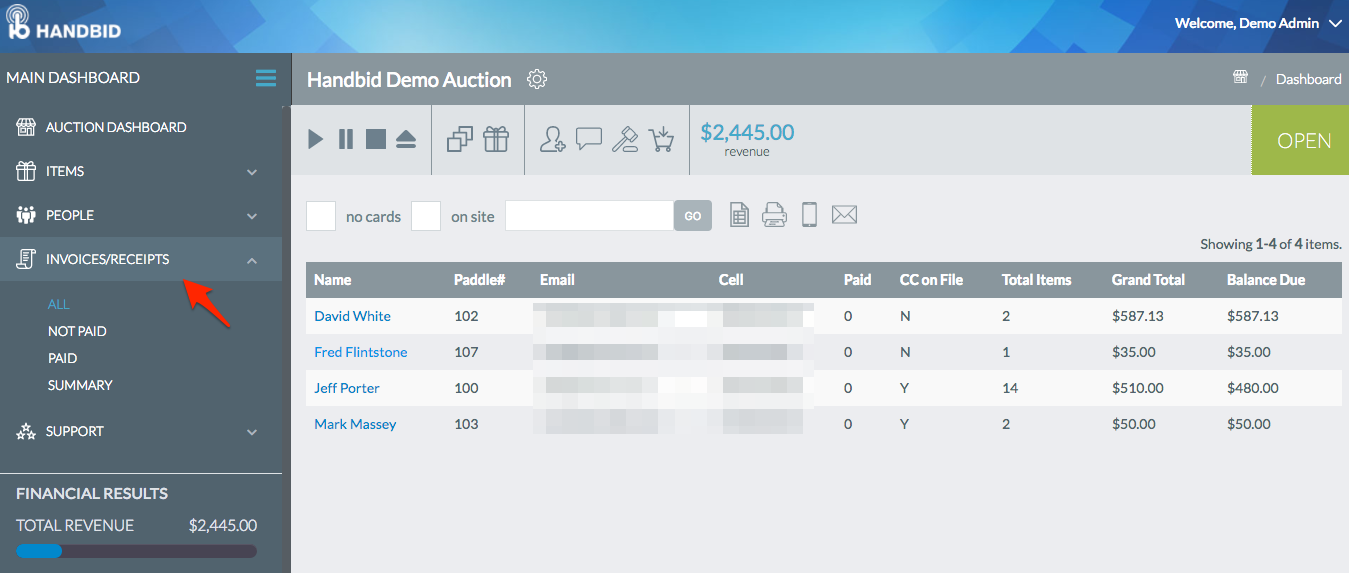 Email, Text or Print Individual Invoice/Receipt
By default an email receipt will be sent when it is paid
You may also elect an individual Invoice/Receipt to be texted or emailed to a bidder or printed
Select the email receipt, text receipt, or print receipt icons from the top of the invoice detail screen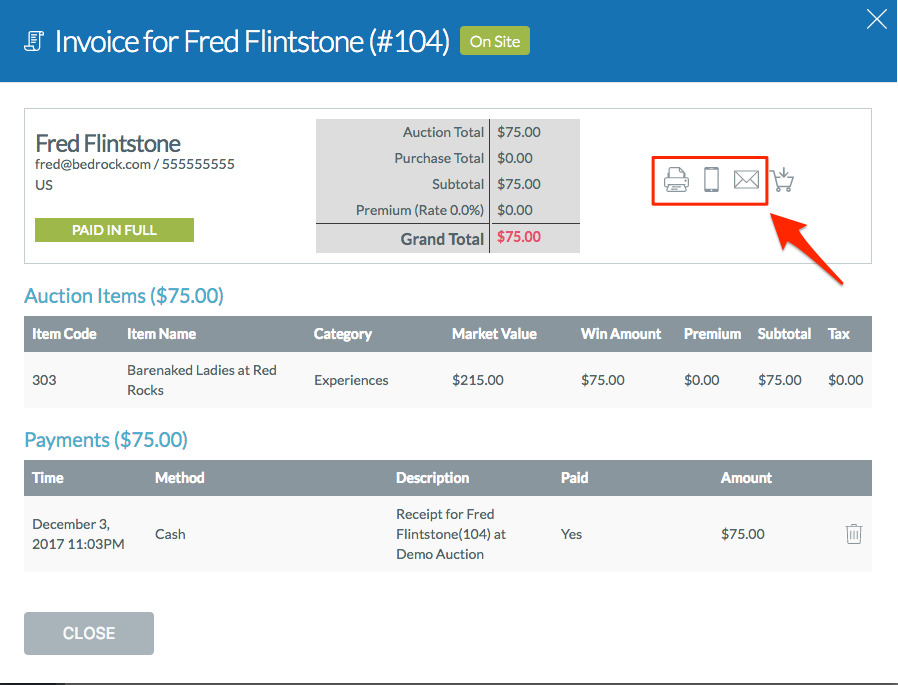 Send a bidder their invoice or receipt.
Important Information
By default a invoice is emailed to the bidder once the invoice is PAID IN FULL. You can choose to not send an email if you uncheck the checkbox at the bottom of the payment screen. Use the diretions below to resend an invoice via email, send an invoice link via text or sent the invoice to a different email address,
You can send a bidder their invoice or receipt from the Auction manager by clicking on the Email or Text button on the receipt. Here are the steps:
Open the Auction Manager for your Auction
Click on Invoices/Receipts from the Left-Hand menu
Find the bidder's receipt
Click on it to open it.
From there, you can send an email by clicking on the email icon in the top right
Confirm the email and then hit send.
You can send a text by clicking on the phone icon.