Learn how to set up ticketing through your Handbid site!
Warning: Do NOT preregister all of your bidders. Login credentials such as a password will not be received by the bidder and they will be unable to get into Handbid. Your users will need to register themselves in order to log in to their Handbid account.

If you are planning to sell tickets using the Handbid system you will need to make sure that Ticketing is enabled for your auction. To enable ticketing you need to:
In the Auction Dashboard, click on your settings gear icon to open up your settings window
Click on the INFO tab
Select the "Enable Ticket Sales" box on
Click the green UPDATE button.
If you have purchased ticketing for your Handbid event and you are not seeing the Enable Ticket Sales option email us at service@handbid.com.
A few other settings to consider:
After you enable ticket sales on your site, there are a few more settings to consider before you finish enabling ticketing on your site.
Enable Credit Card Processing through Handbid - you will need to enable credit card support in order to process ticket sales through Handbid. When users purchase a ticket they will be prompted to add a credit card in order to process and complete the ticket purchase.
Require a card on file to bid or purchase - We also recommend making credit cards a requirement upon registration. You can find this option in the FINANCIAL settings. Please note that, this will not affect your tickets as they will need to add a card in order to purchase a ticket regardless of this setting.


NOTE: Tickets that are purchased through the app and the website will charge the purchasers/bidders card upon payment. Tickets can be added to a bidders invoice without charging a card from the auction manager.
ADDING A TICKET
Handbid allows you to sell event tickets (admission), tickets for your auction/event. Items that are set up as tickets will show up in the "Buy Tickets" window on Handbid.com on your auction page.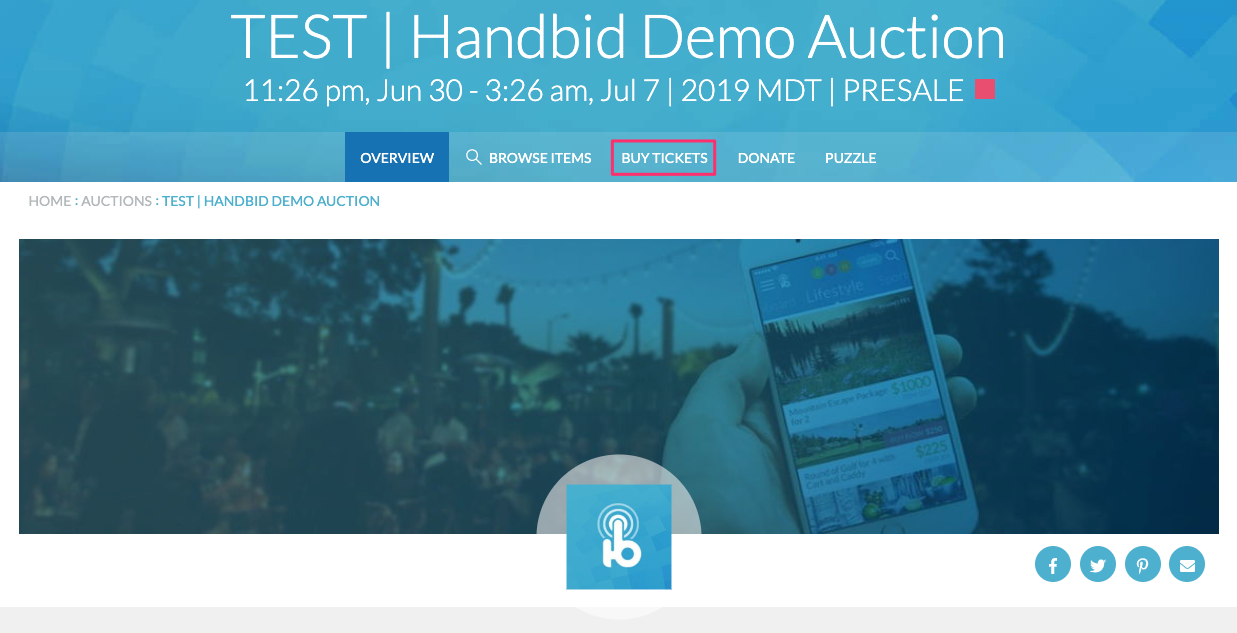 SETTING UP EVENT TICKETS
To setup tickets, you will create a new item and select "Ticket"
To start, click on the "Present"

icon in the toolbar and when the pop up appears,
select "Ticket"

Complete the item details as well as the "Ticket Options" tab and then click the green CREATE button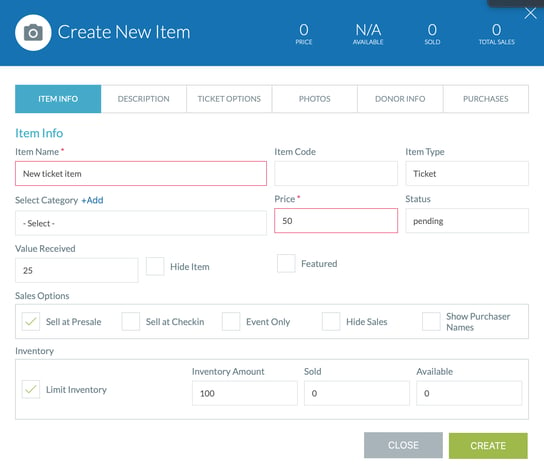 CREATE TICKET SETTINGS
Here are the options for each screen that you will need to add:
ITEM INFO
Item Name - keep this as short as possible. 54 characters or less is recommended.
Item Code - this is how you will identify the item (ticket)) in your reporting.
Item Type - you will not be able to edit this as you are creating a ticket item.
Status - this will always be pending when you create an item. When your auction opens, this will be changed to open. Otherwise, you will want to go back in and update this to "open" if you want to open up this ticket for sales prior to opening your auction.
Category - this is no longer needed as tickets are sold outside of categories.
Price - ticket price.
Value Received - this is the value received in exchange for the ticket. This is an example of a Quid Pro Quo contribution. For example, if you sell a ticket that includes dinner and the value of dinner is $50, then you would put $50 here.
Sales Options

Sell at Presale - this will be available to purchase when the auction is in pre-sale mode.
Sell at Checkin - this will be available for agents to add to a customer at registration.
Event Only - this would really not apply to tickets but more so to do a wine pull or any item that you want to sell from an iPad or laptop at an event.
Hide Sales - if you do not want to show total sold or quantity remaining of a ticket, select this.
Show Purchasers Names - This setting is not applicable for ticket items.
DESCRIPTION
Description - Ticket description
Notables - This is where you put in the fine print (e.g. restrictions, etc.)
Redemption Instructions - These instructions will print on the purchaser's invoice that is emailed
TICKET OPTIONS
Sale Start and End - please put in when the tickets will go on sale and when that will end. Note that the auction will still need to be in either Presale/Preview (with the presale option selected) or open for these tickets to be purchased.
Limit per Transaction - how many of these tickets can someone buy at once? The default is unlimited.
Admits per Ticket - how many people does this ticket admit? 2? Is it a foursome for a golf tournament? (4), is it a table for a Gala event? (8) etc.
Select Guest Status - You will need to set a guest status for a ticket. You can choose a status or create your own. You will need to add one to create or update the ticket item.
Ticket Instructions - You can add ticket instructions here. These will show on the app and the website prior to a user purchasing the ticket.
Discount Codes - create as many discount codes as you need for people to use to adjust the ticket price. There are two types of discounts: Amount (a whole number that will be subtracted from the ticket price. (e.g. Amt Discount with a value of 20 would deduct $20 from the price of a ticket) and % discount (e.g. 50% off to give someone half price). The code should be a text code that you give to the purchaser to use (like a coupon code)
Surcharge - do you want to charge a handling fee or another surcharge? You can either apply an amount Surcharge (e.g. $2 per ticket) or a % surcharge (10% on top of the ticket price)
PHOTOS / DONOR INFO / PURCHASES
You do not need an image for your tickets. You do not need to add donor information this field would be better fitter for a for sale item or an auction item. Purchases will show you a list of all of the ticket purchases. You can also go into the reporting tab > tickets > ticket purchases to pull a report on all of the ticket sales.