Do you want to find out the contact information for your guests, who won which item, see a list of what your bidders bought or get a list of invoices and see who has or has not paid? You can export the data directly from Handbid.
There are report/export buttons at the top of the Item List, the Bidders List and the Invoices List.
EXPORT ITEM INFORMATION
There are three exports you can access. They are:
ITEM SUMMARY REPORT - this will pull a list of items and summary information including number of bids, winning bidder, FMV, etc. We use this to verify the information prior to opening an auction and also after an auction has closed to pull some quick stats (total bids, revenue vs. FMV, etc.)
ITEM DETAIL REPORT - This report will pull ALL information about an item. Use this to export the data to another system or store it outside of Handbid
ITEM PURCHASES REPORT - This is a handy report to pull AFTER an auction closes. It will list all items purchased, sorted by the bidder's name. Want to know everything that John Smith bought so you can get a runner to retrieve it? This report would be a good way of quickly accessing that information.
HOW DO I GET THERE?
Click on the ITEMS section on the left hand side
You can choose ALL or a specific category
Click on one of the types of reports (icons) on the top of the list of items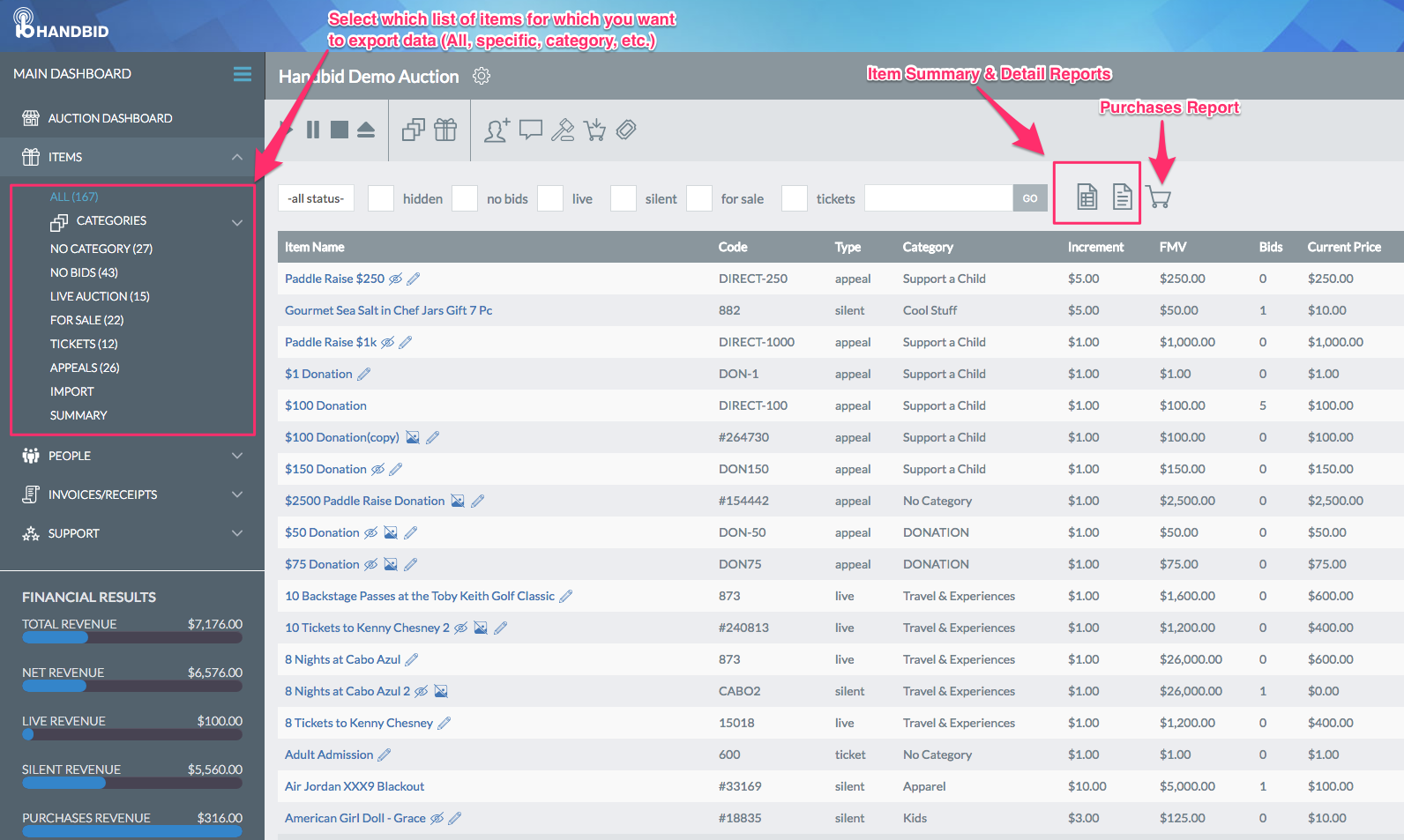 EXPORT BIDDER INFORMATION
Get a list of all of your bidders, their total bids, and the amount of money they spent. You can pull that data down from the bidder's list.
Click on the PEOPLE section on the left hand side
Click on export one of the two icon on the top

INVOICE/RECEIPT SUMMARY
We have a summary report available in the auction manager that shows what is collected and uncollected. You can get a list of all invoices and see the balance due on them by bidder through this export. Click on the Invoice/Report and it will download a CSV with the information.
Choose the INVOICES/RECEIPTS section on the left hand side
Select either ALL, NOT PAID or PAID
Click on export icon on the top

WHAT IS A CSV?
A CSV is a comma-separated-value format. This is a text file which can easily be opened in a spreadsheet application to view the information. If you have Microsoft Excel or Apple Numbers, it can read this file format and organize your report into columns and rows for you to review and manipulate.
If you do not have either of these software packages, we recommend using Google Sheets as a free online spreadsheet tool. You can import CSV files into that application to review.