Before you start organizing your list of names to push into Handbid, you need to decide which repository in Handbid to use.
This can be confusing at first, but once you understand how Handbid manages data, it should make more sense.
How Handbid Stores Data
Handbid has 3 main repositories of data that are related to your organization and event. You can create bidder accounts from ANY of these sources. These are:
Contacts. The contacts is a global list of anyone who has ever registered as a bidder in a past auction, anyone you have imported from your CRM, or anyone who you added from within the system. All contacts in Handbid must have an email address so that they can be synchronized with the Handbid user database and your CRM (note: this was not always the case so you may have some junk data in there you will want to purge).


Invitees. Invites is a temporary list of people that you may want to invite to your event. The invitation list can be generated from your contacts (e.g. having Handbid pull in contacts that have bid in a prior auction), or it can be a list you import. The nice thing about the invite list is that it is relevant ONLY to this particular event. What that means is that any data you store here (e.g. table assignment or sponsor) won't be copied back to your contact list and permanently stored.


Guest List. The guest list is similar to the invite list in the sense that it is unique only to this auction event. However, it is unique in the fact that you can pre-assign paddle numbers off of it and you can use it to manage attendance at your event. Moreover, the Handbid ticketing system is tied to the guest list, so if you are selling tickets through Handbid, those users will appear in your guest list. The guest list also has other advantages including the ability to scan in tickets when people arrive to check them in, the ability for your ticket purchasers (sponsors) to manage their own guest list, and the ability to get an accurate account of who is at your event and who is not.
So which one should you use? It all depends on a few factors. The following decision diagram may help you determine the best path: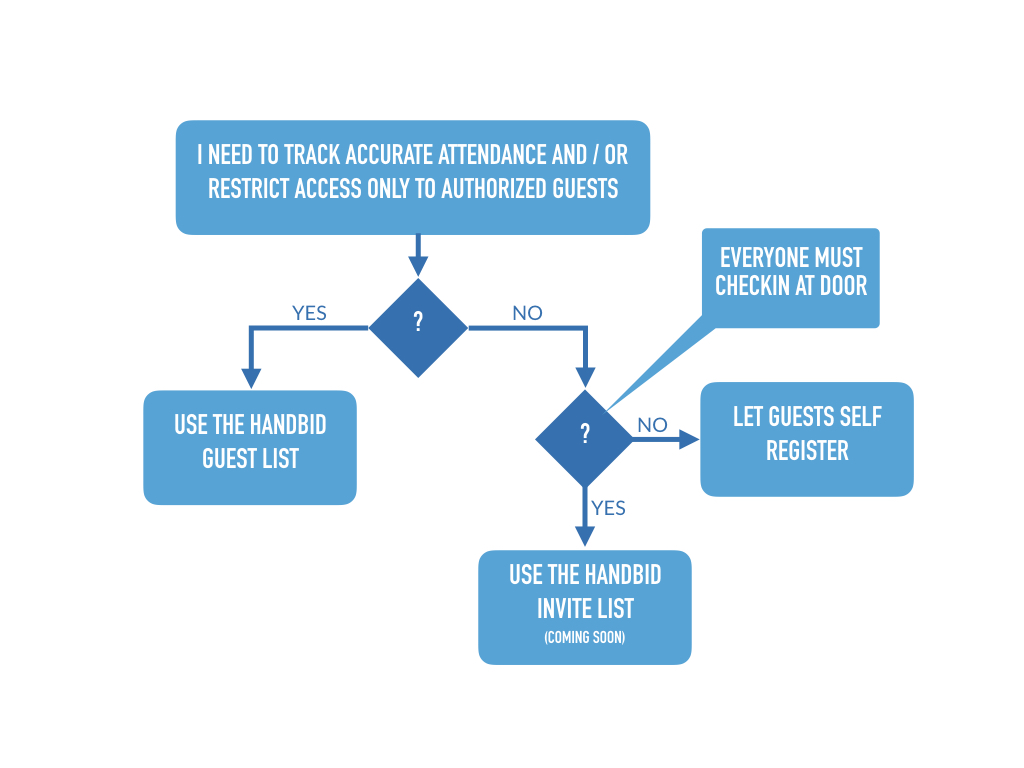 Walking through this decision tree (above) will help you better understand the best way to organize your checkin process.
Using the Guest List to Manage Checkin
Use the Guest List if you:
Want to track accurate attendance at your event.
In other words, if someone showed up and they were not on the guest list, there would be a problem. Not that you would immediately want to kick them out, but more likely that you don't know where to place them for dinner.


Need to make sure each attendee gets a credential.
Do you have a badge or credential that each attendee must have? Then you will want to make sure you generate a guest list so that you can track who came into the event and who did not.


Did you sell tickets through Handbid and/or do you want to scan tickets?
If you sold tickets through Handbid and if you want to scan tickets at the door, then you will will be default be using the Handbid guest list.


You want your sponsors to manage their own data. With Handbid's ticketing system, your ticket purchasers can manage their own guest list. To learn how this works, please visit this article here.

You want to pre-assign paddle numbers. We hope you don't, but we know that some of you prefer to do this. You can upload a guest list and pre-assign paddle numbers if you need to.



You want to organize and manage table assignments. The guest list is designed for allowing you to manage table assignments of your guests.
To conduct a checkin using the guest list, please visit this article: Checking in Guests and Registering Bidders from the Guest List
On that page, you will also find a link to how to run a check-in from the iPad app. If you want to just skip ahead to that article, you can find it here: Checking in Guests and Registering Bidders using the iPad App.
The alternative to the Handbid guest list for checkin are either the Invite List or Self-Registration which we will cover next.

Handbid Invite List
The Handbid invite list was originally created to allow managers to invite users to their auction event. However, it is also useful as a checkin tool if you just need to lookup guest data and don't care to track each party coming into the event.
The advantage to this approach is that you can load this list with names, email and phone (if you have it) and table and sponsor data; and, you can search off of this list when creating bidder accounts.
To see how to register bidders using the invite list, you can visit this article: Registering Bidders off of the Invite List
Allowing bidders to "Self Register"
If you are not conducting a paddle raise (where you need to hand each guest a bidder number) and you don't have the resources (or desire) to checkin all guests walking in the door, the best approach then would be to run a "self" checkin.
For self registration, you can simply put out instructions for guests to grab when they arrive (or email instructions that you send out in advance). After arriving, the guests can take those instructions and register themselves for your auction.
To assist with this, we also recommend having volunteers in the auction area that can help register bidders from iPads or assist bidders with the self registration process directly on their phones.
To learn how to run a self-registration process, please read this article: Bidder Self Registration.