This article will cover what a floor bid is and how you can use the Handbid for iPad app to place floor bids
The first question we have to answer is: What is a floor bid?

A floor bid is referring to a bid placed in a live auction in the Handbid software on behalf of all bids in the room or "on the floor". Typically in Handbid (barring some situations), you can not raise the bid of a bidder if they are already winning an item. Through floor bidding, you can. You will have to assign a bidder that is in your auction to be a floor bidder.
Caution: A floor bid in Handbid is NOT referring to the lowest bid that will be accepted. That is an auction term that you may have heard before but that is not how Handbid uses the term.
1 - Assigning a floor bidder
To assign a floor bidder you will want to go to the bidder list in the Handbid manager. You will want to designate only one person/account in the auction as a floor bidder. The floor bidder can be either a real/existing user account or a made-up account that you create in the backend of the Handbid software.
Once you designate your floor bidder, go to the bidder record in the auctions bidder list. There you will find a box that says "Is Floor Bidder". Check this box and save to enable the setting.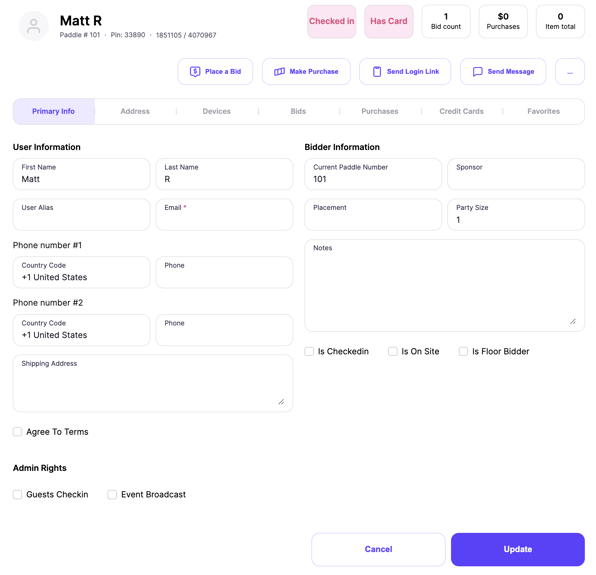 You can still place bids for people that aren't designated as floor bidders, however, they will not be able to outbid themselves through Handbid.
2 - Placing a floor bid through the STREAM tab on your iPad
After you have assigned your floor bidder, you will want to make sure your live stream is up and the items you wish to promote are promoted. When your item is queued up and ready to accept bids you can place floor bids or accept mobile bids. To learn more about mobile bids for a live auction item you may view this article.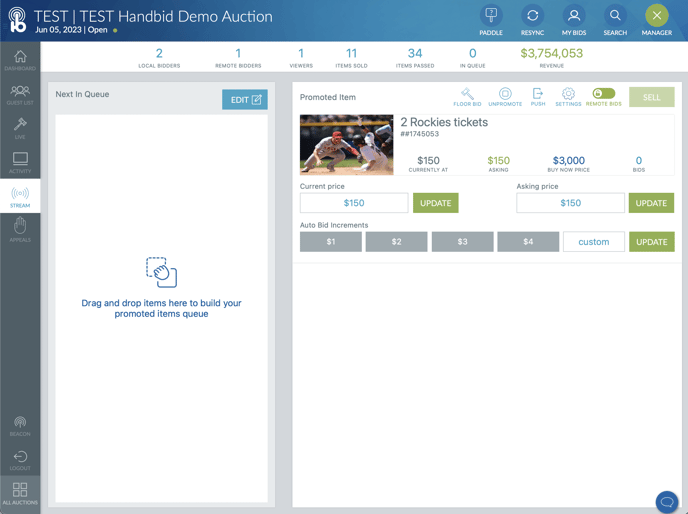 When you are ready to start entering floor bids tap the gavel icon with "FLOOR BID" written underneath. That will prompt you with a new screen to enter the amount of the bid by using the "+" or "-" symbol or by using the digits below to enter a number manually. You will also see a list of all users including floor bidders whom you would place a bid for. Select your floor bidder from this list.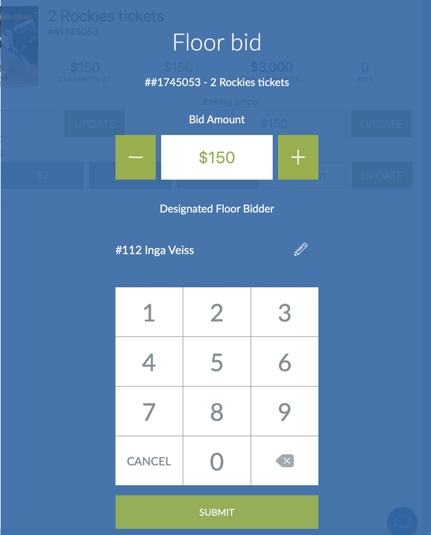 After you tap submit, a bid will be placed at that amount to the bidder you had selected. Just remember that you can not raise the bid of someone who is already winning unless they are designated as a floor bidder. For in-room bids, you will most likely want to use 1 floor bidder and just note down the paddle and the winning amount so you can sell this item to them, you would not continue to place floor bids.