Getting Started as a Bidder
Handbid Alerts: Push Notifications vs. SMS
This article will summarize the difference between Push notifications and SMS notifications.
All of your messages (Broadcast Alerts, Winning, Losing, Text) will be visible in the Alerts tab. They will also pop up on the screen, but if you happen to miss an alert or dismiss it too quickly, go to the top left menu bar on your mobile device and select the ALL ALERTS tab to view them: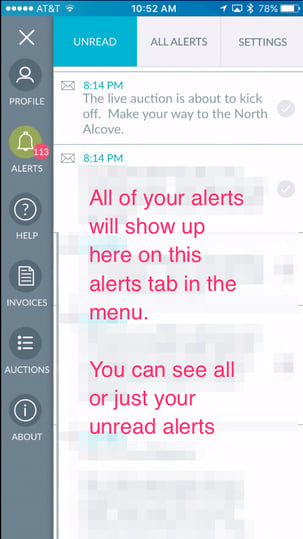 From this tab, you can view either ALL of your alerts or just the UNREAD alerts. You are able to tab between those views.
DO YOU WANT TO CHANGE YOUR MESSAGES FROM PUSH TO TEXT, OR FROM TEXT TO PUSH?
You can instruct Handbid on how you want to receive messages or even turn them off entirely. Go to your alerts section, and select Settings. From there you can change your messaging preferences.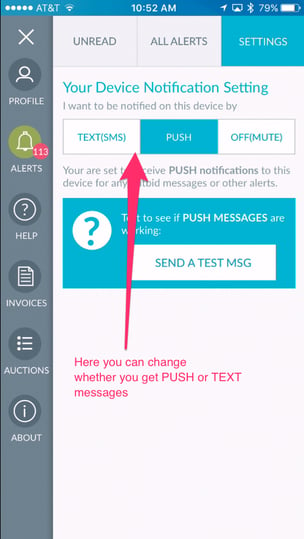 What is the difference between a push message and a SMS/text message?
Push/In-App:
If you're using one of our apps (for iOS, Android) you will receive in-app messages or push notifications. These are delivered to the Handbid app using your data plan. When you receive a push message and tap on it, it will immediately open the App and show you the details.
SMS/text:
If you choose to receive SMS/text, messages will be delivered as text messages and will be delivered as any other text message. Normal data rates may apply.
If you have a smart phone, we recommend using the app. We've worked hard to make our app an awesome experience, and many features are not available with SMS. Who wants to swap back and forth between the app and text messages?!?!?!