This article will provide you with an overview of the Handbid puzzle, including an informational video.
The Handbid Puzzle is a unique way to engage with your donors to raise money for your cause. Whether it be a capital campaign (new building, research project, etc.) or a general appeal, setting up a Handbid Puzzle is a great choice. To learn more about how to create a Puzzle in Handbid, click here!
So what is the Handbid Puzzle?
Think of the Handbid Puzzle as a form of "thermometer" to track your progress toward a goal. We could have built a thermometer page for you, but everyone has a thermometer. Why not do something different?
With the Handbid Puzzle, each piece represents a step toward your overall goal. When the puzzle is complete, the goal has been reached.
To make it interesting, the Handbid Puzzle shows a before and after state. Before the any pieces have been purchased, the Puzzle shows a "before" state. As pieces are purchased, the "after" state begins to be revealed. When all pieces have been purchased, the "After" state is fully revealed to your donors.
Let's illustrate this with an example.
Perhaps you want to raise money to build a well for a village in Africa. Today, the villagers gather water from a nearby river; but, the water is not sanitary and unsafe to drink. It would be best to build a well to supply fresh water to the villagers. The cost of this well will be $10,000.
You could put up a fundraising page on your website for the project and have people donate any amount toward your $10,000 goal. You could also have a thermometer showing progress toward your goal.
But, a better choice would be a Handbid Puzzle. For a $10,000 goal, you could create a 10x10 puzzle (100 pieces) with each piece being $100. You could then ask your donors to purchase a piece.
To start, you show the current reality you are trying to solve: Undrinkable water for this village in Africa. (in the photo below, you see how Handbid will present this in the form of a puzzle)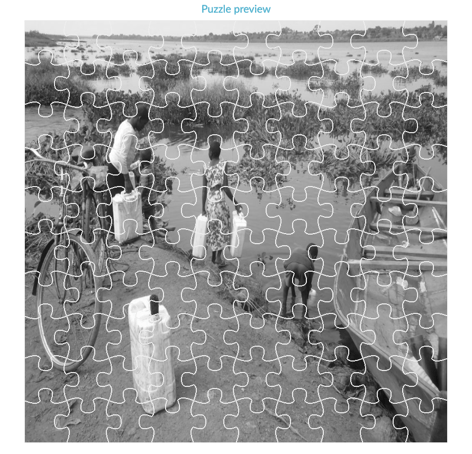 As pieces are purchased, the "before" photo will transform to the "after" photo. Donors will see how their $100 contribution contributes to a new reality (see below).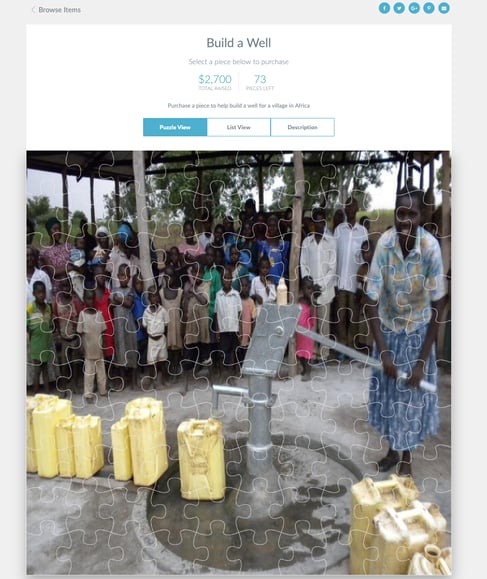 So how do you setup a Puzzle?
Read the following articles on how to set up your Handbid Puzzle:
Setting up a Handbid Puzzle. This article will show you how to
What does it cost to run a Handbid Puzzle?
The cost of the Handbid Puzzle will be 3% of the gross proceeds generated from puzzle-piece sales (not including credit card fees). These prices may vary so please check on www.handbid.com or with your Handbid account representative for the latest pricing.

Have more questions?
Please reach out to us here (open a ticket) or contact your Handbid sales representative for more information. If you are not a Handbid customer, we would LOVE for you to join the family. Click here to get started.