This article provides instructions for creating and adding a bidder.
The following information will show you how to create a bidder account using the Auction Manager.
Warning: Do NOT preregister all of your bidders. Login credentials such as a password will not be received by the bidder and they will be unable to get into Handbid. Your users will need to register themselves in order to log in to their Handbid account with their own credentials.
INSTRUCTIONS: Creating a Bidder Account
To add a bidder in the auction manager, click the "Bidders" icon at the top of the auction dashboard.




From here, you can search for an existing bidder in the Contact Search Window. This includes your contact list, invite list, or guest list. You can search for bidders associated with your organization by first name, last name or email address.

                                      

A bidder is associated with your organization if they have bid in ANY of your auctions or if they have been added to your organization as a CONTACT on the main dashboard

If you want to search for a bidder that already has a Handbid account, but is not in your organization's contact list you will need to enter their exact email address on the left side under "Contact Search".

If the search results return a bidder you are looking for, you can select the radio button next to their name and their information will populate on the right side of the screen. You may edit any of the information on the registration window except for the email and then select REGISTER.

If the search results do not return a bidder you can select the "Register" tab, add new bidder information and select REGISTER.
If you opt to register a new bidder, instead of searching for an existing contact, you can click the register tab, which will provide this screen. Make sure to fill out the red boxes and hit "Register"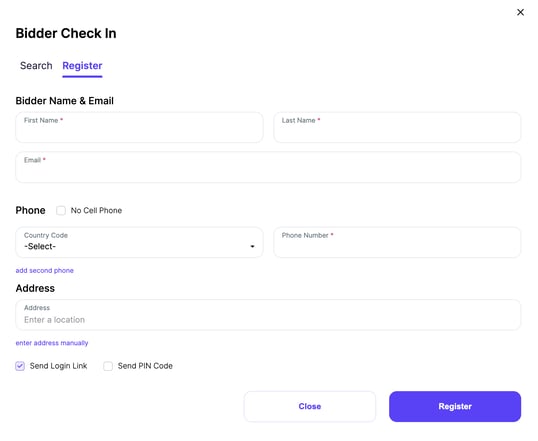 The next screen will assign the bidder a paddle number to use in your auction. You can also enter additional information about the bidder, add a credit card, or add for sale items that are available for check-in (under purchases). Once you have added everything for the bidder, select the "check-in" button to complete. This will text the bidder a welcome email with their paddle number and a link to login into the app.

Handbid Best Practice: Enable your users to register themselves for a more seamless check-in process. You can learn more about self-registration HERE