How to Find and Add an Existing Bidder to My Auction
If a guest has previously bid in a Handbid auction before, you can add them to your auction to encourage them to bid again!
Sometimes a bidder will tell you that they have already registered for Handbid. If they are not showing up in your auction, it still may be possible they are registered within the Handbid system. In some cases, a person will create a Handbid account but then when asked to register for your auction, they say "Browse". That will not add them to the bidder list but make them a "browser". In those cases they will not become a bidder until they bid or purchase something or they go back and register for the auction.
If they wish to be registered, you can also add them from the Auction Manager. To add them, start by clicking on the "Add Bidder" icon on your auction tool bar.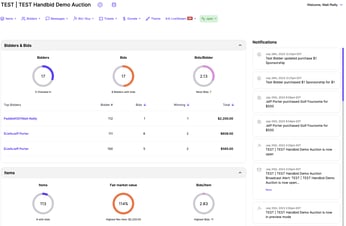 This will pull up the "Add Bidder" dialog. Normally you would search by last name, sponsor, etc. to look up data in your guest list or contacts. However, if you type in an email address in the search box (have the user tell you which email they registered under), you can search the entire Handbid user database for this person. If they have a Handbid account under that email, it will appear. You can then select this person to add them to your auction and assign them a Paddle Number.