How to Link and Unlink a Guest Account
This article provides an informational video and instructions on how to unlink a guest from one bidder account and assign to another
In Handbid when a user or guest registers as a bidder they receive a paddle number. Handbid differentiates bidder accounts by the email address used to create the account. Using a different email address when registering a user can result in multiple bidder accounts or multiple paddle numbers. In this scenario, you can unlink a bidder account and reregister a new one or link an existing account.
How to unlink a bidder:
So if we have a bidder named Shadow R and he is registered with an email at check in, and he did not click on the login link on his mobile device. He downloaded the Handbid app and registered under a different email address We can unlink Shadows bidder account that is set up on the guest list to the one he established on her mobile device. To do this you unlink the bidder account (shown below) and the update her guest slot with the same email address she registered with on her phone.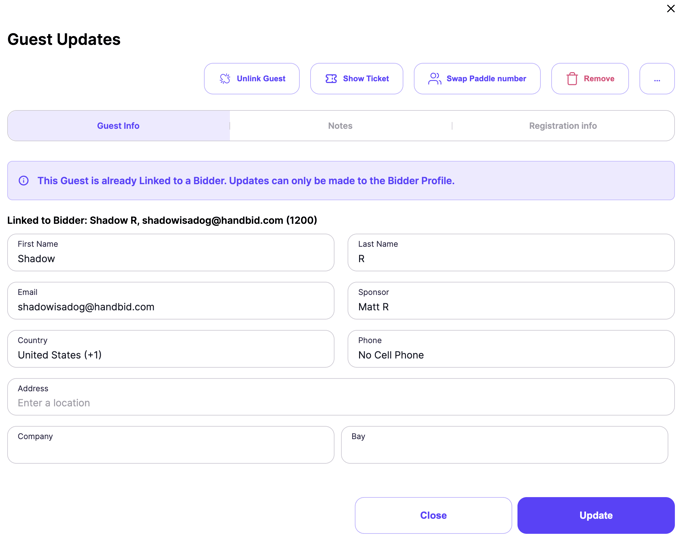 How to link a bidder:
If Wilma Flintstone arrives at check-in to be checked in off of the guest and registered as a bidder, but she has already downloaded the Handbid app and registered we can link her bidder profile to her name on the guest list. When you select "register as bidder" you need to register her with the same email she used to register herself. This will display a user exists dialogue and give you the option to link the bidder.