This article will discuss how to import custom form data into your guest list.
In order for to import custom data into your guest list, you must first have ticketing enabled, a ticket created, and a custom form attached to the specific ticket.
Importing custom form data is not usually recommended and we strongly advise against this practice as it can get complicated. However, there are some rare circumstances where it may make sense to do this. If you have custom information that you want to import into your guest list from another system, it is possible with some key limitations:
We can only import data into a form that already exists on a ticket. What that means is that you just can't add custom data to a spreadsheet and attempt to add it to your guests in Handbid. To do that would first require you create a form with the same data elements and then attach that to a ticket. This is because Handbid creates the database elements to store this custom data when the form is created. So we need that done first. To summarize:
- Create a form that has the same elements you want to import (e.g. meal choice, seating preference, etc.)

- Attach that form to a ticket in Handbid
A guest slot must already exist in Handbid which means that the ticket sales will need to be done first before we can attach custom data to them. So.. what does that mean? Well it means that we can't import that John Smith wants the Vegetarian meal if John Smith did not purchase a ticket that had a "meal choice" option attached to it. So to get around this, you will want to "purchase" a ticket on John Smith's behalf first so that he exists in Handbid and there is a place where we can "store" his custom meal choice data.
Video: How to Import Custom Data into the Guest List
With these limitations (requirements) outlined, here is a video on how you can import that custom data:
Step by Step Instructions: Importing Custom Data
To import custom data, you will need to first go to the Guest List Import screen. From there, find the section below the guest list importer called "Import Custom Data". Importing will be a 3 step process: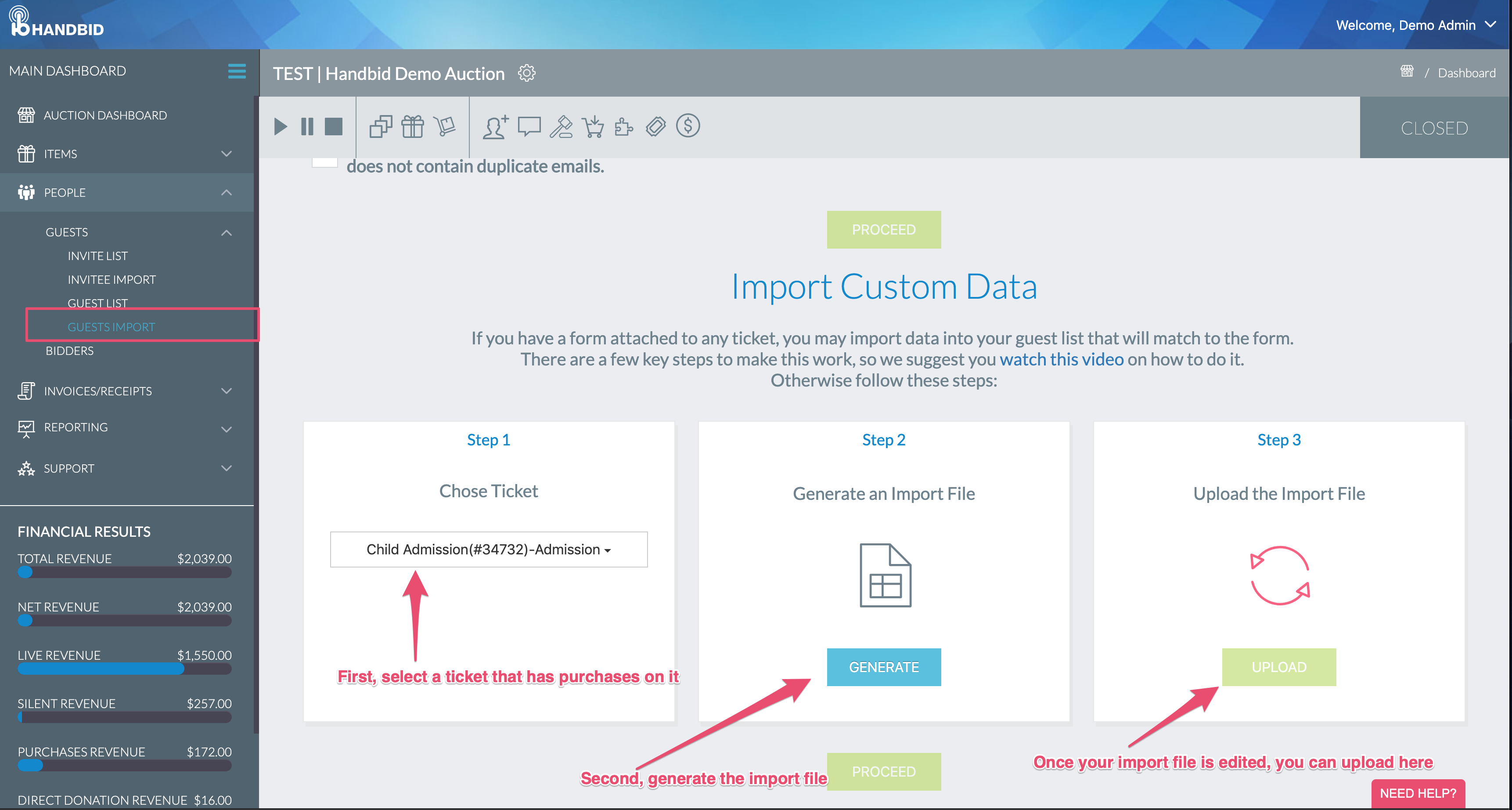 Step 1 - Select a Ticket
We each ticket has a form associated with it that stores data, so we need to know the ticket so we can find the correct form. Once you have a ticket selected, then move on to Step 2
Step 2 - Generate an Import File
Handbid will generate and download a file to your computer in a CSV format that lists each guest as well as the form fields on the ticket.
Some things about the spreadsheet to understand:
The 2nd row of the spreadsheet provides an overview of the import file. Use this to help you complete the spreadsheet. There is no need to delete this row - Handbid will ignore it.
The first column of the spreadsheet contains a Guest ID. Please just ignore this column. Do not delete it and do not edit it. We will use the value in this column to find the correct guest in the db and attach the data to them.


The name and email fields are just there to help you identify the guest. Editing their name and email here WILL DO NOTHING. Handbid will not update the guest name or email from this column. This is only for updating custom data. If you need to change a name or email, you will either need to edit those guest names and emails directly in the manager or download the guest list and upload those changes (see importing guests into the guest list).


If you have a field that requires a particular value, the 2nd row of the spreadsheet will list those out. For example, if Column H has "Meal choice" and the options are "Chicken or Fish", the 2nd row of the spreadsheet will show those. You can only select from these choices. Adding "Beef" as a third option on a row will not work as it is not a valid option on the form. Handbid will reject it when you attempt to upload the spreadsheet.
When you have your spreadsheet complete, you can move on to Step 3 - importing it.
Step 3 - Import the Custom Data File
Under Step 3 on the Import Screen, Select file and click PROCEED to upload the spreadsheet you just created.
Once Handbid is done reading the file, it will show you a list of HEADERS in the db that you need to map to your spreadsheet. If you used the generated file without modification, click on "auto-match" link just above those Headers to match those fields to the columns in your spreadsheet.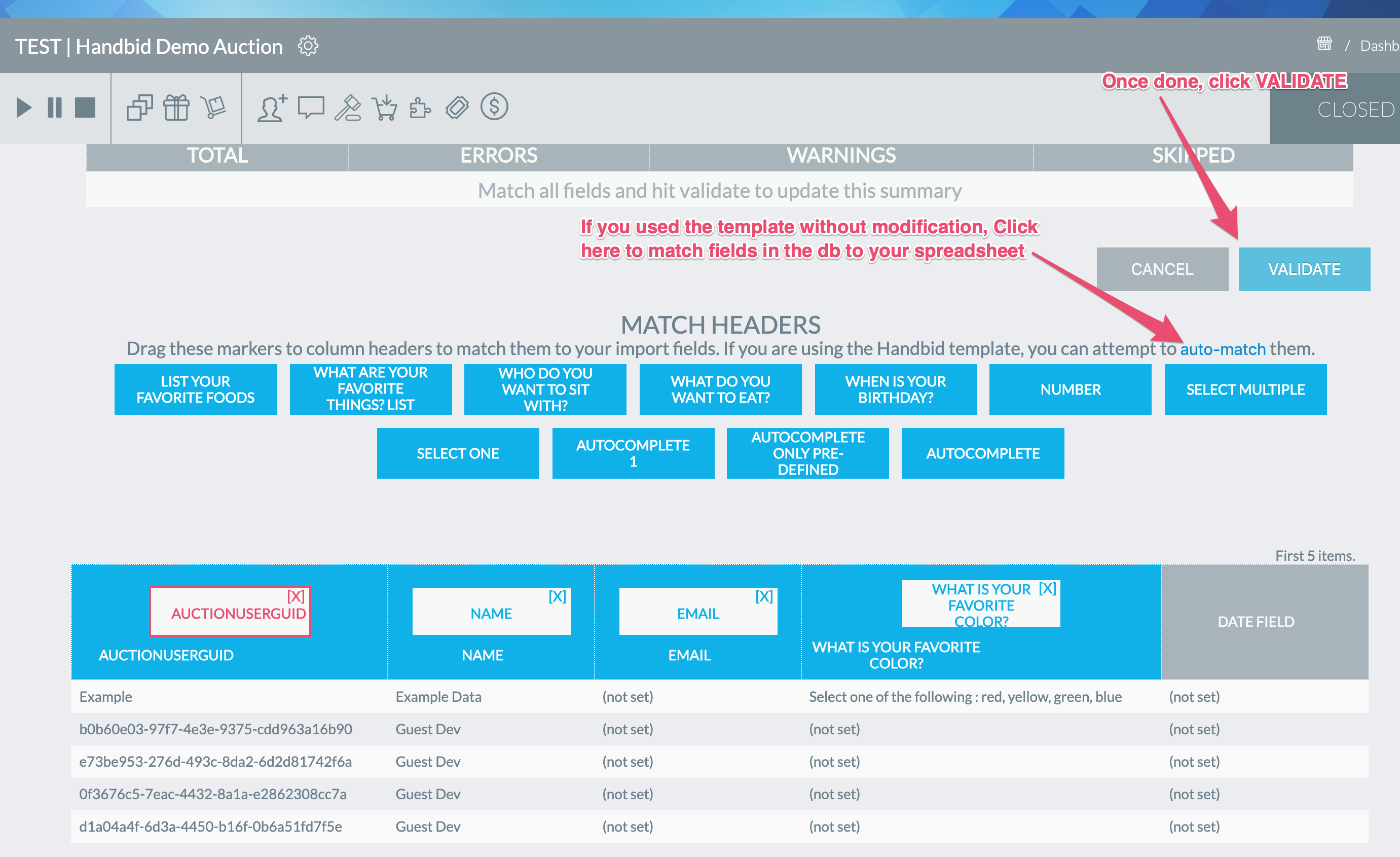 Once you have your headers mapped to your spreadsheet, you can click VALIDATE to have Handbid review the data. If there are any errors, those will be highlighted for you to review. The most common error in this scenario is trying to import a field value that does not exist (e.g. attempting to attach "vegan" as a meal choice to a guest when the only options on the form are "Chicken", "Fish", or "Veggie".
If everything is valid, you can click on IMPORT to complete the import of your custom data!