Passing on Fees to the Bidder, Donor or Purchaser
Handbid allows you to prompt a bidder to cover the credit card fees when they are completing their payment for their auction items, donations or other purchases.
To enable this feature, you need to go into your auction settings to the financial tab. From there, you can click the option "Prompt Purchaser to Cover CC Fees". This feature exists for Peer to Peer fundraisers, Events, and Auctions.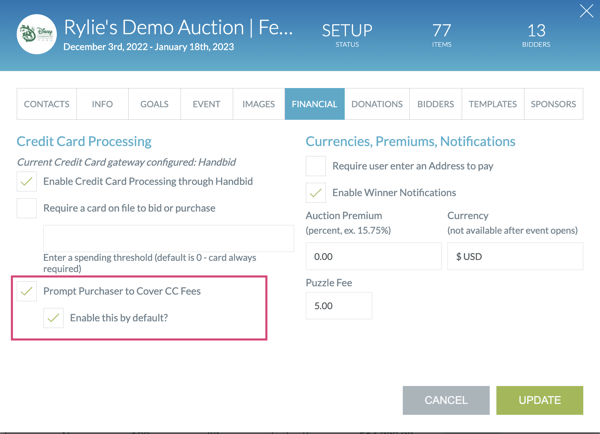 When you enable this feature, it will prompt the user at checkout if they want to cover the CC fees. The user will need to opt-in (click the checkbox to add the fee) to cover the fees and their total will be updated.
Allowing users to Opt-Out
If you would rather the user opt-out (e.g. disable the option to cover the fees), the check the other box "Enable this by default?"


When this option is enabled, users will be asked if they want to cover the fees and Handbid will show them what the total will be with the fees. This option also exists within the Handbid mobile apps as well as in the auction manager at checkout.