To streamline the registration process, Handbid has a Contact List management function. Upload/pre-register your guests in advance in order to go "paperless" as well as quickly create bidder accounts for your guests at registration.
Warning: Do NOT preregister ALL of your bidders. Login credentials such as a password will not be received by the bidder and they will be unable to get into Handbid. Your users will need to register themselves in order to log in to their Handbid account.
Contacts are managed at your organization level so you must be on the main dashboard to import, view, or manage your contact list. Once uploaded, you will be able to quickly add your guests as bidders to your auction from your contact list.
To upload a contact list, go to the MAIN DASHBOARED and select "Contacts". You need a minimum of First Name and Last Name to add/create a contact. However, if you have: first name, last name, email and cell number, we recommend entering that as well considering you will need all of these fields to enter a bidder account at registration.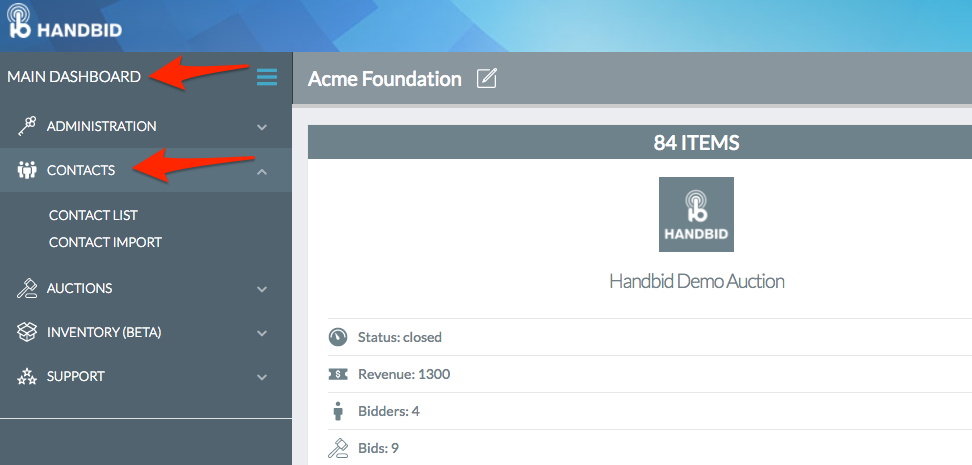 To add your guest list to Handbid. You can either download a sample import template by going to:
MAIN DASHBOARD
Click Contacts > Import
Then click on the Sample File link to download, or use the one attached below.

On the template, you can also upload optional information such as Address, Placement (Table #, Golf Cart - etc.) & Sponsor.
import_contact_sample (1).csv(692 Bytes)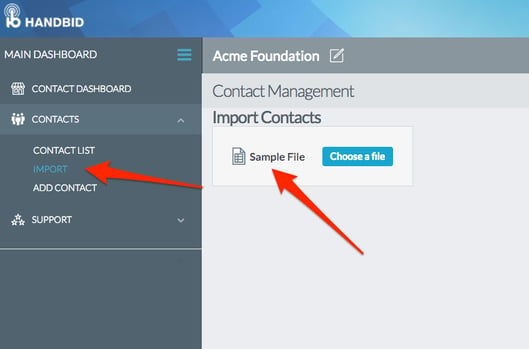 Once your contacts are loaded you can search for them in the Contact Search field in the Bidder Check-in window. Click the Add Bidder icon

in the header of the Auction Manager.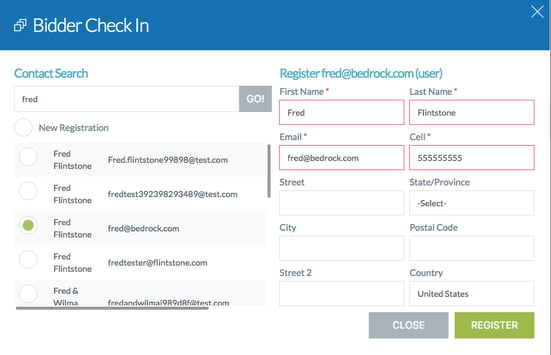 Find the contact you want to register as a bidder and click the radio button to move them to the register window.
If you see an exact match by email or the same guest with two different emails, they may have already created their own account. You can ask the guest if they have already downloaded the app and created an account. If that is the case, you should choose the account they are already using and update that with any optional information you have uploaded such as a sponsor or table number.