Previewing Your Auction
This article will show you how to preview your auction before you open the auction.
When you are ready to invite people to your auction to buy tickets, register, or preview items prior to the auction opening, you will need to change your auction status. For more information on how to change your auction status, click the link: Auction Status Settings.
How to Set your Auction to Preview
Go to your auction manager. On the top navigation bar, select the PLAY BUTTON as shown below.

Once you click on the PLAY button, you will need to select the "Preview" option.

When you select Preview, the auction status should change to "Preview" (orange). You can confirm this by looking at the auction status indicator on the right side of the page.

IF THIS INDICATOR DID NOT CHANGE TO ORANGE/PREVIEW, please refresh your browser window to confirm that the change took place.

In preview mode, bidders can see items including starting price and details. They will NOT be able to bid on items.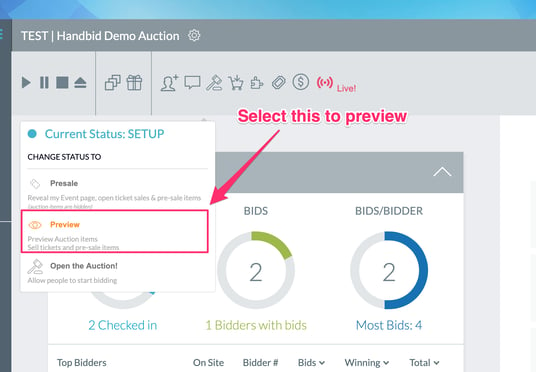 How to View your Auction in Preview
To view your auction on the website, go to the menu at the top right of your screen and select "Auction Website". This will open up a new tab in your browser and display your auction website.

This is how an item appears when in preview mode in both the website and apps.

Website View:

Handbid App View: