We have some exciting new changes coming up in the Handbid auction manager that we wanted to let you know about.
These changes include a dramatically improved user interface, so we didn't want to shock you the next time you log back into the manager. These changes include the following:
New Login Screen and Password Reset Ability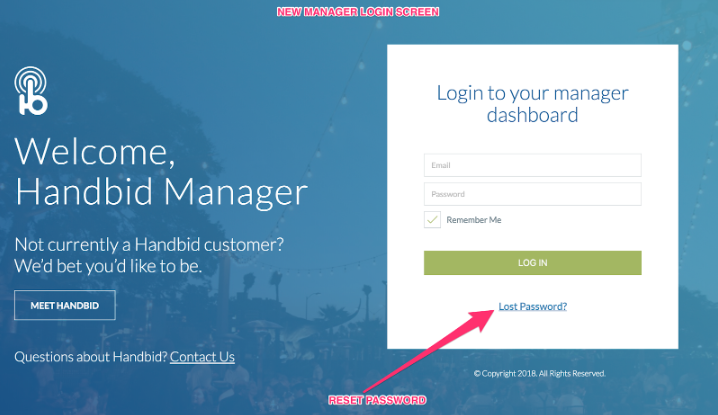 Managers can now reset their password from the login screen provided you are logging in with an account with a valid email or cell phone. If you not sure, or if you are using a shared account where you have no access to email or SMS on the account, please reach out to service and we will get you setup with your own manager account.
New Organization Dashboard
When you login, you may be surprised to see a new dashboard showing your total auction revenue as well as a new layout for your auctions. The dashboard shows:
Right hand sidebar shows stats for the entire organization (expect the ability to filter this in a future release)

Main window shows auctions organized by status with the ability to filter status. Also note that each auction now shows goal progress in their respective header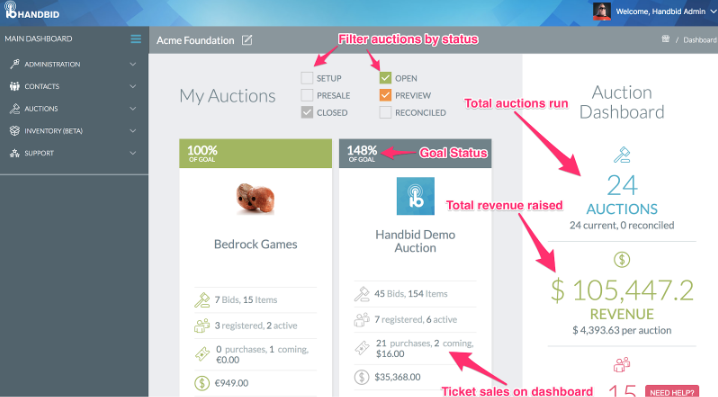 New Manager Dashboard
On the dashboard, we made a few changes to clean things up:
We removed the revenue summary in the main window as it was redundant to the Financial Results widget on the left panel. So your total auction revenue stats will remain where they are on the left panel.

In the main panel, we updated the Bids and Bidders widget to show top bidders.

Below Bids and Bidders, we added an Item Summary panel showing item revenue performance and top items.

Finally, on the right, we have a new notifications bin where all incoming notifications go. So instead of incoming bids popping up all over the screen (which is admittedly cool but annoying), they will show up here!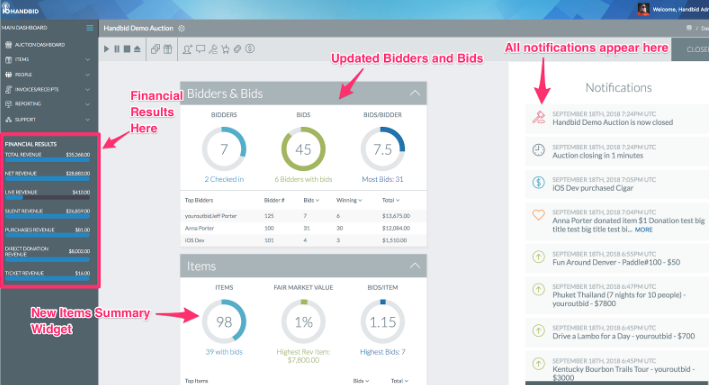 New Handbid Reporting Features
In addition to these changes, we have a new reporting system that will launch with this release. We will provide more information in the knowledgebase after it launches, but here are some highlights of the new reporting system.
A new reporting section will appear in the auction manager under Invoices / Receipts. This section will have reports for Ticketing, Bidders, Items, Revenue and exports to CRMs.

Each of these sections will have reports under them with various reports for each topic.

In addition to the reports, managers can download the data in spreadsheet (CSV) format or in a prettier PDF report format.
We will continue to add more reports as we go along, so be sure to reach out to us if there is a specific report you want or need.