You can find this report by selecting Reporting / Revenue/Receipts / Summary from the left menu in your event manager.
This report will show a summary of the revenue generated at the event. An example of the top portion of this report is below: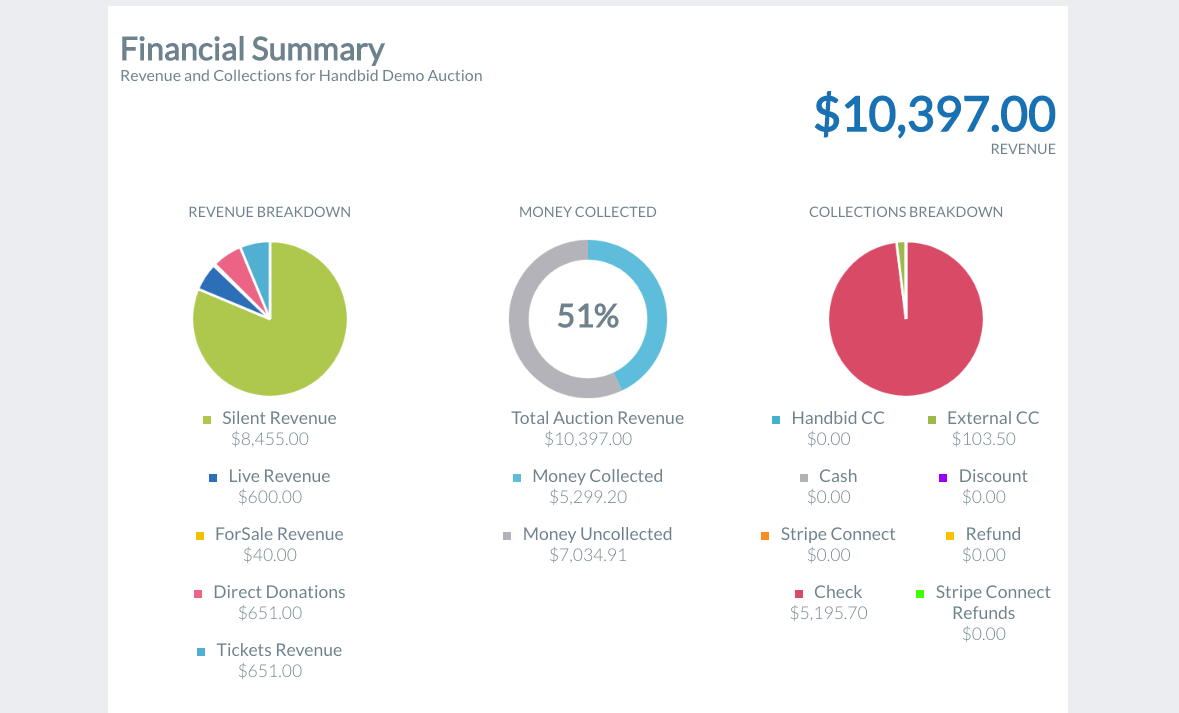 The report provides the following:
Revenue Breakdown
This is a pie chart and a breakdown of revenue across Handbid's main item categories: Silent, Live, ForSale, Appeals (Donations) and Tickets.
Money Collected
This is a status of how much money has been collected vs. uncollected. Remember, in order to adhere to credit card policies and minimize disputes, Handbid does not auto-charge any clients for auction purchases. Thus, bidders either pay their invoices directly on their phone or they must pay at checkout. This chart here will show you process against collections.
Collections Breakdown
This will show you a breakdown of the collected funds based on type. This includes both online (Handbid CC or Stripe Connect) payments or offline (Check, External CC, Cash, or Discount). In addition, Handbid will show you the amount of refunds processed.
Premiums and Tax Breakdown
Just below the charts is a breakdown of revenue vs. premiums and tax. If this chart gives you a headache, or you simply don't understand it, just show it to your accountant and all should be good! If you have no premiums or tax in your auction, then there will be a lot of zeroes in this report (also just fine..)