Let's start off this article by saying that INACCURATE or INCOMPLETE data will have the biggest impact on your check in time. Want to create a delay? Force your agents to fill in (or change) everyone's information when they arrive.
With that said, it makes NO SENSE to fill your guest list with bogus dummy data. All that does is further slow things down. So work hard to get your sponsors to give you good information and organize that into your spreadsheet that you intend to upload.
Do you have a sponsor that simply won't give you good data?
Put in what you know. If you only know that it is Tom Jackson's friend or "Bill's wife" coming, then create slots for them that will help speed up the checkin process. For example, put in entries like:
First Name: Friend (Tom)
Last Name: Jackson
Sponsor: ESPN
Table: 12
or
First Name: Wife (Bill)
Last Name: Jones
Sponsor: Acme Co.
Table: 4
Want Accurate Data? Let your Sponsors Manage their Own List!
From the Web and also from the App, your sponsors can manage their own list. To do this, you will either need to sell tickets through Handbid or you will want to setup and purchase tickets on behalf of your sponsors so that their guest slots generate.
If you do either of these, your sponsors will be prompted when they login to Handbid to update their guest list.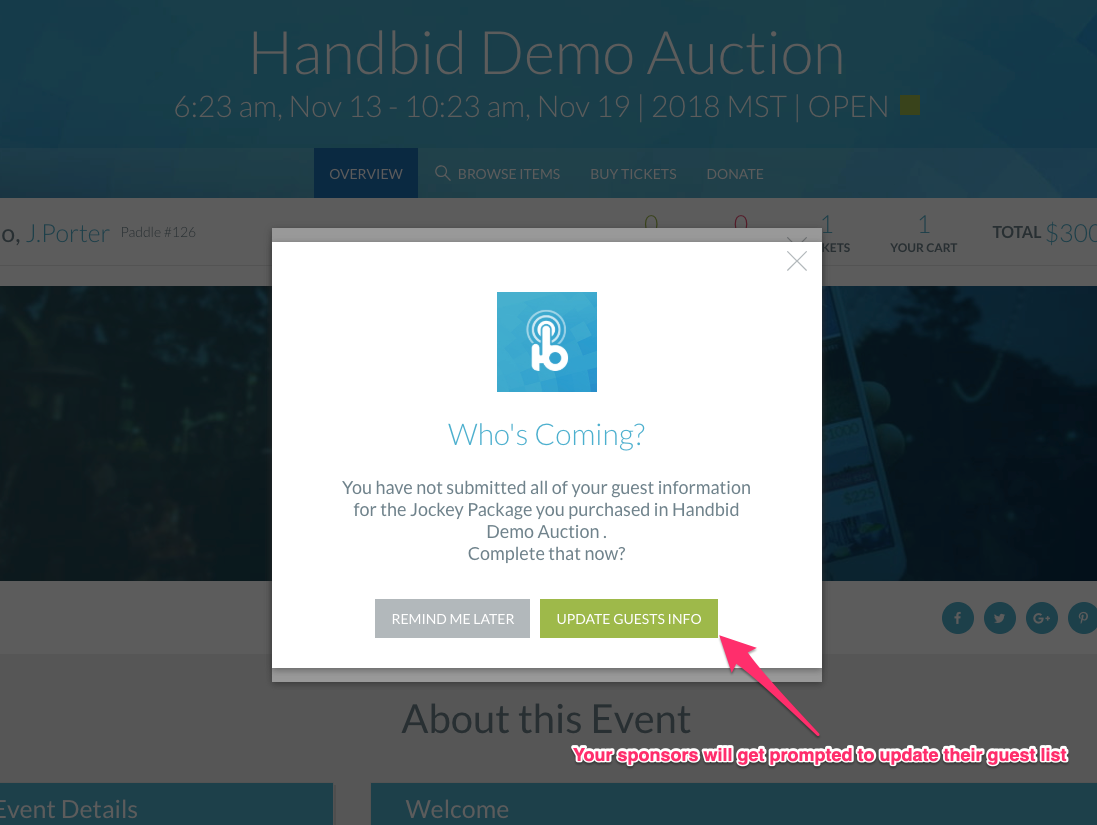 When your sponsor clicks on "Update Guests Info" they will be taken to a ticket page where they can view their guests and update their info: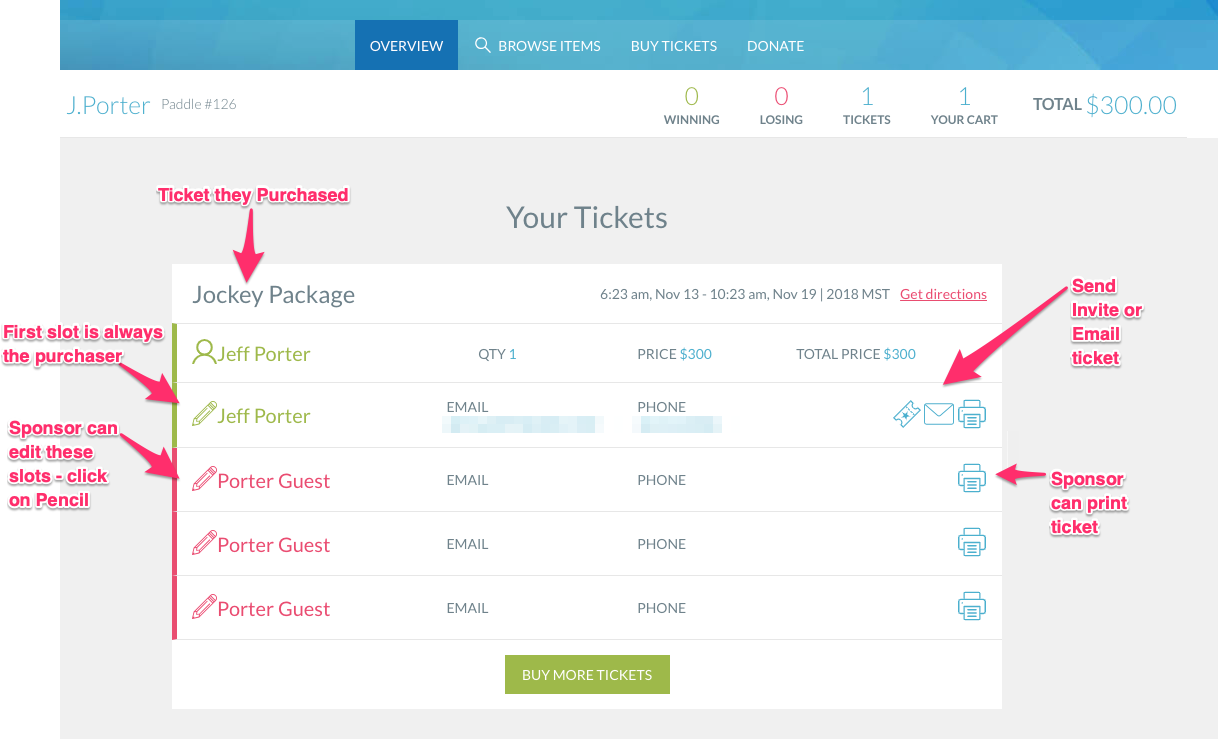 In the screenshot above, you see that the sponsor's ticket is shown under the "Tickets" section on their dashboard. This screen will show the ticket they purchased as well as the additional slots associated with that ticket (e.g. a Table of 8 would be setup to admit 8 people: the sponsor and 7 guests).
From this screen the sponsor can:
Update the guest information. Clicking the pencil next to their name will allow the sponsor to edit the guest's name, email and phone. Once this is done, that slot will turn "green" to indicate it has been updated.


Invite a guest to attend. Clicking the "Email" icon on the right will allow the sponsor to send an eMail invitation to the guest to allow that guest to register. Note that this email option will only appear if the sponsor has updated the guest and included an email address.


Send the ticket to the guest. Clicking the "Send Ticket" icon will allow the sponsor to send a ticket to their guest. This is useful for events where tickets will be scanned at the door.
Want Accurate Data? Pull the data from your Contacts List!
Assuming you have done a proper cleansing of your Handbid contacts, you should have accurate data in there from past events. What is also beneficial is that your contacts list is bound to have emails and phone numbers for some of the guests coming to your next event. So best to pull in those guests into the guest list from contacts.
You can either add a guest directly from your contacts list, or you can export your contacts and match those up with your guest list. Copy over any emails and phones you find and help create a more accurate (and complete) list of guests (and potential bidders!).
What is my third option? Prepare a spreadsheet of your guest data
The battle is not lost! If your sponsors can't manage their own list and you don't have good contact data, you can still load up a spreadsheet of your guest data for import into Handbid. This option will also make the most sense if you used an external ticketing and registration system.
So to prepare this spreadsheet for import, what do you need to do?
Use our template! We know, its ugly. But it works! And all of the right fields are there and they are named correctly. (Don't be tempted to rename the columns... just let it go.. let it go!).

You can get the spreadsheet by clicking on "Sample File" from the auction manager.



Scrub your list. NO duplicate emails. Handbid maps a guest (person) to their email address. So if you have more than one email in there, you are basically telling Handbid that 2 of the same person are coming. If you don't have an email, leave it blank!

Also, please please please please please do not put in dummy data. You don't need it. What is dummy data? Stuff like "ginger@noemailaddress.com" or 5555555555 for a phone number. None of those things help checkin and they will pollute your contact list with bad information.

Note that spelling matters! Remember your agents are having to look up people's information when they arrive. Nothing will aggravate the checkin staff person more than looking for a Roger Rabbit and not finding him because it was spelled as Rodger Rabbid. Moreover, your guests never like to find out their name was misspelled. So check, double check and triple check!

Remove random spaces. Handbid doesn't care about them in most places, but if you have an extra space in an email address, it will generate an error. Since spaces are never allowed in emails, it is easy to trim those out.


Enter your Data! So its ready to populate the template. Our sample file will look something like this:



Columns A through J are going to be information about the guest. Even if you do not enter in these fields DO NOT REMOVE THEM.

Column L is the Sponsor: You can put the name of the ticket or table purchaser here or the name of a business or organization that has tickets or tables at your event.

Column M is Placement. Placement is the generic term for "where are people sitting". Since some events don't have tables (but have lanes or carts or sections), we left it generic. . For this upload, Placement is where you would put the guest's table assignment if you are assigning tables. If you are not assigning placement (e.g. you don't care where people sit or go), then you can leave this blank.

Column N: Notes if you wanted to put additional notes on a guest you can enter them here.
Ok so are you read to upload? Here is an article on how to do it. If you used our template this should be smooth. If it gets stuck, well there is a data issue. You may have to reach out to us for help.