This article provides an informational video and instructions for how to use the Handbid Ticker function. This is a tool that allows the auction manager to keep track of the auction activity.
With the new upgrades to the Handbid TV, you can now show the following activities live on the dashboard with our new Auction Activity Feed (Ticker).
The activity feed will show the following events in real time as they happen:
Winning bid: When an item has a new winner, this will appear on the screen
Purchase event: When someone purchases an item, it will appear on the screen as a purchase
Donation: When someone donates, this will appear as a donation event on the screen
Item Sold to winner: When an auction item is sold to a winning bidder (Buy it Now, Live Auction bid or final silent auction bid) then the item will appear "SOLD" on the screen
Broadcast message: Any broadcast messages will be sent to the screen
Event Homepage Sponsors: Every 8 events that display on the auction ticket will show one of your event homepage sponsors.
How to Use the Ticker
To start the ticker, you simply need to open up Handbid TV and then select the "Ticker" option from the menu in the auction manager.


Handbid TV will load in a separate browser tab. From here, you can hover your mouse over the Handbid TV logo and select the "Ticker" option (first one in the menu) to turn on the Ticker. Once this is on, it will start showing live auction activity on the screen.


Event homepage sponsors will appear on your auction ticker. Every 8 events (donations, bids, purchases) one of your Event Homepage Sponsors will appear on the Live Ticker. If you need more information on setting up your Event Homepage Sponsors click here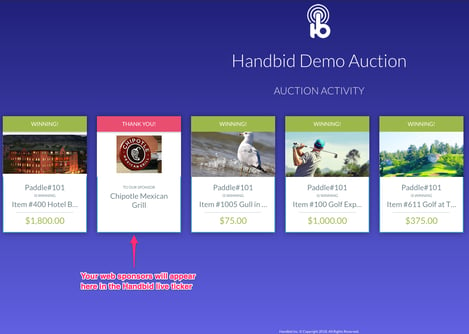 Video Demo
You can also watch this video for a live demonstration of how this new feature works! We hope you enjoy it.