This article will cover how to sync the Bloomerang CRM with Handbid.
Overview
Handbid will synchronize contacts and transactions to your Bloomerang account. The synchronization is bi-directional, meaning any changes to contacts made on Handbid or Bloomerang will be reflected in the other. Transactions will be synchronized once an event has been finalized and reconciled in Handbid. This article will explain how to set up the synchronization, initiate a contacts sync, and configure an event for transactions sync.
Connect your Bloomerang Account
The first thing you will want to do is log in to your Bloomerang account. Once logged into Bloomerang, you want to edit your "User Account". Do this by clicking on your account icon at the top right and selecting "Edit My User."

On the User Settings screen, look for the section called "API Keys v2.0". If you have a key already, you can select this and copy it to your clipboard. If you have not created one yet, click the "GENERATE" button.

Once you have that API key copied, it is time to get that into Handbid. Login in a separate browser window (tab) to your Handbid manager account at manager.hand.bid.
From there, you will want to access your "Org Settings" where you will connect your account. Once on the Org Settings dialog, click on "Apps" to get to the Connected Accounts section.
Under Connected Accounts, select "Bloomerang". This will populate the "My Connections" section below and reveal a blue "CONNECT" button.
Click the "CONNECT" button and you will be presented with a window asking for your API Key. Paste it from your clipboard here. Then click AUTHENTICATE.
Note, if you had a previous connection, you will need to remove that first. Bloomerang now uses a different method of authenticating your account. You will need to delete that and then add Bloomerang back in.

If this is the first time you have connected, Handbid will prompt you if you want to synchronize your contacts. If you select "YES", a first-time contacts sync will start.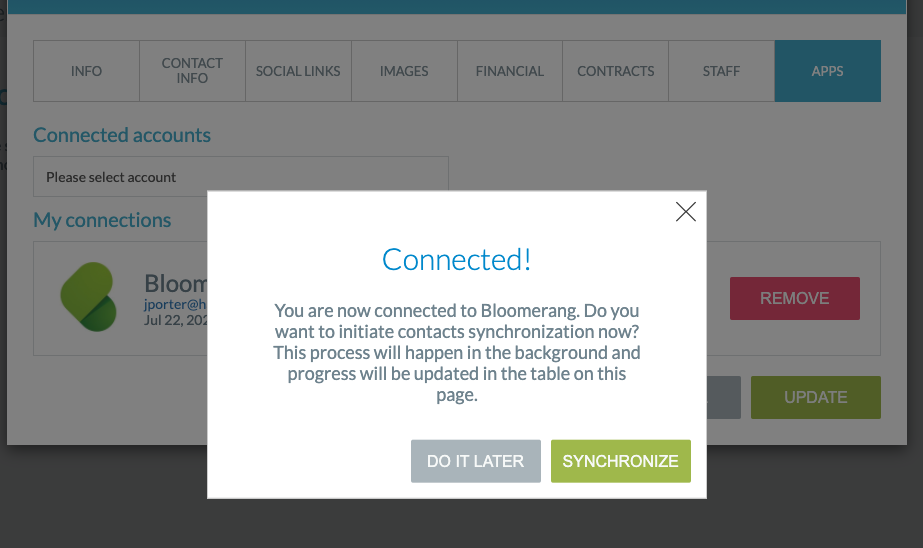 NOTE: If you have a lot of contacts, this can take a while. After the initial contact sync completes, further updates will happen much faster.
Managing Contacts Sync
You can access the contacts sync screen from the left menu. From the MAIN dashboard, go to "CONTACTS" and then select "CRM SYNC". Here you can see any running jobs and also initiate any new sync requests.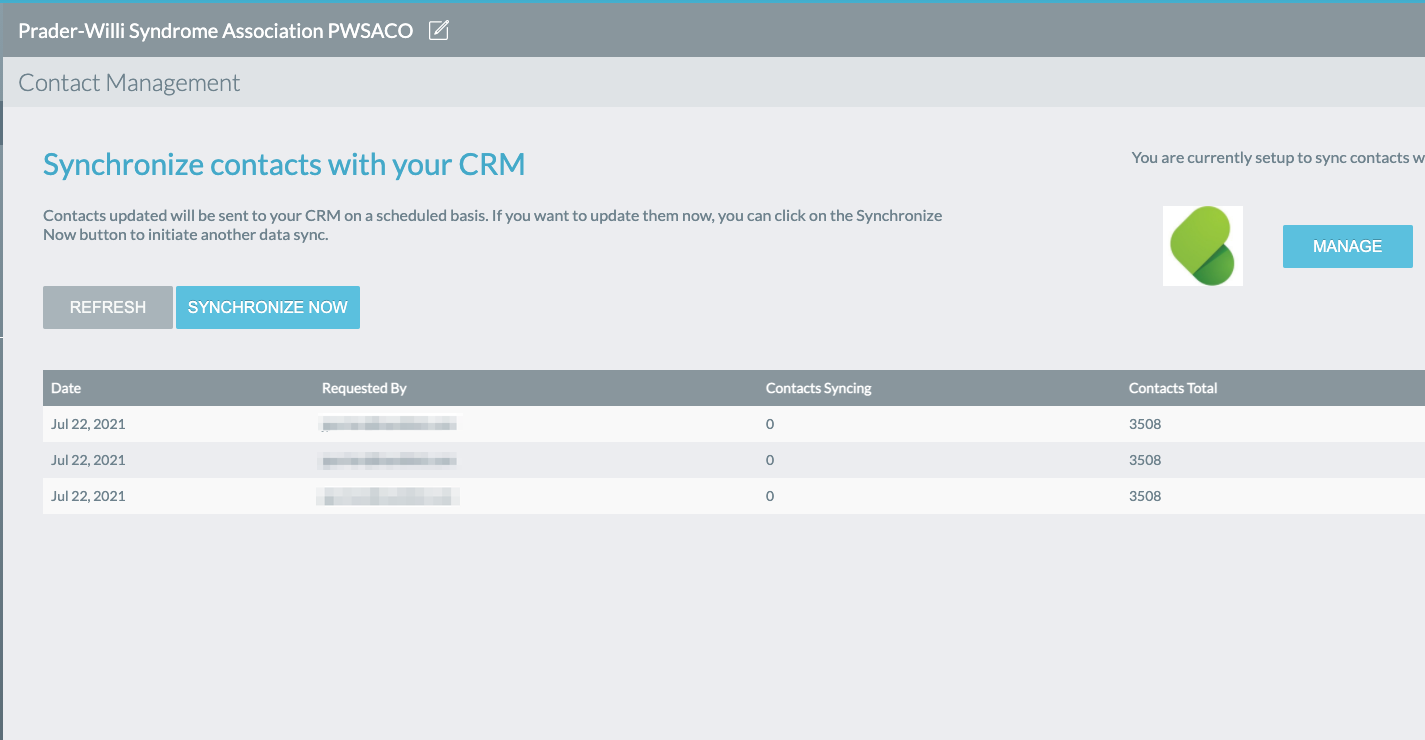 Configuring Settings within an Auction or Event
Within an auction or event, you can setup how you want transactions to appear in Bloomerang. To do this, enter into your Auction / Event settings and navigate to the INFO tab. Here you will see additional settings for Bloomerang. These settings allow you to select a FUND, CAMPAIGN, and also an APPEAL where any Handbid final transactions will appear.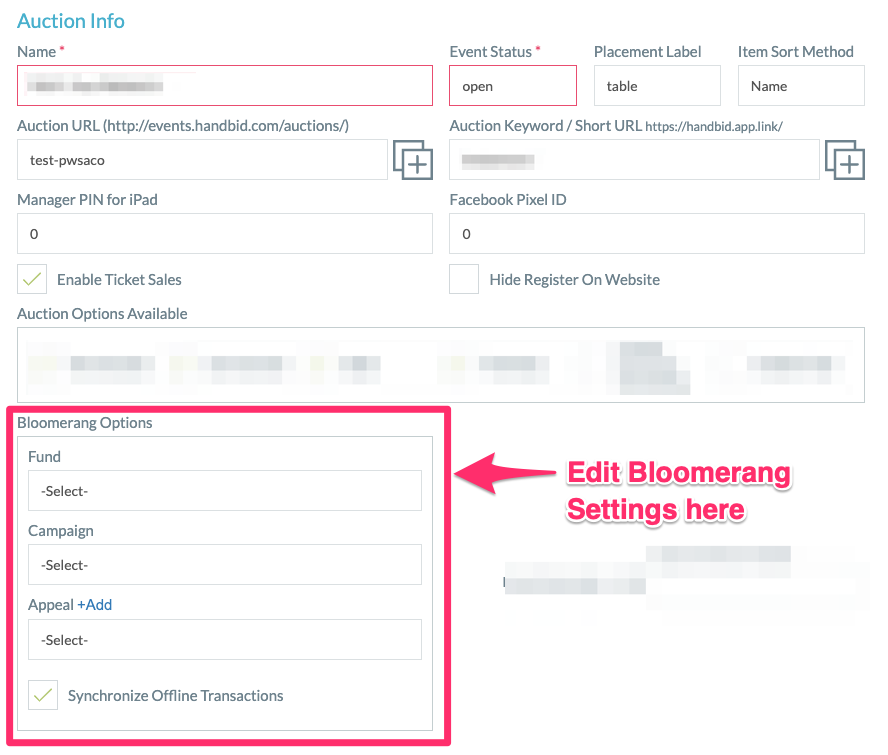 Let's go through each of these options
Fund. Select the FUND from Bloomerang you want for this event
Campaign. Selec the Campaign from Bloomerang you want to use for this event.
Appeal. You can either select an existing Appeal from Bloomerang or you can add a new one.
Synchronize Offline Transactions. If you select this, Handbid will also pass over any transactions processed offline (not using the Handbid credit card system). If you already loaded these "offline transactions" in Bloomerang that exist in this event, then you may want to un-check this box.
Ignoring Offline Transactions - An example. Consider a situation where you added into Handbid some offline donations (e.g. sponsorships) as a means of showing a higher total event revenue. These transactions had already been recorded in Bloomerang, so you do not want Handbid to send them over again.
Offline Transaction Sync
Handbid will synchronize transactions as soon as the auction reconciles. When does that happen? After your auction closes and you have finalized all remaining payments in Handbid (and hopefully zeroed out all invoices), then you will request your event to be reconciled. Handbid's team will process that reconciliation for you. During that process, all transactions will sync over.
Here are some things to consider about how transactions sync:
Transactions sync, not invoices. So if an invoice has multiple transactions on it, then you will need to manually reconcile which transaction maps to which element on the invoice. Handbid does not link transactions to invoice items.
Invoice items are recorded in "NOTES". When a transaction is pushed to Bloomerang, Handbid will populate the NOTE field on the transaction with the name of the event, and a list of all items from the invoice (separated by a ;).
Acknowledged. If an emailed receipt was sent from Handbid, the transaction in Bloomerang will be marked as "Acknowledged."
If you have any questions about how the sync works, or if you are getting "failed" contact sync jobs, or missing transactions, please reach out to us at service@handbid.com for help!