Listed below are things to consider before setting up your auction.
Will you enable bidding before your event?
For those of you having a silent auction at your fundraising event, pre-bidding is the practice of opening up your auction beforehand. For most, this ranges from 3-5 days prior to the event. If done correctly, pre-bidding can have a profound effect on your overall auction's success.
To help you decide, click to read a related blog post about pre-bidding.
Are you going to process Credit Cards through Handbid?
You can opt to process credit cards through Handbid. Handbid connects to the Stripe payment processor, and we strongly recommend you setup an account with them and process directly into your Stripe account (it is a much faster process to receive your funds). If you prefer not to setup an account with Stripe, then Handbid can process transactions on your behalf. Note, their may be additional fees involved to manually settle your account in this manner (please contact your Handbid account representative).
If you have an account with one of our resellers and have a processing account setup with them, then please contact them directly to review your options.
In all cases (regardless of the processor). Handbid's system will allow you to collect a credit card from the bidder and securely store that with the chosen merchant processor. This card can then be accessed through an encrypted token and billed against later when the auction closes. You can add credit card information through the auction manager or bidders can add their own credit card information from the iPhone or Android app. In either case, the card is securely stored with the merchant processor. Here are some things to consider about the Handbid CC system:
If you plan to use Handbid's credit card system you will need to check the checkbox for "ENABLE CREDIT CARD SUPPORT" on the Financial tab of the Auction settings.

If you want to require bidders to place a credit card on file before they start to bid you will need to check the checkbox "REQUIRE CREDIT CARD" on the Financial tab of the Auction setting.


If you want to collect bidders addresses check the box "REQUIRE ADDRESS TO PAY" on the financial tab of the Auction setting. Note, Handbid will do "its best" to collect accurate and complete addresses from bidders. However, the system uses Google address lookup to verify addresses and will ultimately accept any "valid" US address (regardless of whether an item can be shipped there nor not).


Select to "Enable Winner Notifications" Which will notify your bidders if they win or lose items and offer them to make a donation if donation items are available and the bidder did not win anything.


Credit cards on file are not automatically charged when the auction is closed. You can bill to a card on file, but you will still need to process that payment manually after generating and reviewing a bidder's invoice.


Even if a bidder has a credit card on file they do not have to pay with that card. You can still collect cash, check or a different credit card from them.


Handbid offers this payment service as a convenience for you and your guests. However, we charge a 3.5% transaction fee and $.30 per transaction on all funds charged by the Handbid Credit Card system.


You may want to consider prompting your bidders to pay your credit card fees. This will give your bidders the option to cover the fees on the credit card transaction. If this is enabled by default your bidder will have to opt out of the credit card fees which mean they will be added to the invoice automatically.


Please review the "Auction Health Check" article prior to opening your auction. This article provides additional instructions on how to test your gateway prior to opening your auction for bidding and payments.


Are you going to require "check-in" to bid?
This feature gives you more control on who can bid in your auction? Want to limit bidding to local bidders only? Want to only allow specific bidders to participate? You can require that the auction manager checks them in before they are allowed to bid. This setting is found on the "Bidders" tab of the Auction setting window.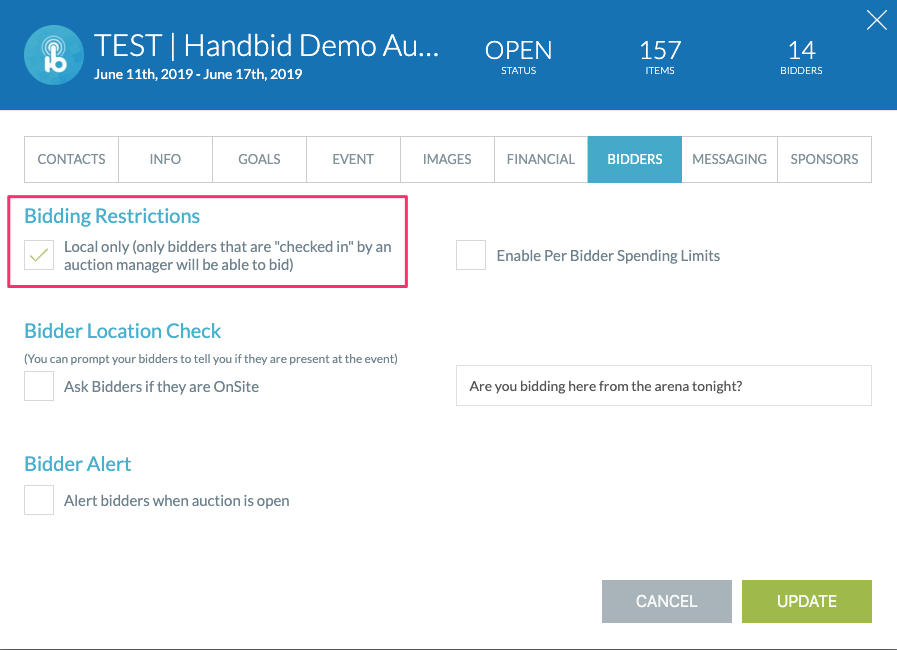 If you require Bidder Check in you will need to ensure all of your bidders are checked in before they can bid. You can check in a bidder at registration through the guest list or from the bidder detail page.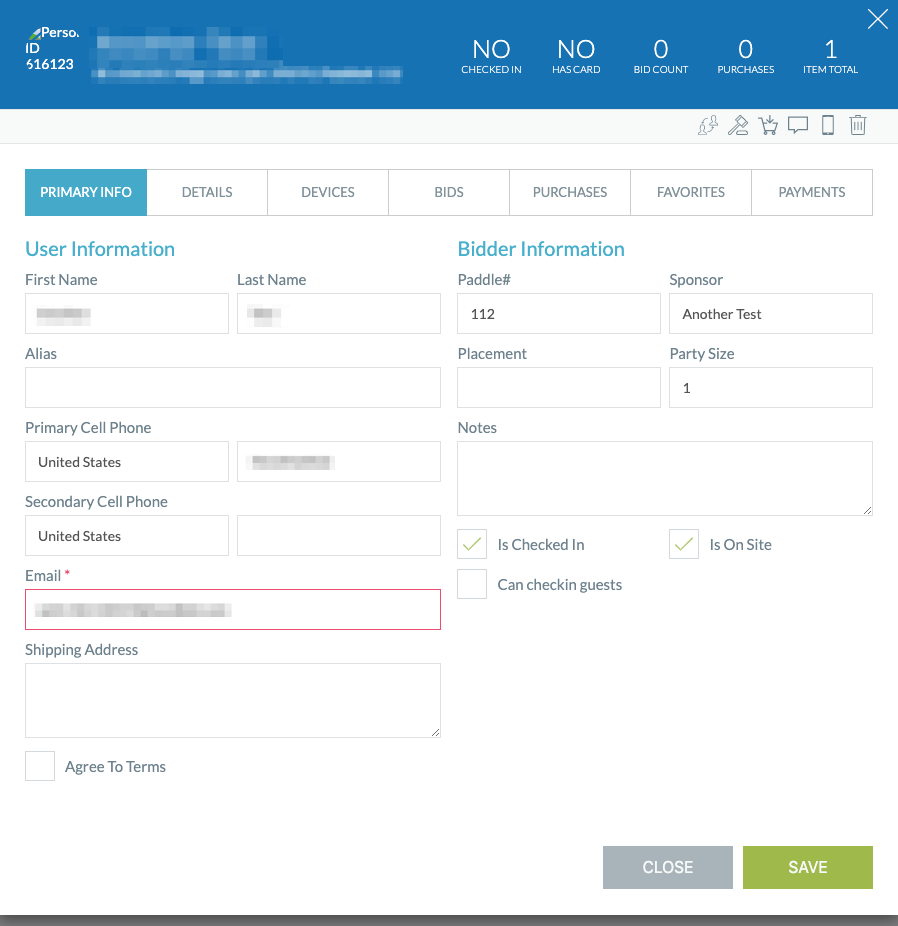 Are you going to use Handbid for ticket sales?
If you are going to use Handbid for ticket sales, then a majority of your users will be visiting your auction site at Handbid.com prior to the event. You will need to make sure you have your auction setup in advance (at least the info, the banner images, etc.) prior to inviting people to come to the site. You will also need to have your tickets setup and your auction in pre-sale mode. See Setting up tickets for more information.