This article will overview how to use track items (winning/won, losing/lost, purchased) through the Handbid App dashboard.
The mobile app allows the bidder to track winning, losing, and purchased items from the dashboard.
THE DASHBOARD HEADER
The dashboard header provides the user with important information about the auction. This information includes the user's paddle ID, placement info, Event Start/End time, and the auction status.
A paddle ID is assigned to each user in the auction. Bidders will need this paddle ID if they ever bid on the Handbid iPad app or if they participate in any offline bidding (live auction, paddle raise/appeal)
The placement info is optional for an auction. Placement is simply an indication of how guests are situated at an event (ie: Table, Cart (for a golf tournament), Section, etc.)
If the auction manager configures a placement label and assigns numbers to users (ie: table 12), this information would appear here.
Auction status information will show the auction name, its current status (open, preview, pre-sale, closed), the number of items and the date.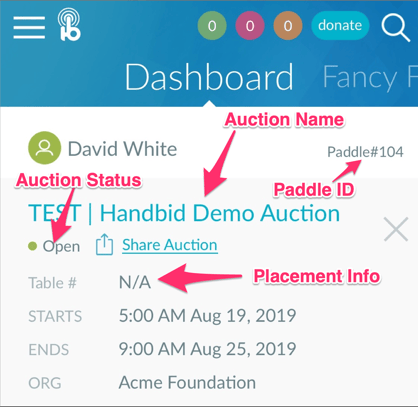 MY BIDS SECTION
Below the DASHBOARD HEADER is the Winning, Losing, and Purchased info for the user. If a user is winning or losing items, they will be listed in each respective section of the MY BIDS area along with a total.
Below the winning and losing section is the purchased area. Any purchases a user has made (including sold auction items, for-sale items, or donations) will be listed here. If the user has purchases, they will also have those same purchases on an invoice for the same auction.