Handbid uses the terms "invoices" & "receipts" interchangeably. Prior to an account being paid, it is an invoice and after payment is made it is a receipt.
Invoice/Receipts are automatically generated as purchases are made by your bidders. A purchase is any "For Sale item" or "Direct Donation" or "Buy-it-Now" purchase made during an auction or any winning items after the auction closes.
If your bidders have only made donations or purchased items, they can view their invoice and pay it at any time.
When the auction closes, any items that a bidder wins will be marked as sold and converted to a purchase. These will then be added to the same invoice.
To see invoices anytime, select the Invoice/Receipts tab on the left navigation in the auction manager.
YOU WILL HAVE 30 DAY FROM WHEN YOUR AUCTION CLOSES TO COLLECT FUNDS USING THE INTEGRATED HANDBID CREDIT CARD SYSTEM. You can record offline transactions collected by your Credit Card System, Cash, Check, etc longer than 30 days.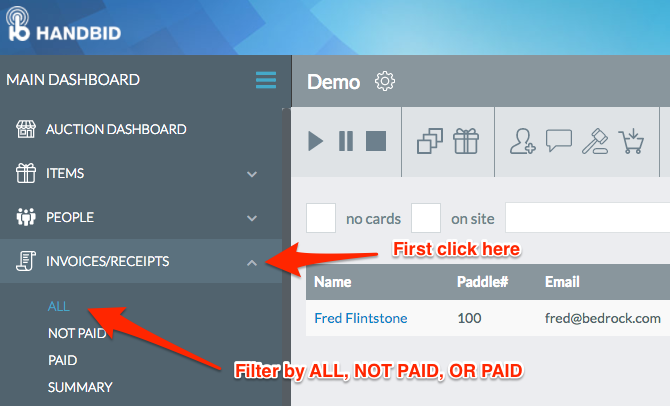 You can filter your invoices by selecting the filters on the left navigation window.
All - Shows all invoice/receipt for your auction
Not Paid - Shows only the invoice/receipts that have not been PAID IN FULL
Paid - Shows only the invoice/receipts that have been PAID IN FULL
Click on an individual Invoice/Receipt in the middle of the screen and detailed Invoice/Receipt information will be displayed.
Use the search window at the top of the screen to search by bidder name or paddle#.
View information on Paying Your Invoice/Receipts