This article provides information on how to read your auction statistics and tips for setting a fundraising goal for your auction.
During your auction, you can view your auction statistics on the auction dashboard. The stats will show:
Total Revenue
Live Auction Revenue
Silent Auction Revenue
Purchase Revenue, and
Direct Donations (NOTE: For Sale items must be marked as "APPEAL" to show up as a direct donation in your auction).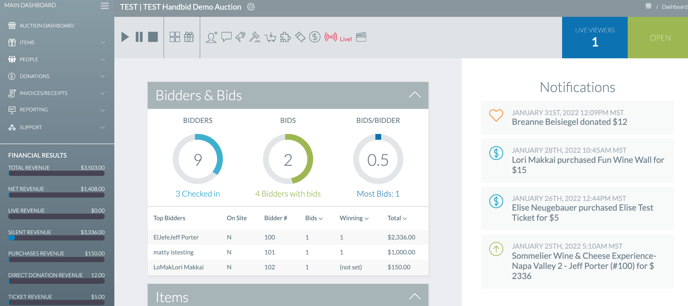 If you entered auction goals in your auction settings, you will notice your auction statistics graph shows you where you are in relation to your goal. Remember, if you've set goals, you should make sure they are realistically achievable, yet challenging. They should be reasonably based on the value of your auction items, the desirability, and the bidders attending your event.
Although, a goal of $4,000 will easily be hit, it may not challenge your bidder's to continue bidding or donate to your auction. It's important that you set a goal that helps to push you over your previous year's totals. However, let's take a look at the best way to assess setting goals. If the total cost of the starting bid prices on your auction items totals $5,000, and the total Fair Market Value for all items is $10,000 a goal of $10,000 - $15,000 might be a good benchmark to try to urge your bidder's to help you reach your goal. Statistics show that, organizations that use mobile bidding, tend to increase their fundraising by ~30-40% than paper bidding. Therefore, it's also very common for items to sell for over their Fair Market Value. Though we understand you know your audience best, it could help to take this into account when planning for your fundraising goal's.
VIEWING STATS ON A MONITOR, TV OR PROJECTOR
If you prefer, you can project your auction stats to your audience on a large dedicated screen through the use of Handbid TV. Here is an article on how Handbid TV works.