Learn how to create and update your automatic message templates.
Handbid has the capability for you to customize the automatic messages that your guests receive. This includes: Thank You Message, Receipt/Invoice Message, Welcome Message, Shipping/Redemption Instructions Message, Donation Description Message, Item Donation Thank You Note, and Custom Terms.
The Templates tab is critical to communication between you and your guests. Be sure to take a moment to fill out each message template so you can clearly communicate important event information with your guests before and after your event. You can use the list of tokens on the right-hand menu to personalize your message.
Tokens trigger your message to auto-populate certain information like guests first and last name, paddle number etc. Please feel free to use our sample templates as you begin to set up your communications.
How to Create or Edit Message Templates
Two ways for accessing your templates
Initial Auction Set-up

- The first way to create your templates will be after you've logged in with your auction manager credentials. You will be prompted to enter in pertinent event information in order to create your site. During that set up you'll see the Templates tab - as stated above, this is one of the most important settings to complete. This is what will keep your guests/bidders informed before, during and after your event.

To Create:
- While in your settings window, click on the TEMPLATES tab.
- Click on the Template Name dropdown to select the message type you want to edit.
- After you select the template, you can begin using the tokens (on the right-hand menu) to select which pieces of information you'd like to auto-populate within the message.
- Once you finish drafting a message, the site will auto-save so you can move to the next template message type. However, when you've completed drafting all messages, be sure to click the green UPDATE button at the bottom of the page to save your auction changes.





Post Site Set-up

- If you skipped the templates tab during your initial set up, that's OK! You can still access and update the templates from the auction settings. To get to your auction settings be sure you're logged in with your auction manager credentials and select your auction. Once you're in the auction dashboard, click on the gear icon next to your event name (see image below). On the next page you will see your settings window with tabs. Click on the Templates tab to access and update the templates. Refer to the image and instructions above for steps on how to update or create your messages from the templates tab.



---

Communication: Message types and how they're used

So now we have our messages drafted, let's walk through each of the messages to find out where they appear, when and who sees them, and what they look like to the end-user. Handbid offers many avenues to contact and communicate with your users, let's find out what will work best for you!
Default Thank you message - This message is emailed to your guest after they make any direct donation through the donate tab. Below is an example Default Thank you note :
Hi [Insert Token], thank you for your continued support to [Insert Token].

We appreciate your generosity. If you have any questions regarding this donation please contact Bob Smith at 555-555-5555 or bsmith@emailaddress.com

Receipt/Invoice Message - Guests will receive this message after they pay at check-out or made a purchase on the site. We strongly recommend you place contact information for item redemption, a thank you for supporting your organization and tax ID information, if applicable. Below is an example receipt note and a screenshot of what it looks like to your guests, you will see that the message appears at the bottom of the invoice in the Message from the Organization section:
Thank you [Insert Token] for your participation in the [Insert Token] Auction! Our [Insert Token] could not function without your generous support. This receipt/invoice will serve as an official statement for items purchased at this event. We are a 501c3, so some portion of your total may be tax-deductible. Please consult with a tax advisor to determine the amount (if any) you may be able to deduct. If you have additional questions about the auction or your items, please contact Bob Smith at 555-555-5555 or bmith@emailaddress.com.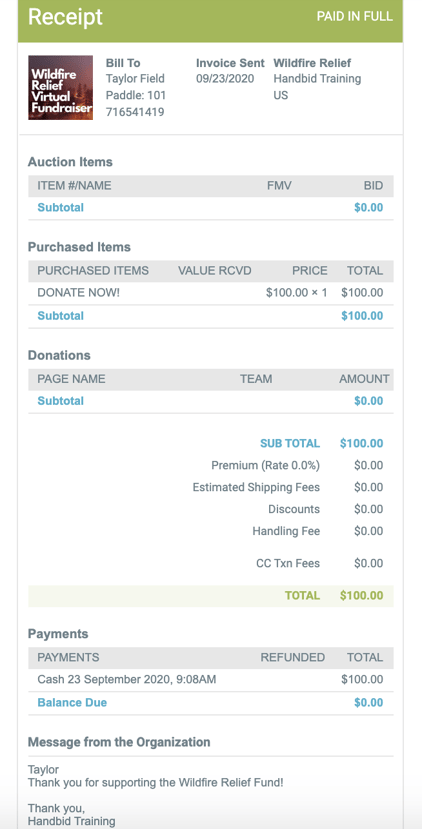 Welcome Message - Your welcome message will appear as a pop up on the homepage page when your bidders register in your auction. Below is an example message.
[Insert Token] -

Welcome to the [Insert Token] [Insert Token]! We appreciate your support and participation.

We have Auction Volunteers who can help you place or track bids throughout the evening.

We hope you find something you like in our Auction. Funds raised will support our programs and activities throughout the year. Feel free to contact us if you have questions!

The Cause Team, email@nonprofit.org
Shipping / Redemption Instructions - For a seamless check-out and post-event process, it's important to include specific information on item redemption, especially if you're planning to ship an item(s) to winners. Guests will receive shipping and item redemption instructions after they've paid for their item(s).
[Insert Token] -

Thank you again for your support! Now that the auction is over, please be sure to check out with us to redeem your item(s) and /or purchases. If you're unable to redeem your item(s) tonight or if you are not attending our event and need to have your item(s) shipped, please contact Bob Smith at bsmith@emailaddress.org for more information and to coordinate item redemption.

Live Auction Message - This template will display on live auction items that are not open to bidding. This is a good place to put expectations of when these items will be open to bidding. Please note: This is for ALL live auction items not available to be bid on at the moment.
Thank you for your interest in this item. Mobile bidding on the live auction items will only be available at the gala on the 15th between 7 and 9pm. Feel free to browse our live auction items to prepare for the event!
Donation Description - This is a great opportunity for you to highlight what you're raising funds for this year. You can display how each donation level helps your organization, say 'Thank you' to your donors or display your organization's mission. The language in this message will appear below the thermometer on your Donate page via the Donate tab from the event homepage. Please note this message is simple text and cannot be specifically formatted with line breaks etc.
We can't thank you enough for choosing to support NONPROFIT ORG. Your generosity helps hundreds of children in our community; our mission grows stronger because of people like you. We want to be transparent and show you where your funds go when you decide to give to NONPROFIT ORG.
Donation level example:
$50 → Covers the cost of 6 school lunches

$100 → Covers the cost of 1 doctor appointment

$500 → Covers the cost of 4 counseling sessions

$1,000 → Covers supplemental housing costs for 1 month

$2,500 → Covers the cost of transportation using our community vehicle for 1-year

$5,000 → Covers the cost of 10 rehabilitation retreats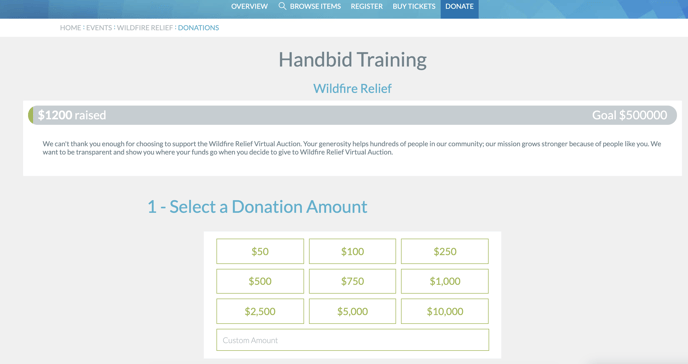 Item Donation Thank You Note: When a donor comes to your site to donate an item to your auction, it's important we send them a message to recognize them and provide them with any additional information they might need. After a donor completes the item donation form, the site will automatically send a thank you email to the donor.
[Insert Token] - Bidder name

Thank you for your item donation to the [Insert Token]! Your generosity helps us to put together an incredible auction for our guests. If you have any questions you can contact [Insert Token] at [Insert Token].

Please keep this email for your records.

Gracious thanks,
[Insert Token] - Organization Name
[Insert Token] - Organization EIN
Custom Terms: When a guest registers on your Handbid auction site, they'll receive a pop-up window asking them to accept our terms and conditions. However, as an organization, you also have the ability to create your own Custom Terms if you desire. Both yours and Handbid's terms and conditions populate within the same window.


Keyword Response message: This template is the response message that is sent when someone texts the keyword using Text-2-give feature. You can learn more about Text-2-give in this article.


How to add a token to a template: Adding tokens to your templates allow you to personalize your message. You can insert a token to show the bidder name, the organization name, the organization's Tax ID, event manager, and event manager email address. These are just some of the tokens that you can use in your messaging on your templates.
Add the token you would like to insert into your message by clicking on the place you want to the token added. You will then select the token you would like to add from the right side of the list.