Learn how to utilize the real-time leaderboard and thermometers through Handbid TV.
Want to show live stats to your guests? You can do that with Handbid TV! Handbid TV allows you to show real-time updates to your guests. It displays in a tab in your web browser which you can use to display to your audience using a large monitor hookup or a projection system.
Handbid TV Settings


Before you launch the Handbid TV, you will want to go to your auction settings, open the "Images" tab and upload the Handbid TV Auction Logo and Handbid TV Background Image. Moreover, you can customize the background colors on Handbid TV (if you are comfortable setting Hex values or using a Color Picker).
The gradient will override any image uploaded below. You can use this as an overlay on the image by adjusting the alpha value.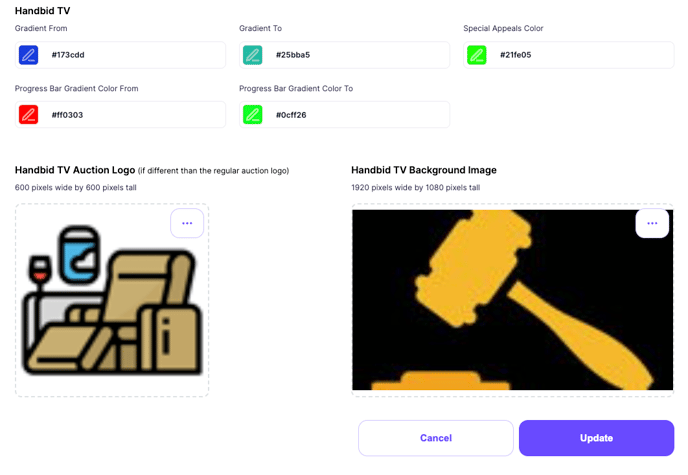 To get started with Handbid TV, you just need to open up the tab from the auction manager: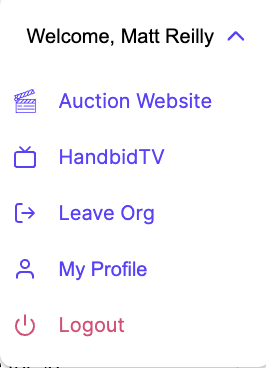 HANDBID TV SLIDES

Handbid TV will open up to the Dashboard slide. This shows ALL of your auction statistics. You may or may not want to share this information with guests. If not, you can simply click over to another slide using the menu at the top right: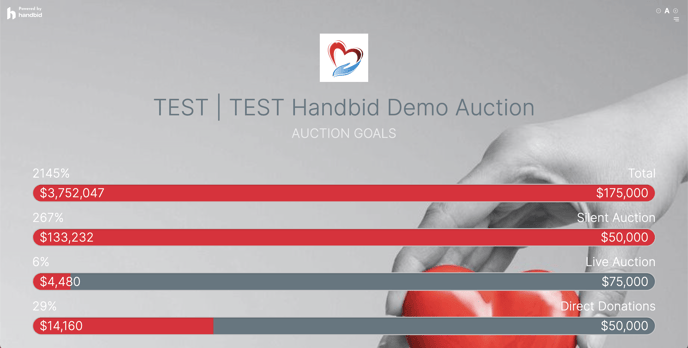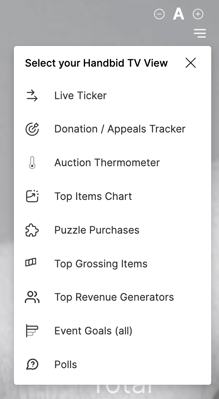 If you want to adjust the text size of the slides, use the (+) or (-) options on the top right of the screen!
Live Ticker Slide will display all auction activity in real-time.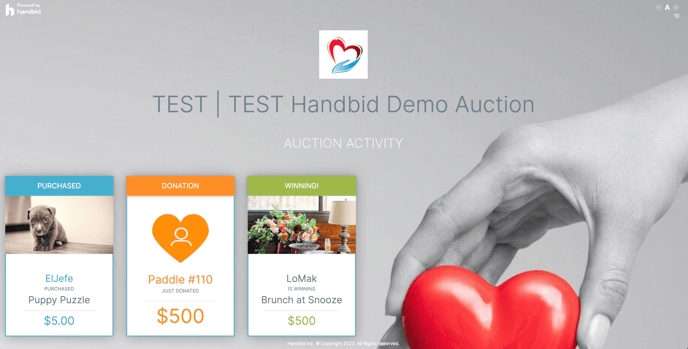 Donation / Appeals Tracker Slide. This slide will show your total accumulation of direct donations. For more information on how to set up donations in Handbid, Click Here.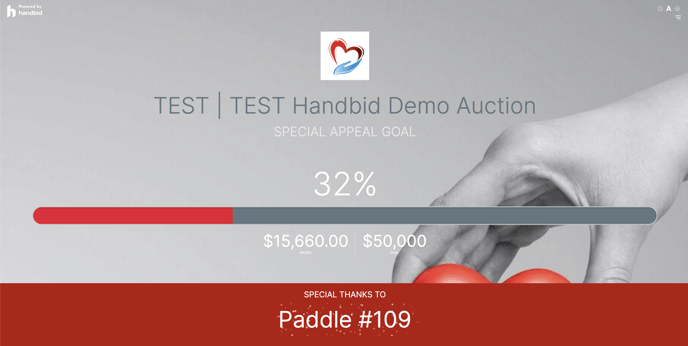 Silent Auction Thermometer Slide will display the silent auction goals you have created in your auction settings and real-time progress.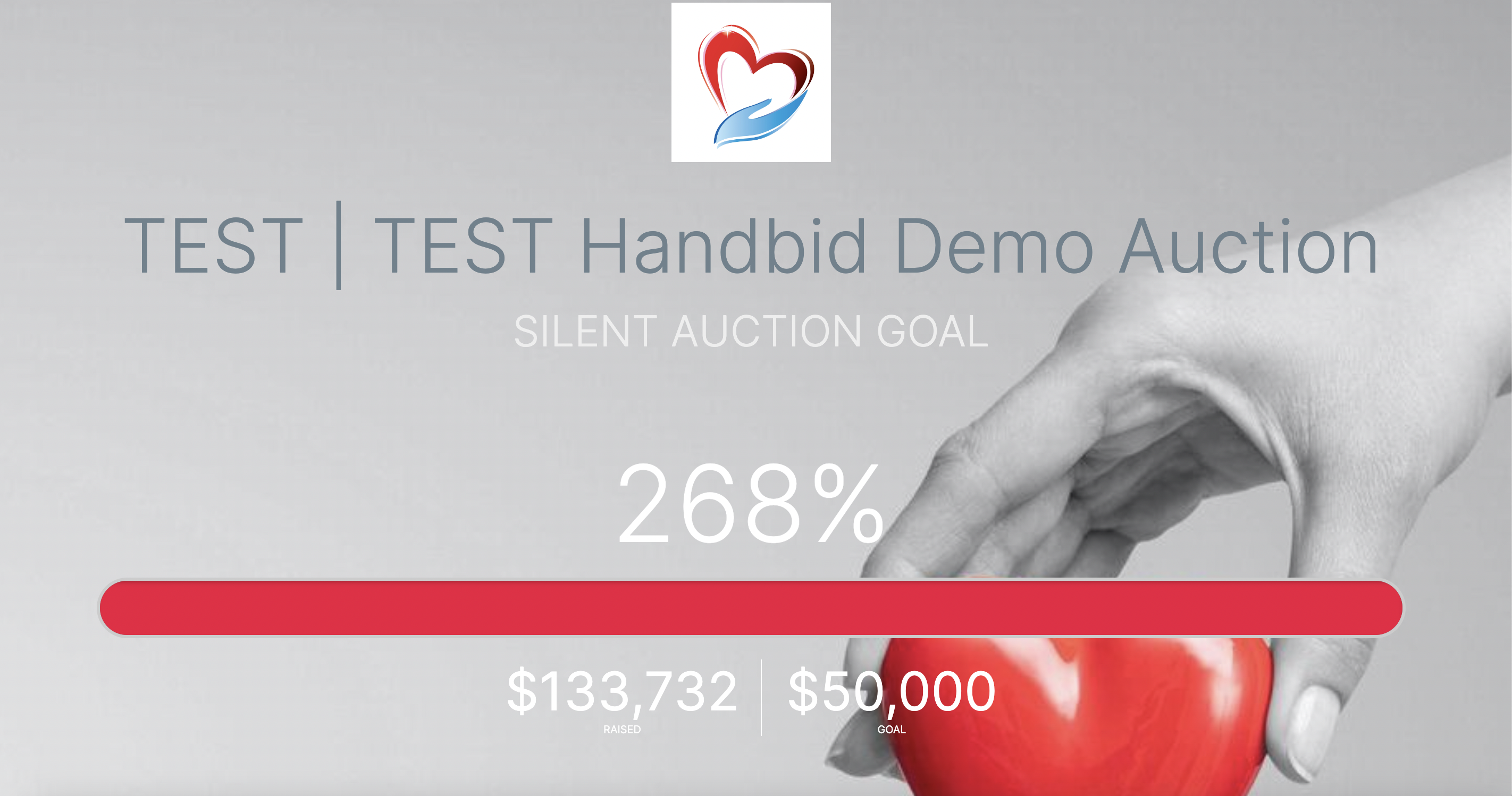 Top Items Chart Slide will display the top revenue-generating items in the auction. You can click on the menu bar located in the lower left corner to customize the number of the items you want to be displayed on the screen.

Puzzle Purchases Slide. As pieces are purchased, the "before" photo will transform into the "after" photo. Donors will see real-time progress. To learn more about how to create a Puzzle in Handbid, click here!

Top Grossing Items Slide will display the top purchases by gross sales.

Top Revenue Generators Slide

Polls Slide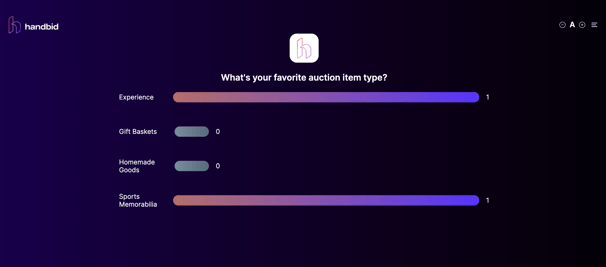 WANT TO SCROLL THROUGH THE OPTIONS?
There are ways to set up a presentation by selecting a number of different Handbid TV slides and putting them in different tabs. Chrome offers plugins that allow you to take multiple tabs and put them into a presentation. We use one here at Handbid called "Slideshow Tabs"