Learn how to create a new Fundraiser and Fundraiser Page and update settings.
If you've already created your fundraiser and want to skip ahead to view information on how to set up a Fundraiser Event Page, click here!
1. Create a New Fundraiser
To create a new Fundraiser, you can do so by using the Handbid Manager in your Org Hub, select Peer to Peer in your Main Dashboard, then select "+ CREATE PEER TO PEER". When your settings window appears, click through each tab and add/update as much information as you can, then click the green CREATE button. You can also view a breakdown of what each tab and setting option means by clicking here.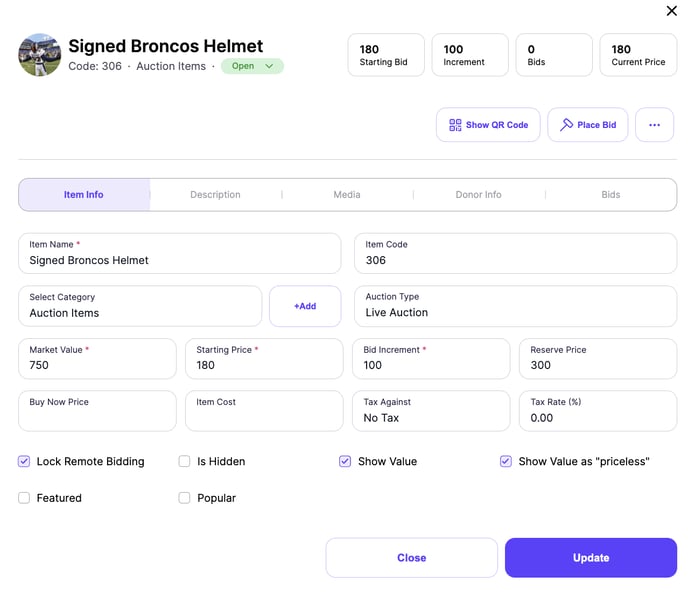 2. Create a New Fundraiser Page via Handbid Manager (back-end)
Once you've created your new Fundraiser, you'll be able to create pages. Click the PAGES menu on the left and choose the "Create new Page" option.
NOTE: Most of the time, your fund-raisers will create their own page from the Handbid Events Site. We have a detailed explanation of how to do that here.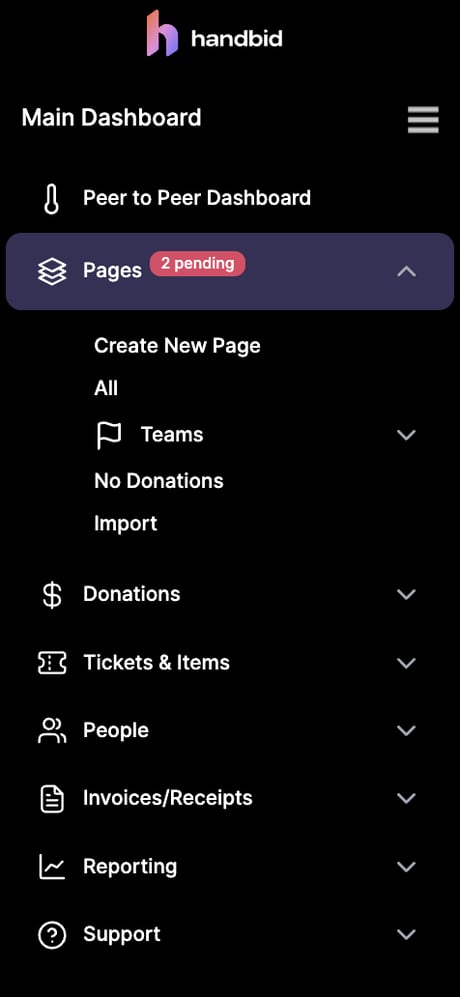 This will pull up a "Create New Page" window where you can enter in the Page's details. Here is a breakdown of what you need to enter:
PAGE INFO
On this tab, you will enter in the following: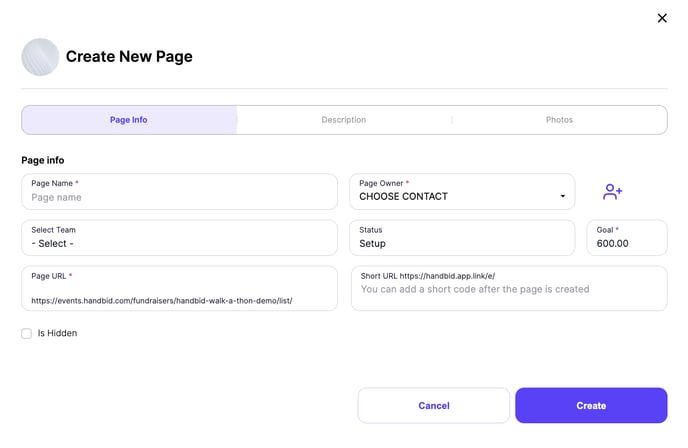 Page Name
Select a name for the page (32 characters max). Often times you will put in the fundraiser's name here or some other name that the fundraiser has requested.
Team
If you have teams created, you can select one of those here.
Page URL
As you type the fundraiser name above, this field will auto-generate. In rare circumstances would you want to modify this URL, so please be careful doing so as some characters are not allowed in a web address.
Page Owner
Select an owner for the page out of your list of contacts. If you don't have that person in your contacts, you can click the "Add User" icon just to the right of the Page Owner field and add a new one.
Page Status
By default this will be "setup" mode which will allow you to create it without it being open. After you create the page, you can go back in and change this value to "open".
Page Goal
Enter in a value here that either matches your default "per-page" goal from the settings or a goal that you and the fundraiser have agreed upon.
DESCRIPTION
This page is fairly self explanatory. It will house the fundraiser's story that will appear on the Events site when people visit their page. You can include the default story text (from the templates) or you can provide a customized story here provided by the fundraiser or your organization.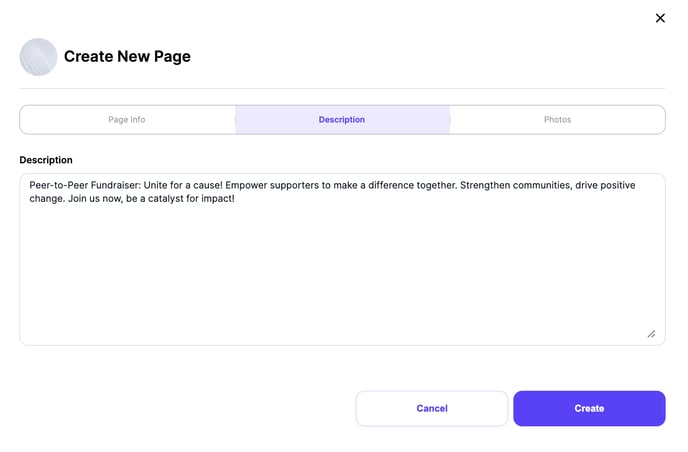 PHOTOS
On this tab, you can specify either an IMAGE or a VIDEO for a page. For an image, you can upload the image under the "Page Photo" field.
For video, you need to paste in the video embed code in the "Video Code" field and then select "Video" under the "Show on Page" selector up top. Handbid only supports video from YOuTube and Vimeo at this time in order to prevent your fundraisers from showing unauthorized or inappropriate content.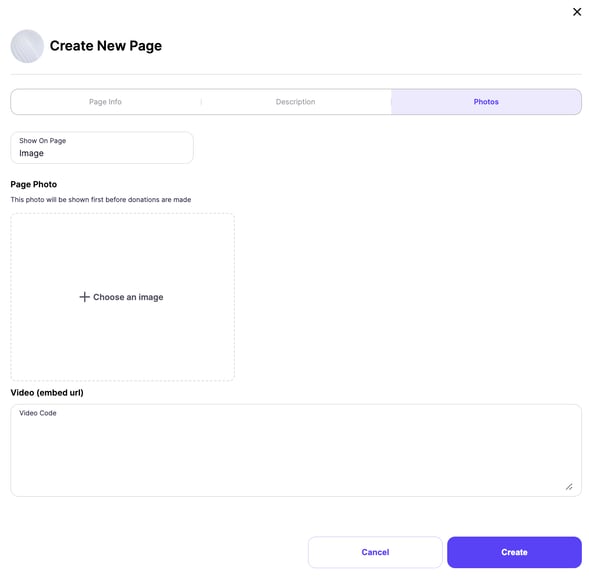 Once you are done, click "CREATE" to create the page. You will then need to go back in and open the page (change its status to OPEN).
---
VIDEO INSTRUCTIONS: Creating a Fundraising Page
Here is a video overview of how to create a page.
---
DETAILED INSTRUCTION: Creating a Fundraising Page


Step 1: Become a Fundraiser
Your fund-raisers will most likely create their own page in your fundraiser site by visiting the Fundraiser Event Site and selecting "Become a Fundraiser".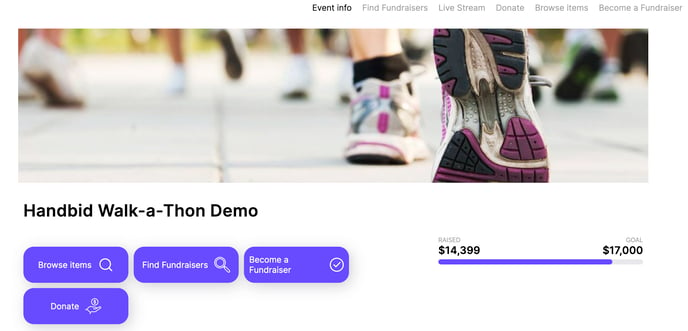 Step 2: Register
Once they click "Become a Fundraiser", Handbid will first ask them to login or register a new account.

Step 3: Fundraising Page Info
Once registered, the user will prompted to "Create My Page". Clicking on that option will bring up the "Create your Fundraising Page" wizard that will walk the fund-raiser through all of the steps necessary to create their page.
On the first section, the user will need to complete the following: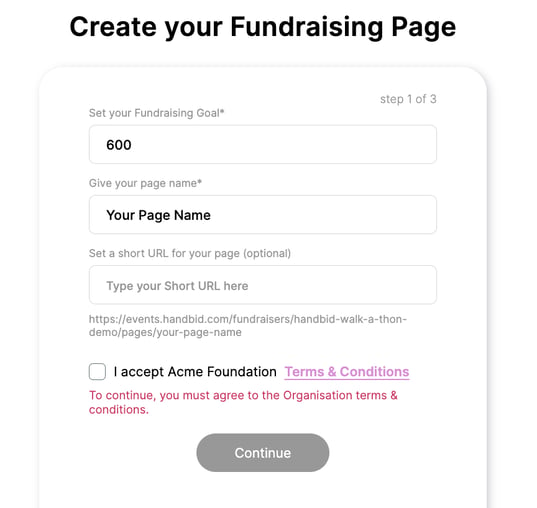 Page Goal

This will default to the page goal set in the Goals tab of the Fundraiser settings (if one exists). The fundraiser can accept the default goal or modify it.

Page Name

By default, the page name will be populated with the Fundraiser's account name. This can be changed however. The name can not be longer than 32 characters.

Page URL

This is based on the Page Name. The fundraiser can also edit this, but in most cases it is wise to just let Handbid auto-generate the URL.
Step 4: Images and Videos
On the next screen the user will select whether they wish to show an image or a video on their page.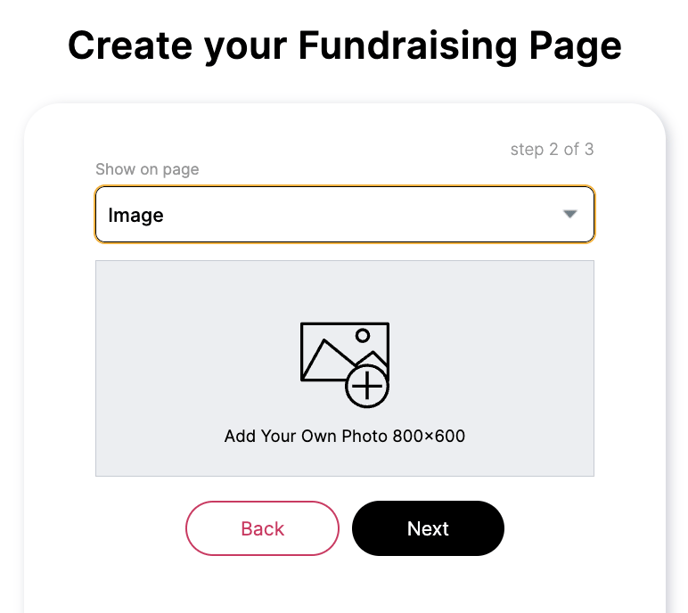 Adding an Image to the Page
Select "Image" in the top dropdown selector and then click on "Add a Photo" to upload a photo into Handbid.
Adding a Video to the Page
Embedding a video is a bit tricky, as the Video embed code from either Vimeo or YouTube needs to be pasted into the "Video URL" box and "Video" must be selected at the top (instead of "Image").
To find the embed code, the user needs to find the video they want to use on Vimeo or YouTube, click the "Share icon" and then "Embed" and copy and paste the embed code in this window.
Below is a video showing how this is done on YouTube:
Step 5: Edit the Fundraising Story
The last screen is where the Fundraising story is added. This story is an explanation of why the fundraiser is raising money for the organization, what the organization means to the fundraiser, and also some information from the organization about the fundraiser and its purpose.
By default, the story will be populated from the "Default Story Template" set in the fundraising settings. This can be modified by the page owner at any time.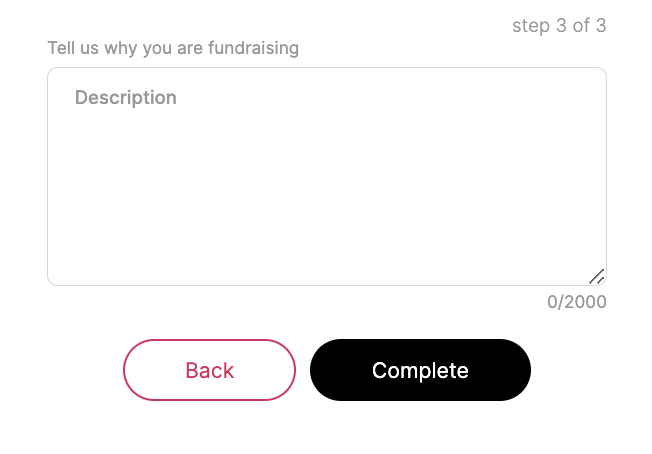 Step 6: Complete Your Page
When the fundraiser has completed all three of these screens, they will click "COMPLETE YOUR PAGE" to save the page. Handbid will confirm that the page has been created and give them the option of going back to edit it, share it on social media, or view the page on the site.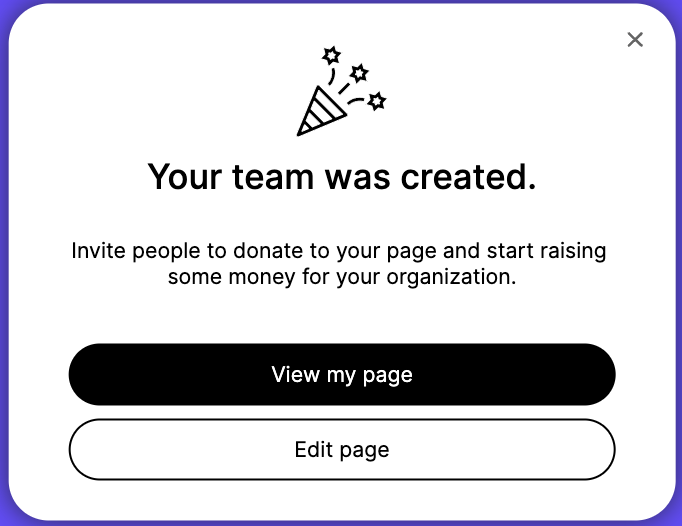 Editing your Fundraising Page
All done, but need to make some changes? No sweat, we've got you covered!
Fundraisers can always go back to "Edit" their page by clicking on the "My fundraising pages" option in their dashboard

Select the page you wish to edit, if you have multiple. If you only have one, no sweat. You will only have one to choose from!

Click EDIT PAGE under your super cool video or photo.