How to Edit Bidder Information
To edit bidder information, go to People > Bidders on the left navigation of the auction dashboard. A list of all bidders will appear.

Enter the bidder name or email into the search bar at top of the screen and select GO
Click bidder name from the list
The bidder detail window will appear as a popup. From here you can:
Select PRIMARY INFO to edit information for a bidder.
Select DETAILS to edit additional information such as bidder addresses.
Select DEVICES to view the type of device a bidder has registered with (iPhone/Android). You can also change how the users receive messages from Handbid on that tab (Push/SMS).
Select BIDS or PURCHASES to view or delete bids and purchases for a bidder.
Select PAYMENT to view current credit cards on file or add a new credit card.
Remember to hit the SAVE button at the bottom of the window when you are finished.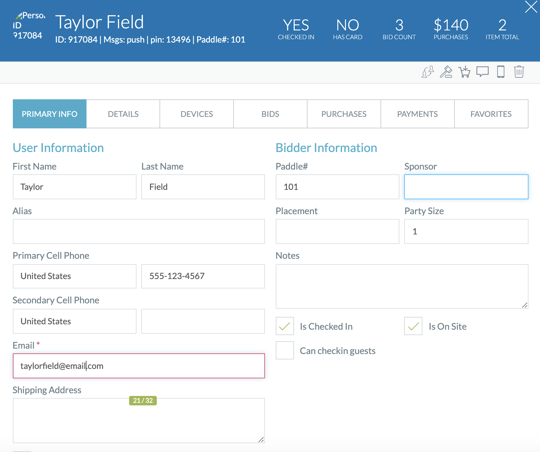 From the icons at the top of the bidder window you can:

Swap Paddle Number - click here to swap a paddle with another guest OR if manually assign paddle numbers is selected in your settings - you can enter a custom paddle.

Place a bid

Make a purchase
Send a message only to this bidder using the notification preferences that the bidder has set (Push or SMS)
Send a login link to this bidders cell phone
Remove this bidder from the auction. (NOTE: This will not delete their account just remove them from this auction. If you remove a bidder from an auction you cannot add them back in. Use this power wisely).