This article will quickly summarize how to make a recurring donation to an organization.
A Recurring Donation will charge your credit card at the frequency you choose (monthly, quarterly, annually). To make a one-time donation, follow along with this article. When you arrive on the event landing page, you will start by clicking on the DONATE tab at the top.

Once clicked, Handbid will showcase the donation block. In the donation block, you will see an option to set up a recurring donation, if the auction manager has this function enabled. The donation block should look like this: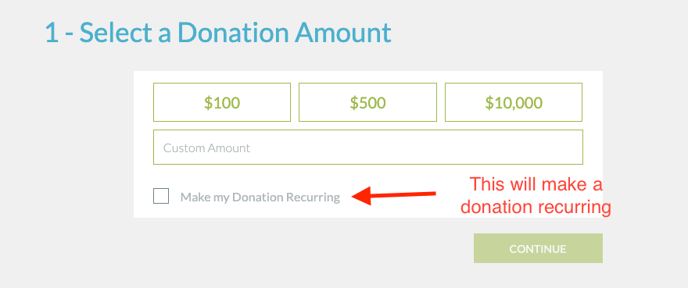 First, choose the amount you wish to donate on a regular basis. This can be from the preset amount or you can customize your amount in the box. Check the box to "Make my Donation Recurring" and choose the frequency you prefer. It will highlight in green to confirm your frequency. From there, click the dropdown bar to select how long you would like the donation to continue. See more below: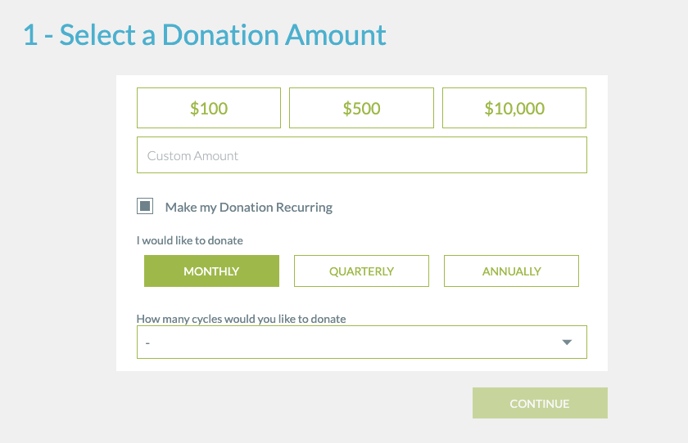 You can then choose how many times the cycle repeats using the next dropdown. For example, if you chose 6 cycles and highlighted Quarterly in the frequency menu, your card will be charged once a quarter for 6 quarters.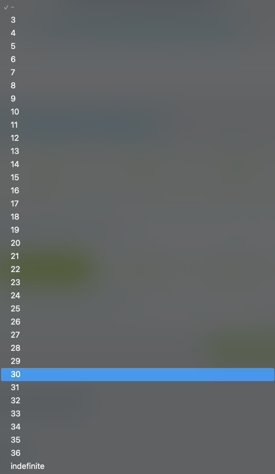 Continue with the payment process as highlighted in the How to Make a Donation in Handbid article. We also sync with Apple Pay or Google Wallet if you are using a smartphone to checkout quicker. Press the green COMPLETE button and your recurring donation is set! Thank you for your generous recurring donation to your organization.