This article will demonstrate how an end user will make a recurring donation and how to enter and manage recurring donations in Manager.
A Recurring Donation will charge a credit card at the frequency chosen (monthly, quarterly, annually) . A donor will choose the amount, frequency and how many cycles to repeat the donation from the Event Page. Auction Managers can add and manage recurring donations in Manager.
To enable Recurring Donations - go to Settings > Donations > Select "allow recurring donations" and select frequency, and max allowed duration.

Donor Process for Making a Recurring Donation:
From the Event Page , click the DONATE button or from DONATE at the top of the page.
Once clicked, a pop up will appear with a donation block. Choose the donation amount. Check the box to "Make my Donation Recurring" and click "Next".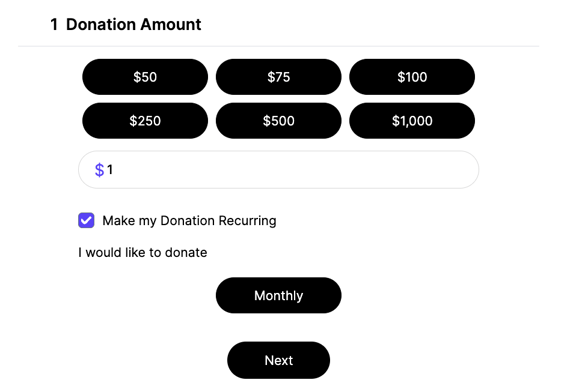 Choose the frequency. It will highlight in green to confirm the frequency. Click the dropdown bar to select how long to continue the donation. The cycle can toggled on and off by the auction manager.
Choose how many times to repeat the cycle. For example, if you chose 4 cycles and highlighted Monthly in the frequency menu, your card will be charged once a month for 4 months.
Continue with the payment process as highlighted in the How to Make a Donation in Handbid article. Apple Pay or Google Wallet can be used from a smartphone. Press the green COMPLETE button to finalize the recurring donation.
Managing Recurring Donations in Manager
Once a donor makes a recurring donation from the Event Page, the donation will appear in Manager. Go to the left side menu Donations > Recurring. Select "edit icon" to the right of the donation.

A pop up will appear to edit the donation.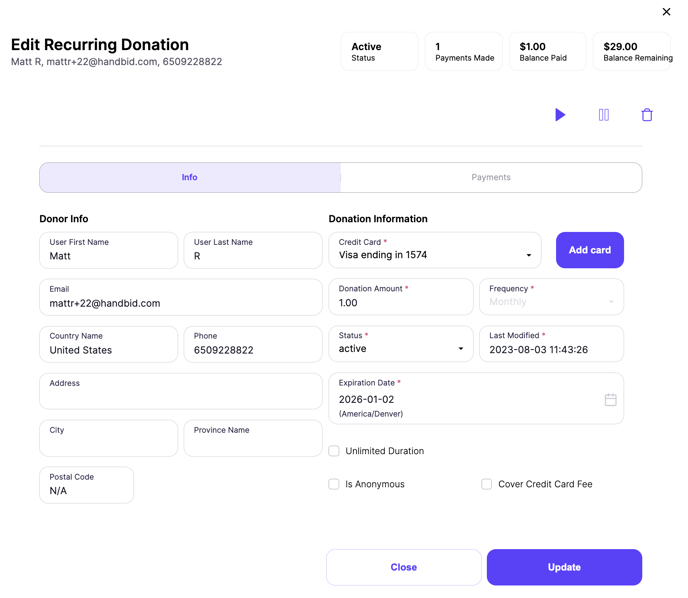 Click the Payments tab to view the current status, payments made, payments to go, amount collected and total amount remaining.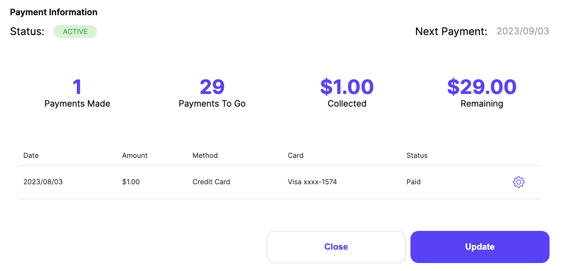 The top right menu allows you to Activate a Recurring Donation by pressing the play button. To suspend a recurring donation press the pause button. To delete a recurring donation press the trash can icon
Create a Recurring Donation for a Registered Donor
To enter a recurring donation on behalf of a donor, they must first be a registered user in the Event. Go to Donations > Recurring > Select the money symbol with the arrows going counter clockwise.

After selecting the "create a recurring donation" icon a pop up will appear. Complete the required fields that are in red. You can also mark the donation as anonymous, cover credit card fee and mark the recurring donation as unlimited. Select the green "create" button.