Warning: Auction managers, Do NOT preregister your bidders. Login credentials such as a password will not be received by the bidder and they will be unable to get into Handbid. Your users will need to register themselves in order to log in to their Handbid account using a real email address.
Why is registration important?
As a bidder, you will want to be registered in order to bid, purchase, and in some situations, be able to view an Event's live stream. If you are not registered in an event you will not be able to bid or purchase any items. However, you can still view items and donate without having to register.
All bidders in an event will have a paddle number. If you are in an event and do not have a paddle number you are not yet registered to the event you are in, follow the steps below to register.
Handbid tip: Handbid refers to any person who is registered in an event as a "bidder". Some common terms for bidders are "having a paddle number", "having a bidder number", "registered", "registered bidder", and many more but they all refer to a user who is registered to an event.
Adding an address at registration
Handbid will now ask for your shipping address at registration. Google will populate most addresses. In the event, the address being entered is not recognized by Google there is now the ability to manually enter your address. Follow the steps below:
Click the blue "Enter Address Manually" link:

Fill out fields in the popup window:

How to register from the event site (Video):
How to register to an event from the Handbid app (Video)
What is a paddle number?
A paddle number or bidder number is a number that a registered person in Handbid will get in order to bid. It is an "ID" number for a bidder. You can find your paddle number after you have registered by looking in the following places:
On the website: Top left in the auction site by your name:

On the website: Go to the REGISTER tab: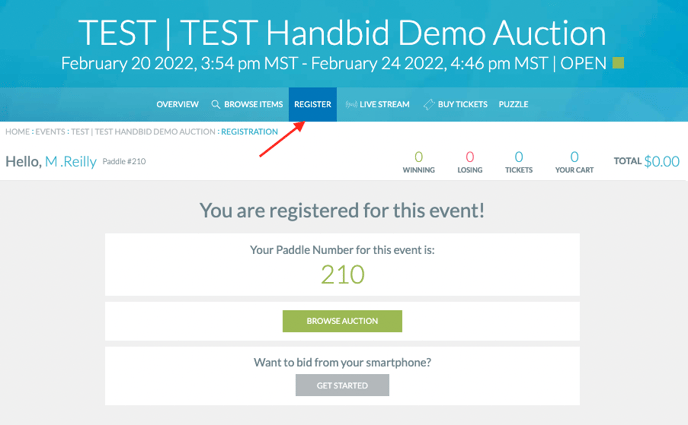 On the Handbid App: On the Dashboard screen on the righthand side: