Handbid live stream allows you share a live YouTube stream with your bidders through the App. This article will show you how to get it setup.
What you will need before you get started - A Google Account
First you will need a Google / GMAIL account. If you don't have one, well... they're free. Register for one. Make sure you are logged into it and move on to the next step, enabling YouTube Streaming.
Next - Setup Your YouTube Streaming
Ok, while logged into your Google account, go to www.youtube.com and click on the "Video" camera icon on the top right. It has a "PLUS" on it. Then click on "Go Live".
This will take you into the YouTube Live Studio. If you have never enabled streaming before, you will need to wait. Google requires 24 hours to setup your account! Sorry, not our rules.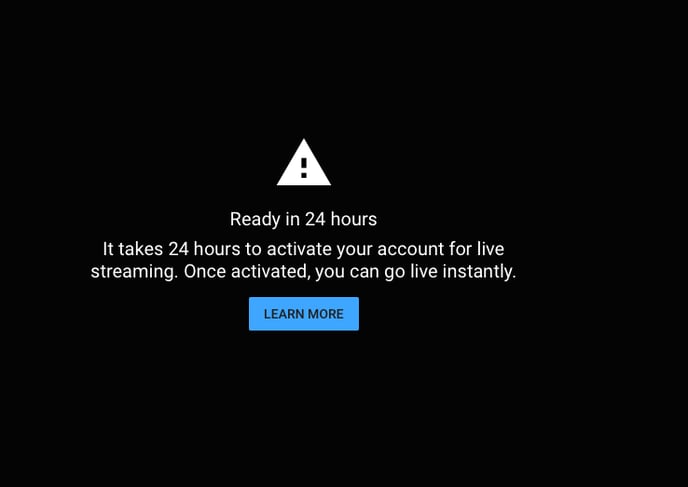 When you come back a day later, you should see your streaming dashboard all setup! If so you can move on to the next step - selecting a Source.
A Video Source
The Handbid Live feature requires a YouTube live feed. To start, you will need to setup a YouTube live feed on YouTube. There are two main ways to generate your feed. One is using a 3rd party encoder (streaming source) and the other is to use YouTube's webcam.
If you choose to use the 3rd party encoder, skip down to the next section.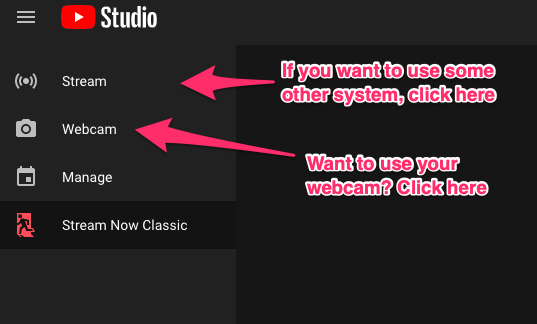 Streaming from YouTube's Webcam
This is a simple way to get started if you are comfortable using a webcam on a computer. Click on WebCam and then fill out the form.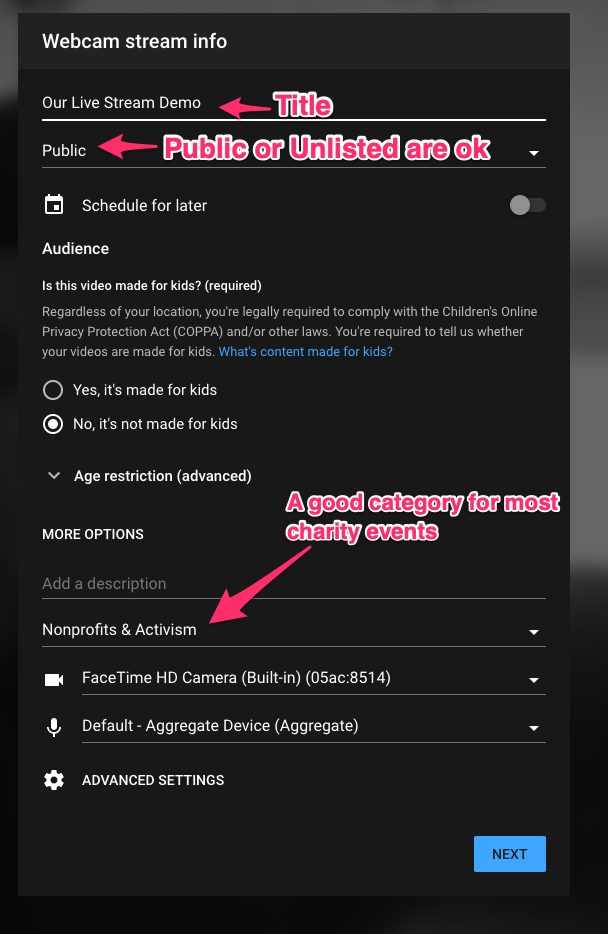 Once you hit NEXT, YouTube is going to snap a photo for the thumbnail and then have you confirm the settings. One of the settings you need to grab is under the SHARE button. Click there and then COPY the URL (you will need it for Handbid)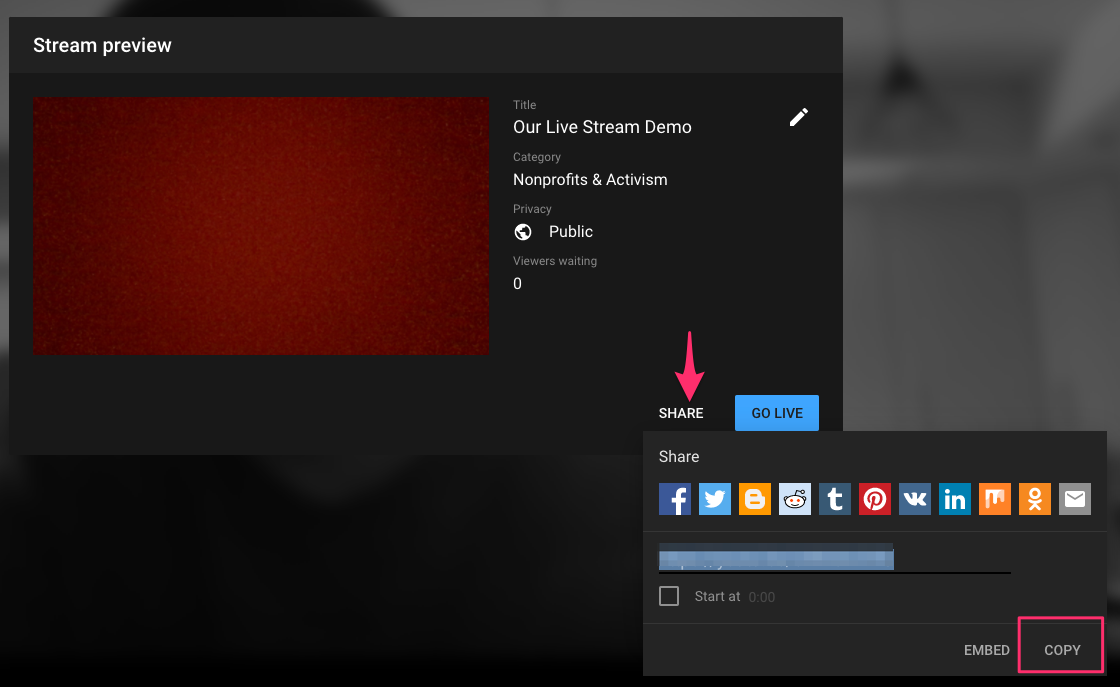 After you copy the URL (just click the button: COPY), then click GO LIVE.
DO NOT FORGET TO CLICK GO LIVE - or your stream will not be there!
Streaming from a Mobile Device
YouTube also allows you to stream from their mobile app, but only if you have 1,000 subscribers (sorry we don't make the rules). There are a few other ways to stream from mobile though that are a bit harder to setup, but FREE and don't require you find 1,000 subscribers (which is not all that easy to do). To learn how to stream from other systems, read on.
Our recommendation is to use the Larix Broadcaster for iPhone or Android. Go to your respective App/Play store and search for Larix broadcaster. Download this and then follow the instructions below (we will show iPhone screens but Android should be the same)
The follow are screenshots from the Larix App. Open it and follow these steps: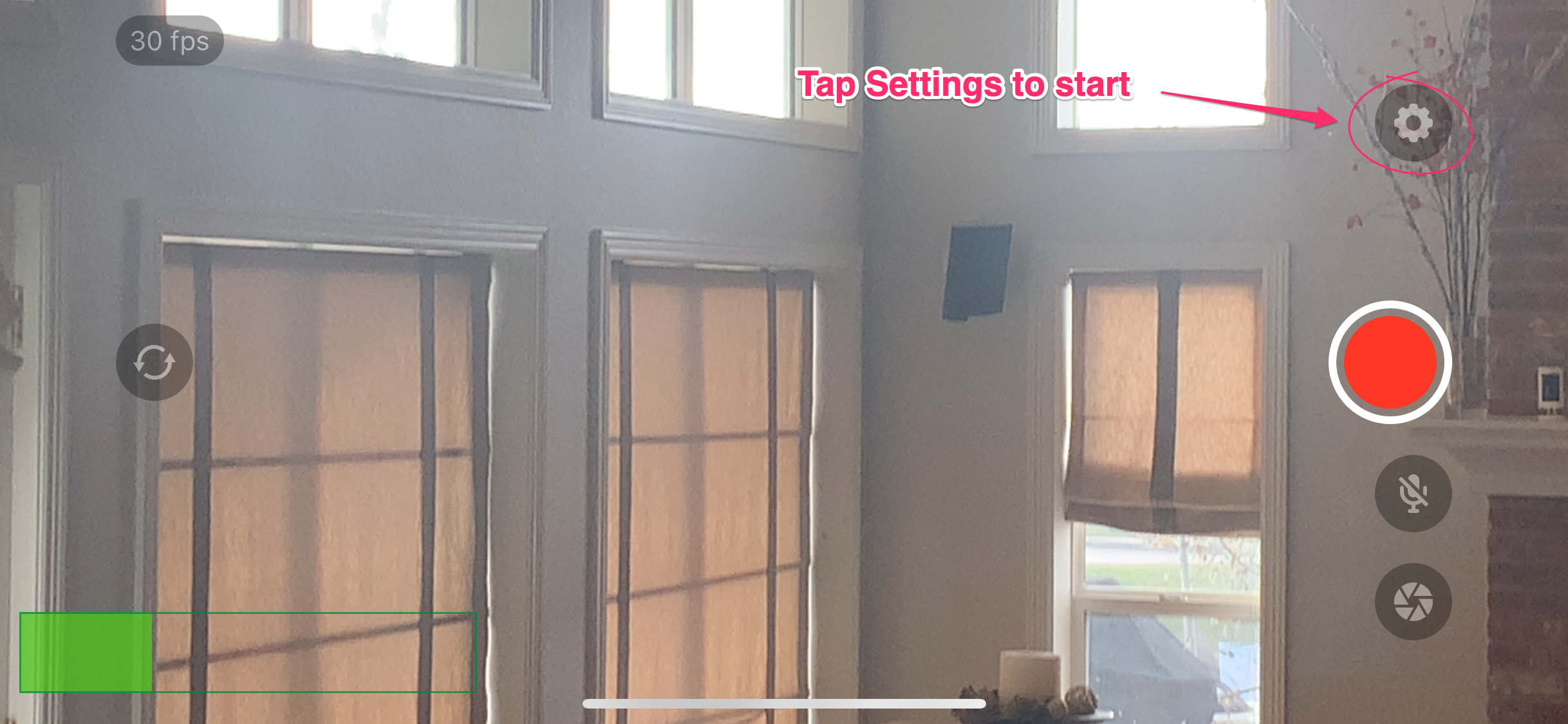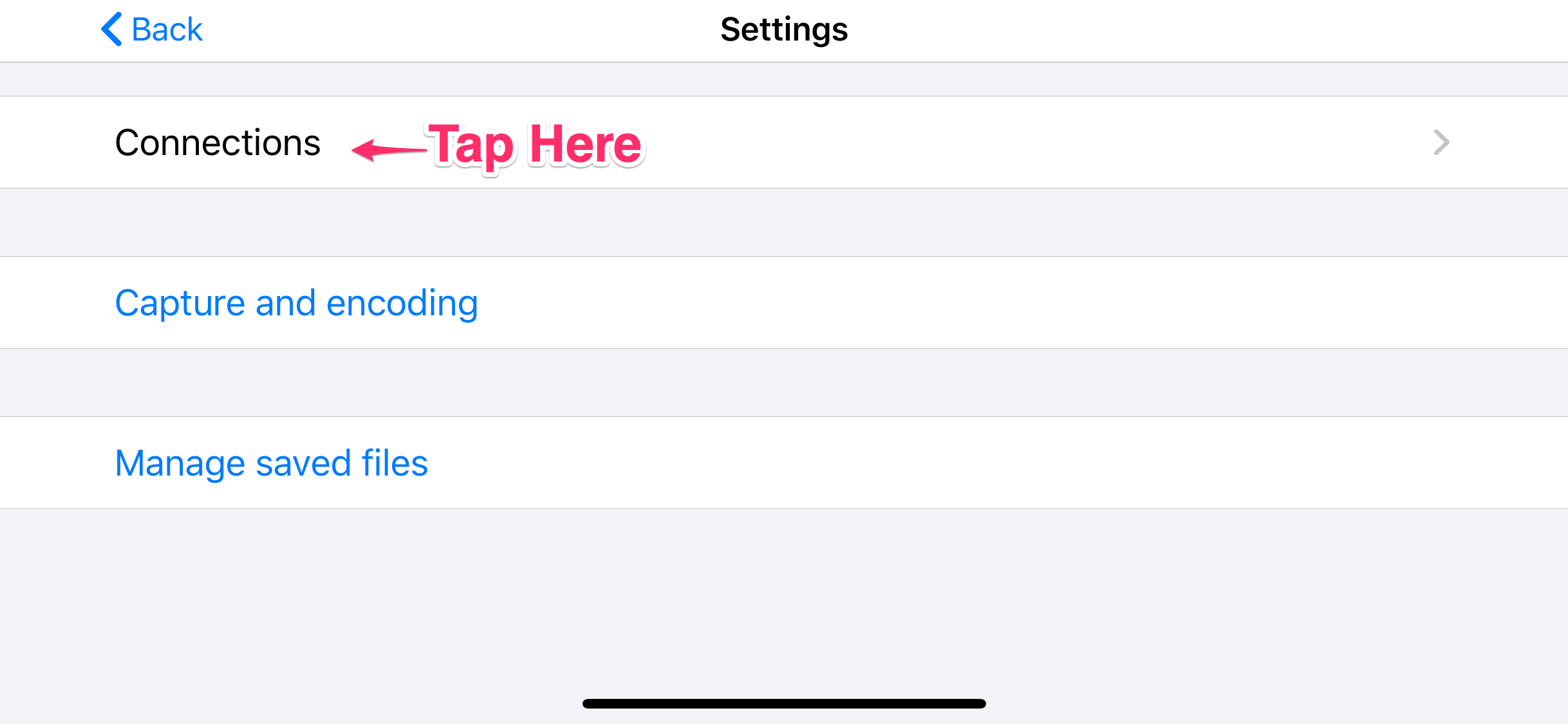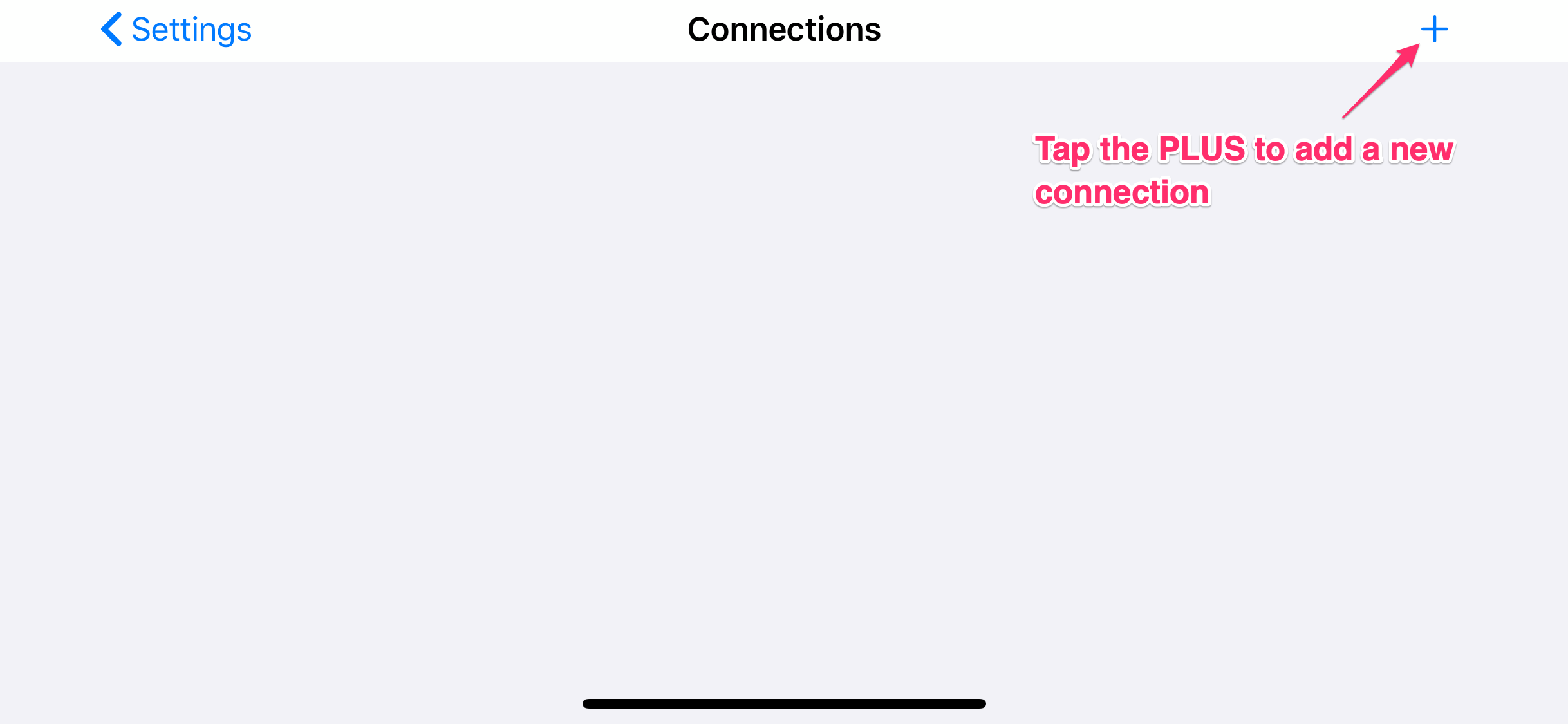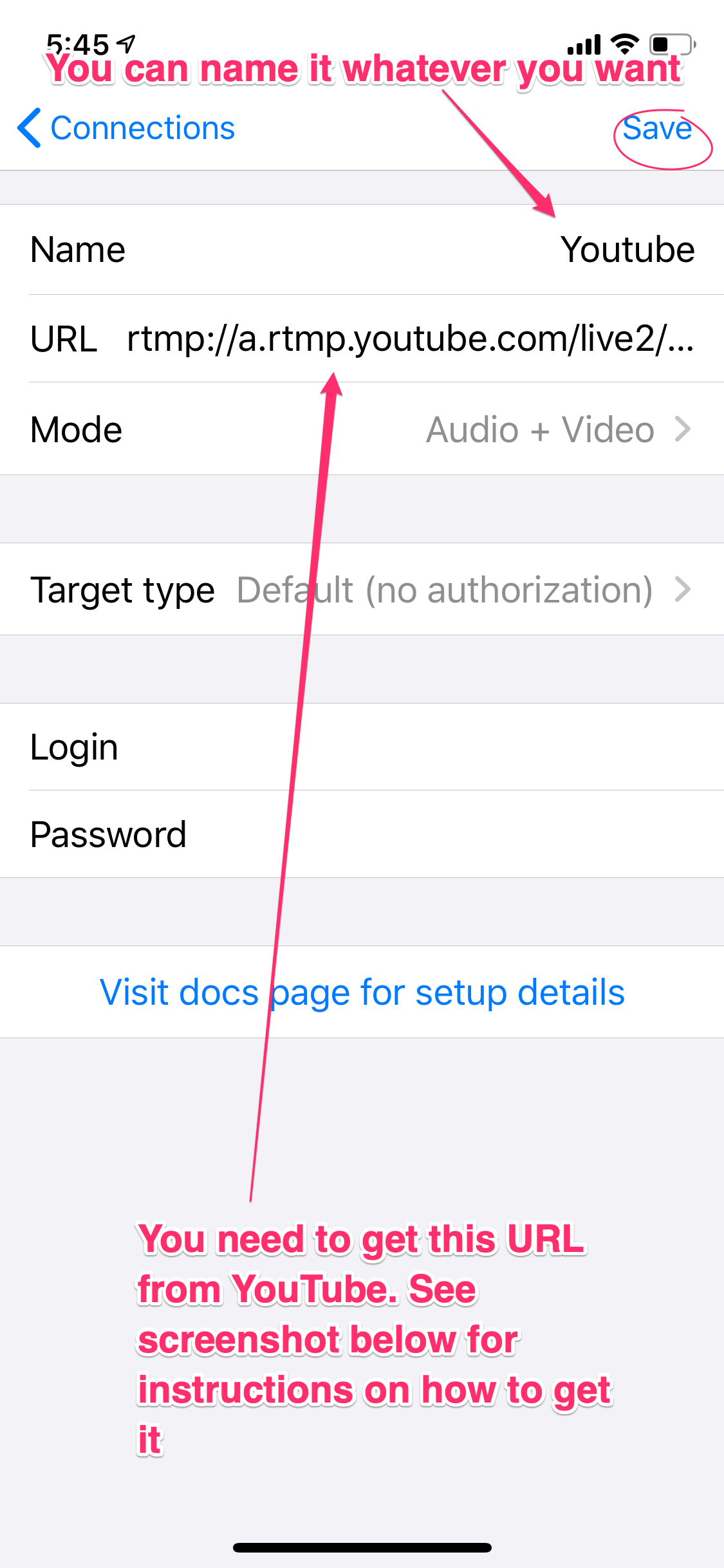 Note in the screenshot below, you need to combine the STREAM URL and the Stream Key to get the URL you need above. For example, if your stream key was asjd7-3shj3-bskds-398ds and your URL was rtmp://a.rtmp.youtube.com/live2 then your total URL you need for the Larix app would be:
rtmp://a.rtmp.youtube.com/live2/asjd7-3shj3-bskds-398ds
So how in the heck do you get it to your phone? Well if you have a Mac and iPhone paired they will cut and paste between each other. Otherwise, construct the URL in a text editor and then text it to yourself and copy it from there? (or type it in, your call)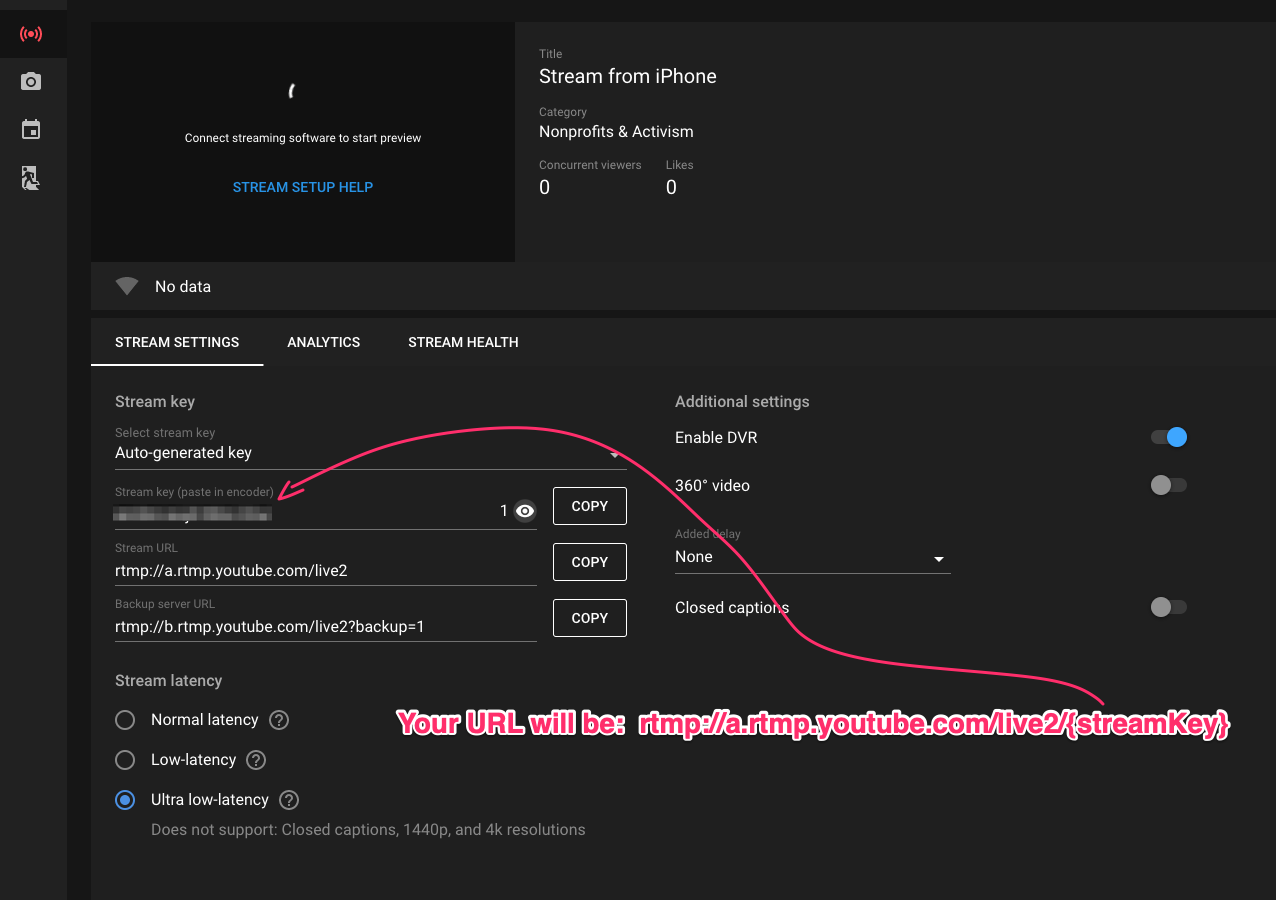 Save the settings and then back on the Larix main page - click on the RED record button to start recording. You need to make sure that feed shows up in your YouTube Studio.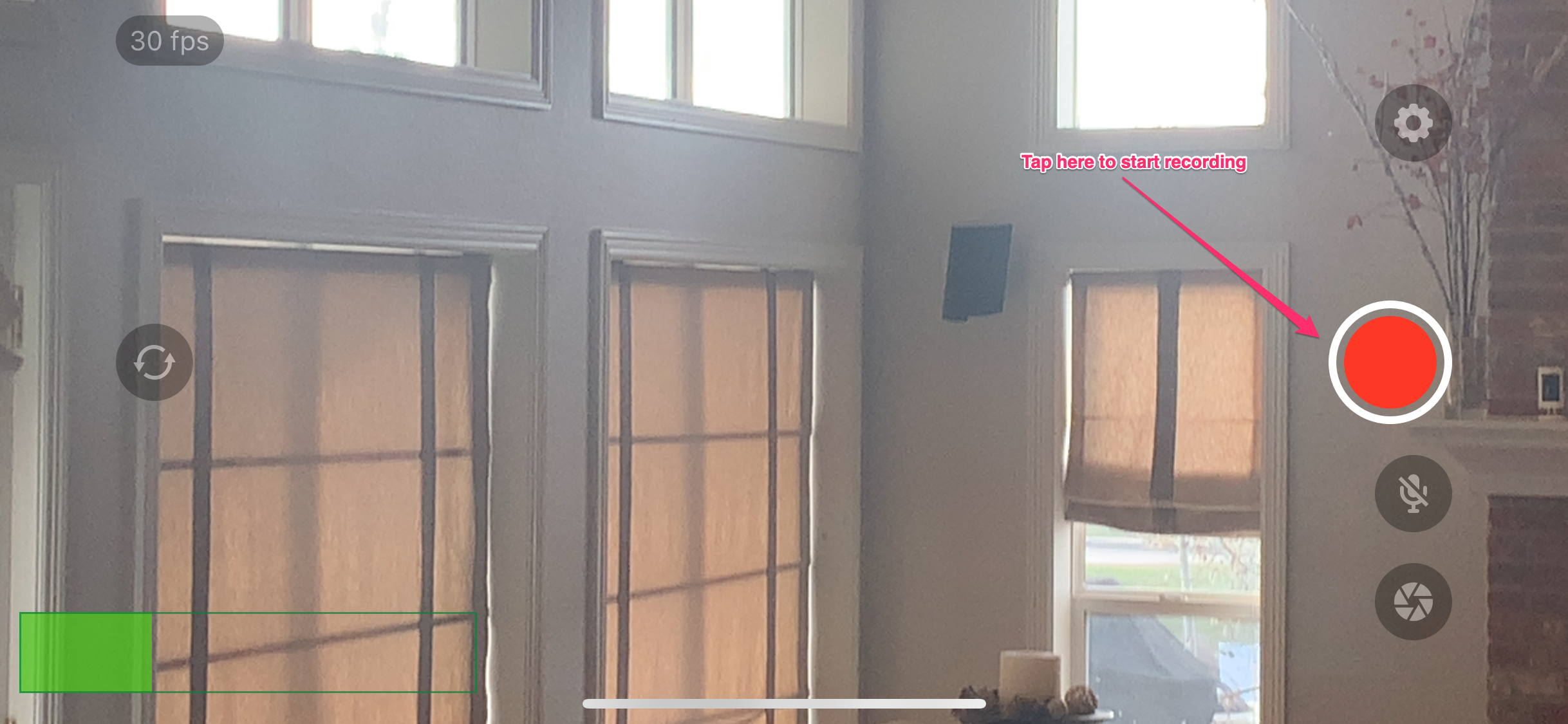 Once you see a stream show up in YouTube from the app, you are ready to click the GO LIVE and start streaming. Be sure to COPY the URL (click that share button next to GO LIVE to get it). Handbid will need that share URL for the live stream.
Streaming using a 3rd Party Tool- Be.Live or StreamYard
If you want a production that has multiple feeds, graphics, and audio controls, etc. you may need live production software. Live production software will allow you to switch from camera to camera and display graphics instantly. Tools like Be.Live and StreamYard allow you to do this. These tools work great with our Youtube-based platform on Handbid.
There are a lot of software applications and tools out there that will stream to YouTube. Many of them are automated (meaning you don't need to do anything more here, they will do it for you), but some require you provide them a URL to stream to (an RTMP URL)
In addition to YouTube's free apps, there are other online systems that allow you to stream to YouTube. Any of those will work as well. Our favorites are StreamYard and Be.Live which have a simple interface allowing you to combine multiple sources into a single stream to YouTube. Here is an instructional video on how to stream using Be.Live (we will add a similar example vide with StreamYard soon!).
One advantage (at this time) for StreamYard is that it has a default latency setting of "Low Latency". This will perform better in most cases for you than the normal latency settings. We are working with BOTH companies to offer an Ultra Low Latency setting. If you require 3-4 seconds of latency (often found with Ultra Low Latency), then you will want to setup the stream yourself through YouTube.
Setup Your Live Stream in Handbid
Within the auction manager, you will see an icon for the Live Stream feature. Click on this icon to access the Live Stream menu: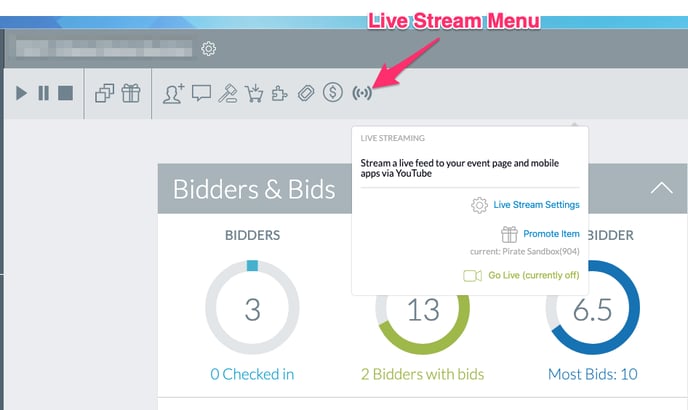 From the menu you can access the following options:
Live Stream Settings
Click on the settings to enter in a YouTube URL. This URL will be the OUTPUT URL for your live stream. YouTube will tell you what this URL is and if you have been following our instructions, you already have this copied. Otherwise, you need to read above and get your liveStream URL.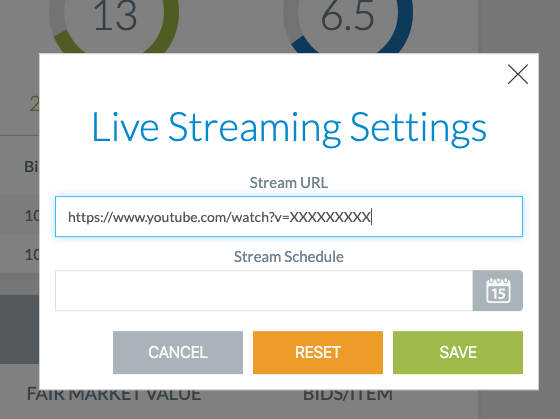 You can also set a date for the Stream to go live if you want to tease your guests/bidders with an upcoming stream. When are are ready, click SAVE. If there are any issues, Handbid will tell you.
What is that RESET button? Well if you have already run a stream and want to start over, that button will let you do that.
Going Live on Handbid
When you are ready to go live, you FIRST need to make sure that your YouTube LIVE feed is well... LIVE. Have that going and then you can push it to Handbid. To do that, click on the GO LIVE button from the LiveStream menu.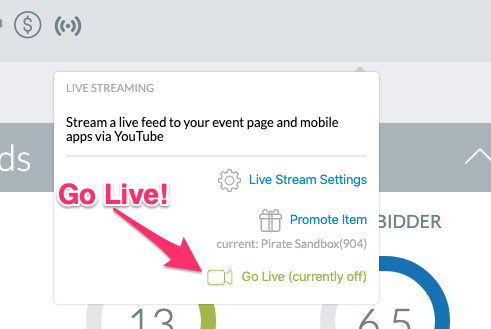 Notifying Users about the Live Stream
When you go LIVE, all bidders/guests on the Apps as well as on Handbid Events will be sent a notification telling them that the Stream is now LIVE.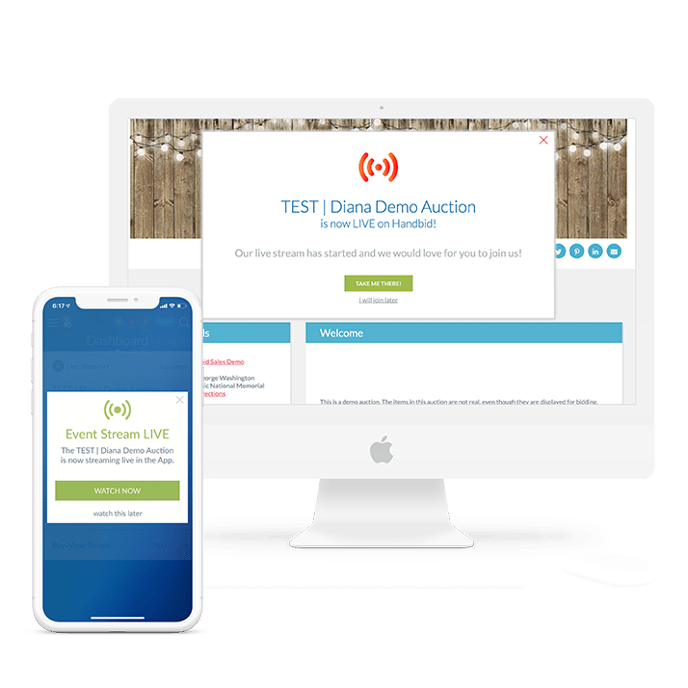 Viewing the Live Stream
Users on the Events Site or the Apps can view the LiveStream by clicking "TAKE ME THERE" or "Watch Now". This will take them to the LiveStream page where they can view the stream. In most cases your users will need to hit the PLAY button in order to tell YouTube to play the live video.
Promoting an Item during the Stream
You have the ability to show an item below the Stream at any time. This item can be changed or removed and it will automatically update on the viewer's screen. To promote an item, go back to the LiveStream menu and click on Promote Item: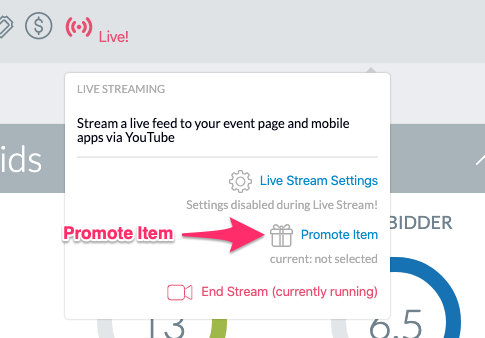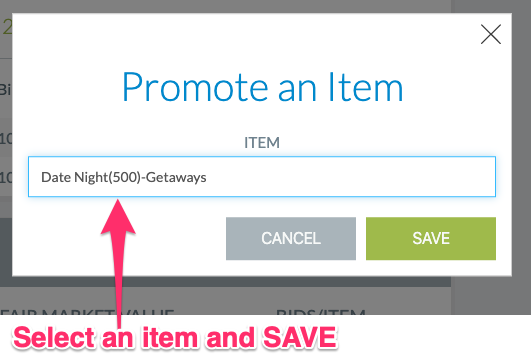 Once you save, the item should immediately appear on the user's screens. For those that have lost their live internet connection, they may need to refresh their screen or app.
Once an item is promoted, a user can purchase the item, bid on it, or place a donation (depending on the item type).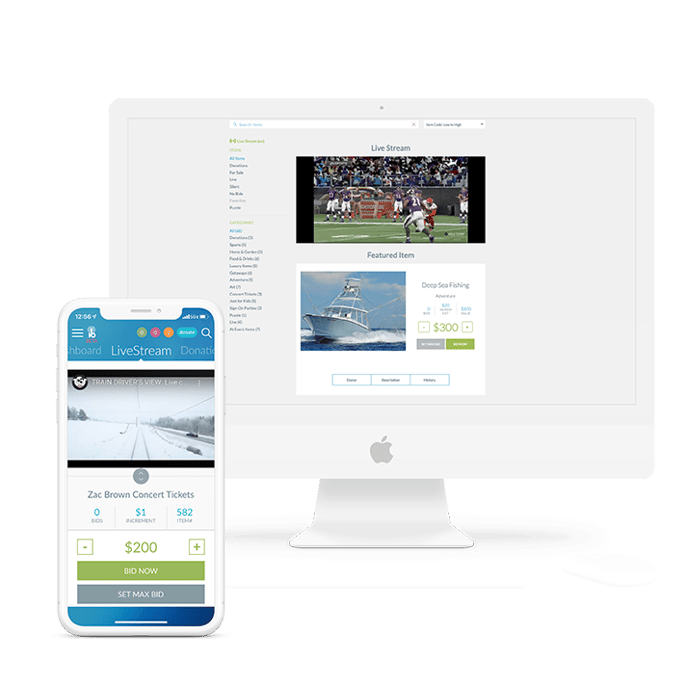 Ending the Stream
When you are done, return to the LiveStream menu and click on End Stream to stop the stream
More Questions? Please reach out to us at service@handbid.com and we will be happy to help you.