Learn how to organize your appeal items in chronological order when you're creating your appeal levels.
Depending on how you are organizing your items, your appeal (donation) items can show up out of order which can be frustrating.
NOTE: If you're looking to learn how to change the setting of your sort order for auction items: Sort Order for Auction Items
If you are sorting your items by code, the easiest way to set up donation levels would be to code them in the order from highest to lowest, or lowest highest. Below are steps for how to create/edit the item and suggestions for coding.
In the Auction Dashboard, click ITEMS then either create or search and click on the Appeal Item.
When the item settings window is open, click into the 'Item Code' field and enter in or update your code.
When you're finished, click on the UPDATE button at the bottom of the window.

To review your Appeal Item, you can change your site status to PREVIEW or PRESALE mode, then click on your name in the upper right-hand corner and use the dropdown to select "Auction Website". Click on the BROWSE ITEMS tab and you'll be able to view your items and see where the Appeal Item will appear in your catalog. See screenshot below.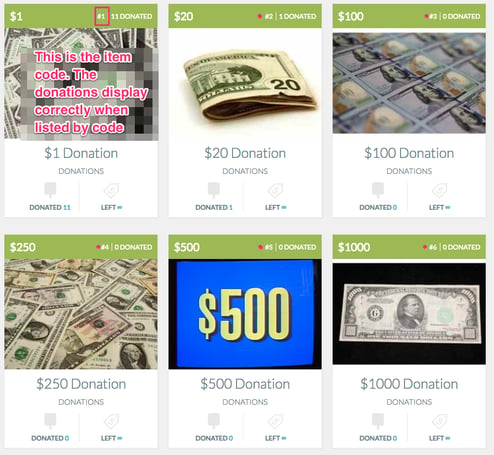 Ways to Code your Appeal Items
Using a space in front of the item code/number, to appear at the top:
If you prefer to sort items by name, it can get a little tricky. However, it still is possible with a little work-around by placing a space in front of each code.
(space) 100
(space) 250
(space) 500
(space) 1000
Using letters and numbers in the NAME of the item
Another way to sort your items if you are sorting them by name, is assigning a letter or number in the name of the Appeal Item name and code. (A, B, C, 1, 2, 3,...). These will also display your items correctly. If you are sorting your items by name. Using letters or numbers in the name they appear like this:
By Number: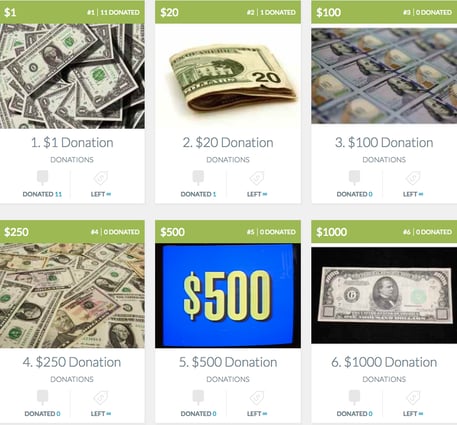 By Letter: