Selling tickets through Handbid allows you to simplify your guest registration and checkin process
The Handbid ticketing system is fully integrated into your Handbid event and is a great way to capture early registration information about your guests. If you plan to sell tickets to your event, this is a great feature to add as it offers you several key advantages.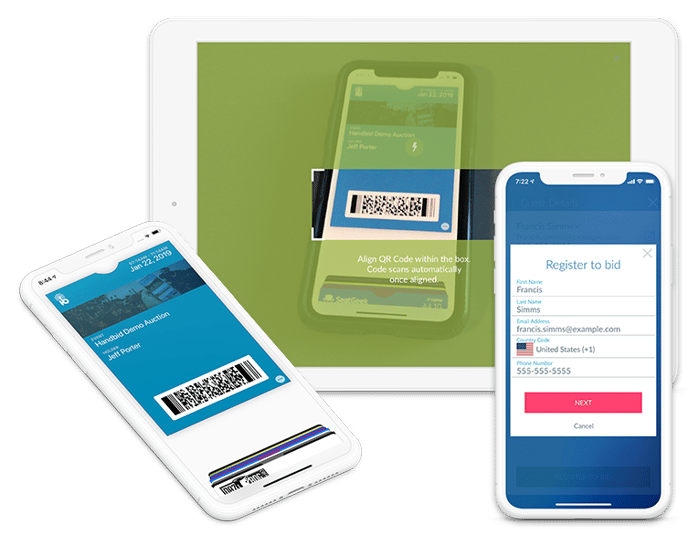 The Advantages of selling tickets through Handbid


Users are already pre-registered.
Users who purchase tickets through Handbid are already pre-registered for your event, including the auction. Any purchaser will be assigned a paddle number (which you can change later) and will have their name, email, cell phone, and credit card information collected.
Purchasers' guests are re-registered.
Users who purchase a ticket that allows more than one person (e.g. a couples ticket or Table for 6) will have additional guest slots generated into your event's guest list. You (as the Manager) or your Sponsor (the user who purchased the ticket) can edit these slots and update the guest information with more accurate data.
To learn more about how the guest list works, please review our Guest List Overview article.
Guest Checkin is much simpler
Users who purchase tickets via Handbid will have access to that ticket within their mobile device. When they attend your event, they can present that ticket to the checkin agent and have it quickly scanned. This will pull up their guest information and allow the manager to check them into the event with a few button taps. Ticket scanning is available using our iPad checkin or Mobile checkin features (which are all included in your Handbid ticketing package).
You can collect custom data on Handbid guests
Handbid allows you to add custom forms to collect registration information from your guests. These guests are prompted to add this information after completing their ticket purchase. A purchaser (sponsor) can elect to add this information on behalf of all of their guests or allow the guests to add it on their own.
How do I get started with Ticketing?
To enable ticketing on your event, first make sure your event package includes ticketing. Then, view this article to learn how to enable and configure ticketing.