You can upload items directly into your auction auction using our Import Items feature.
From your auction: Select Items-> Import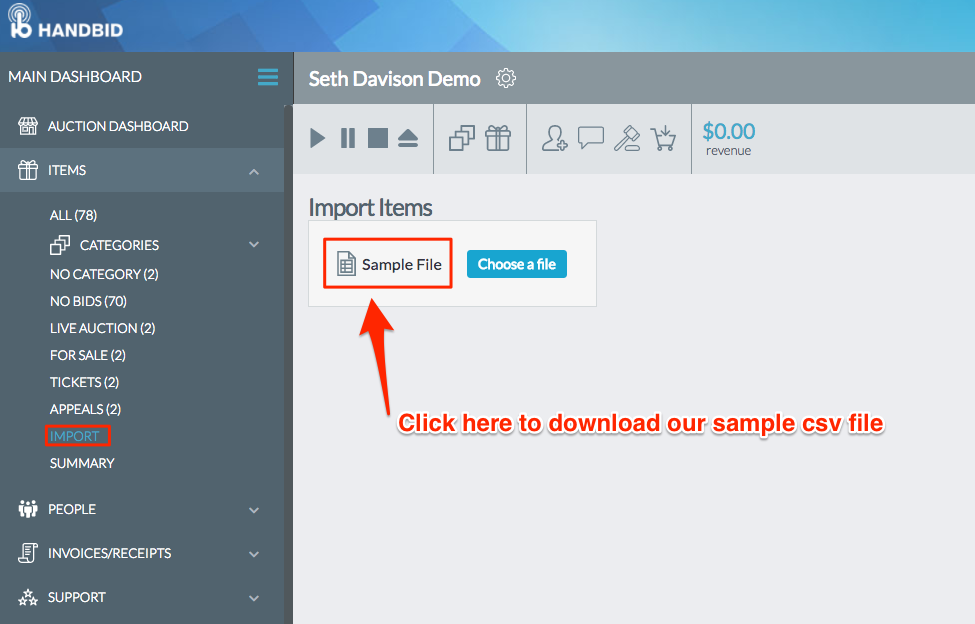 From here you can download our Item Import spreadsheet (CSV file). We have also attached an excel spreadsheet to this article which has more detailed information for both auction item and for sale items.
If you have multiple people adding auction items to your spreadsheet consider creating a Google Doc with your team so that you can collaborate with your entire team. This helps ensure version control. Once it is complete, you can download the spreadsheet AS A CSV file for your upload.
Important Information
If you are using Google doc or an Excel spreadsheet you must remove the first 2 rows with instructions and save each sheet (Auction Items & For Sale Items) as a CSV before you and upload the document to Handbid.
Some important things to note about the item upload spreadsheet:
ITEM CODE: Item codes MUST BE UNIQUE and are required in the item upload spreadsheet. We can not upload without them. If you upload an existing Item Code the existing item will be overwritten instead of new items added. Get more information on How to Assign Item Codes.
NAME: The auction name should be short and descriptive so your bidders understand what the item is. If you have more than one of the same item we recommend adding a (1), (2), or (a), (b) to the name so they are not exactly the same. Item Names have to be less than 54 characters.
ITEM TYPE: Item type can be SILENT, LIVE, FOR SALE, TICKET, or APPEAL
CATEGORY: Each item must be put into a category as everything in the Handbid App is organized by category. When you add categories, make sure the names are exactly the same for example "Experience" and "Experiences" will be uploaded as 2 different categories.
DESCRIPTIONS: Try and avoid copying and pasting descriptions as sometimes text editors add hidden characters.
STARTING PRICE, BID INCREMENT: These values are required for Silent & Live Auction items. For Live Auction Items, the bid increment will automatically be uploaded as $1.
FAIR MARKET VALUE: This field is required and cannot be Priceless. Priceless is not an acceptable value, if you choose to use the value you must use a real number (0 is accepted). Note that you can hide this value from your bidders in the bidding interface, however, it will show up on the winning bidder's receipt for tax purposes.
BUY NOW PRICE: This field is required for FOR SALE, TICKET, and APPEAL items. You can have a BUY NOW Price for Silent Auction items if you want, but it is NOT required for Auction Items.
ITEM COST: If this item is a consignment item and has a cost to the organization associated with it. You can enter that consignment cost here. This value is not displayed to bidders.
VALUE RECEIVED: FOR SALE, TICKET, and APPEAL items have a value received. This is displayed on the receipt for tax services and is the dollar amount of the services they received for purchasing this item. If this item is a direct donation you can enter 0 as the value received. If you are selling a $100 ticket and the meal costs the organization $25 the value received should be $25.
DONOR: Donor name that will be displayed in the app and on the website.
FINE PRINT/NOTABLES: Fine print should contain any restriction or expiration dates for the item. This information gets displayed in the Handbid apps and online for each item.
REDEMPTION INSTRUCTIONS: redemption instructions are displayed on the invoice for the WINNING BIDDER only. This information is not displayed in the app - only on the invoice to the winning bidder.
SHOW VALUE TO BIDDERS: This value can be YES or NO. If Yes the Fair Market Value will be displayed in the Handbid App. If NO then no value is displayed for the item.
IS AVAILABLE CHECK-IN: This value can be YES or NO and is only used for FOR SALE, APPEAL, and TICKET items. If Yes the item will be available for purchase in the bidder check-in window.
AVAILABLE FOR PRESALE: This value can be YES or NO and is only used for FOR SALE, APPEAL, and TICKET items. If Yes the item will be available for purchase when the auction is in PRESALE mode.
HAS INVENTORY/INVENTORY TOTAL: This value can be YES or NO and is only used for FOR SALE, APPEAL, and TICKET items. If Yes the item will be have a limited number of items that can be sold. If this value is YES you need to enter an INVENTORY TOTAL as the number of items you have available.
TICKET QUANTITY: This value is only used for TICKET items. This is the number of people the ticket admits.
EVENT ONLY: This value can be YES or NO and is only used for FOR SALE, APPEAL, and TICKET items. If Yes the item will only be available for purchase in the iPad app. The item will be displayed in the other Handbid apps, but cannot be purchased there. This is good for Raffle Tickets, Heads or Tails, Drink Tickets, Wine Walls, etc.
IMAGES: You can upload photos with a URL that can be reached by the web. There are a couple of examples in the spreadsheet attached. You can also add photos directly in the auction manager after your items are uploaded. (NOTE: Dropbox image URL's will not work in the upload spreadsheet)
See direction on Adding Photos to Auction Items.
Item Photos should be 800 pixels wide and 600 pixels tall - Landscape oriented. - please check out our article on optimizing photos: Optimizing Photos for Mobile Devices

DIRECTIONS ON UPLOADING ITEMS YOURSELF
Once your spreadsheet is complete and you are ready to upload your items, please following these steps:
SAVE your document as a CSV file (You cannot upload an excel file) If you are using our excel template you will want to save both the Auction Items and the For Sale Items spreadsheet as individual CSV file and then upload each one separately.
In your auction Select Items->Import from the left navigation menu.
Select Choose a File and select your CSV file. Select Add to add your file
MATCH your spreadsheet column headers to our import fields. You can select the AUTO MATCH link to try and match columns for you. All column header in PINK are required. You can drag and drop the column headers to the data columns in your spreadsheet if they do not auto match correctly.

Select the VALIDATE button to confirm you do not have any errors in your upload. If you have any errors you can mouse over the column to see the error and Reload File once you fix the error.
When your upload does not have any errors you can select the IMPORT button to import your items.