To access the AUCTION DASHBOARD for a specific auction:
1. to your Handbid Auction Manager account. (manager.hand.bid)
2. From your Handbid Main Dashboard, click on your auction. You can select the auction icon like the one that you see above or you can select it from the "AUCTIONS" drop-down menu on the left-hand side.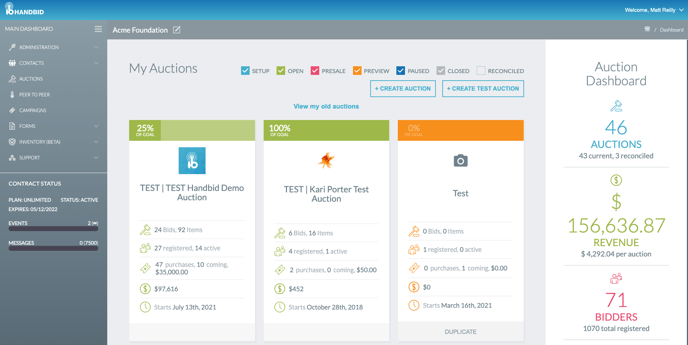 Once you have selected a specific auction from the MAIN DASHBOARD, you will be on the Auction Dashboard. From the Auction Dashboard, you will manage everything for your auction.
The Auction Dashboard allows you to see your current auction statistics, and manage your entire auction.
TOP NAVIGATION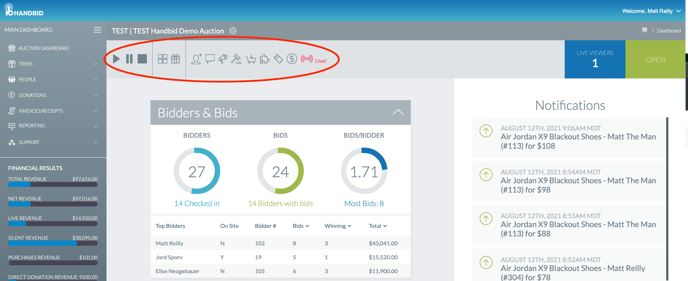 The top navigation allows you to access many features within the Auction Manager.
EDIT AUCTION SETTINGS - Select the gear wheel next to your auction name to edit information about your auction. This includes name, description, goals, event information, auction images, Credit Card Processing, templates, and sponsors.
OPEN, PAUSE, AND CLOSE AUCTION - The Play, Pause, and Stop buttons allow you to change the STATUS of your auction. Select Play to open your auction for Presale, Preview, or Open Bidding. Select Pause to temporarily stop bidding within your auction. Select Stop to close your auction. We recommend you use the Close Timer to close your auction so that your bidders are notified when the auction will close and a countdown timer is shown to them. Once the timer reaches zero, Handbid will calculate results, determine winners and generate invoices. Any items with bids will be marked as "SOLD". Once Auction Results are final, you MAY re-open your auction, but any items previously sold will not be available for bidding.
MANAGE CATEGORIES - This allows you to create categories for your items and organize them in the order you want them displayed in the apps and online.
ADD ITEMS - This allows you to add a new auction item. This includes Silent Auction Items, Live Auction Items, For Sales Items, Ticket Items, Direct Donation Items, and Puzzle items.
ADD BIDDER - This allows you to add bidders to your auction.
EVENT CHAT - This allows you to see and interact with the event chat feature.
BROADCAST MESSAGE - This allows you to send a notification message to all bidders in your Bidder List. This will be sent via push notifications if the bidder has accepted push notifications; otherwise, it will be sent as a text message.
PLACE A BID - This option will allow you to place a bid on behave of a bidder for a given auction item. This is also how you will place bids on your Live Auction Items.
PURCHASE AN ITEM - This option will allow you to purchase items for a bidder. You can only add "For sale" items to the shopping cart.
PURCHASE A PUZZLE PIECE - This option will allow you to add a puzzle piece item to a bidders invoices. For more information on the puzzle feature look here.
PURCHASE A TICKET - This option will allow you to purchase a ticket for a bidder. You can buy it, add it to an invoice, or purchase it with a promo code.
ADD A DONATION - Using the Mass Appeal tool you can add a donation to a users / multiple users invoices.
LIVE STREAM SETTINGS - This will allow you to edit live stream settings as well as promote items on your live stream.
DIGITAL SEEN SETTINGS- This will bring you into the Digital Seen manager tool.
LEFT NAVIGATION & FILTERS
The left navigation of the auction manager allows you to manage your Items, People (Bidders, Guests, and invitees) and Invoice/Receipts. To move from section to section, simply click on the appropriate menu item. When a menu item is selected, you may select any of the filters located under the menu item to refine your list.
 
ITEMS - Allows you to view a list of all of the items that you currently have in your auction. The menu items under the ALL are filters that will display a subset of your items that meet the criteria selected. For example, selecting Live Auction will show you all of your auction items that are marked as Live Auction Items. Click on an item name in the middle of the screen to edit information, view bid history, and more.
PEOPLE (Bidders) - Allows you to view bidders and guests. Bidders are anyone that has registered for your auction. Guests will show you a list of guests or invitees. You also have the option to import a guest list or an invite list. Your guest list will reflect your ticket purchases whether your ticket sales are done through Handbid or you import a guest list. Your invite list will allow you to send text messages and emails to encourage people to register for your event.
DONATIONS - This allows you to see your recurring donations.
INVOICE/RECEIPTS - This allows you to view all of the invoices/receipts for your auction. If someone has purchased a FOR SALE item in your auction, they will have an invoice with their purchases even if the auction has not yet closed. If they later win auction items, these new auction items will be added to their invoice. You can filter your invoices on the left navigation by ALL, NOT PAID, and PAID. You can select an invoice to view more details about the invoice and pay the invoice for the bidder.
Reporting - The reporting tab allows you to pull various reports regarding your event. You can pull reports on Ticket / Registration, Bidders, Items, Revenue / Receipts, and CRM Exports.
Support - This will allow you to access the knowledge base and FAQs.
When you click on any of these, a dropdown with various features and functions depending on the tab that you are interacting with.